Description
Stressless Liberty on sale with select Batick Leather Colors.
As of April 16, 2016 Batick Specials are No Longer Available

Ekornes wants to help bring their world famous furniture to you. New to 2014, there is an instant 20% discount on Black, Brown, Burgundy, & Cream Batick Leathers. This means when you order in select colors, you are saving money off the regular pricing. This offer does not require any coupon codes or special gimmicks. Simply make your leather selection, add the item(s) to your cart and check out through our secure online website. To do our part to help you save money, we are proud to offer Tax Savings Benefits, Fast Shipping, & Fully-Assembled Delivery. We routinely ship across the nation from Alaska to Maine. We even ship to Canada and internationally. For a Canadian or international shipment, please call 1-601-932-5111.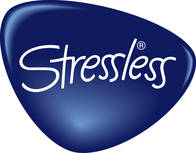 Ekornes has been making quality furniture for many years. They saw the need for furniture that adapts to the user and they created the Stressless series. They save the need for group seating and introducted Stressless Sofas. They even heard customers say they wanted a Stressless Sofa that allows them to lay down flat and sleep on the seats; in comes the Liberty series. They are a company dedicated to pursuing true comfort and relaxation. To learn more, click here: About Ekornes.
Let's review what it is about this sofa that makes it so great:
Each seat individually reclines and supports your entire body.

The lumbar support articulates and adapts to your movements to ensure you are supported where it matters most, at all times.

The Glide Wheels allow you to seamlessly and effortlessly shift from seated to reclining without the use of your hands, a button, or any levers.

The seaming is not just for style. It is intentionally done to force padding and cushioning into certain areas to provide verying types of comfort. No two people are alike, therefore they will each sit diffierently.

Ekornes is so confident their products deliver that they will provide a 10-Year Warranty at no cost.

The foam inside is applied directly onto the frame of the seat. This allows for great longevity, increased comfort, and more consistent use throughout the years.

The "Flexo Spring Supports" provide near weightless support for your body while adding to the longevity and overall ergonomic design of each seat.

There are variety of options for matching ottomsn. Check out our page: Small/Large Sofa Ottomans.


The ottomans

All seats (recliners, sofas, loveseats, theater seating, sectionals, & ottomans) are built to last a lifetime.

Only the highest quality leathers and fabrics are used to ensure a luxurious feel from Day 1 to Day 10,000.

There is no substitute for a Stressless Sofa.

The Unwind Company maintains an A+ Rating with the Better Business Bureau, with millions served. May we assist you as well? We'll always do our very best to get you taken care of- We guarantee it! Our goal is to help you relax and unwind. Stop by one of our local stores and meet some of our friendly folks, or click here: About Us at Unwind. You can always call us at 888-486-9463 or chat online to find out more about us, our wonderful line of products, or ways we can save you money on Stressless Sofas and Ekornes Furniture.