Description
The Sparkling Stressless Jazz Recliner and Ottoman has been Reinvented as the new Stressless Viva.
We want to make the shopping process as simple as possible. This is why we have built in the lowest authorized pricing automatically. If you aren't sure about a price, feel to drop us a line at 888-486-9463 or click the "Pricing Information" tab near the top of this page to see all pricing levels for this model.
Enjoy Fast & Safe Delivery on a Stressless Jazz Recliner with Ottoman.
Choose between many leather colors and a wide assortment of different wood options in all three sizes.
Got an accessory on your mind? Why not add a laptop table to your new Stressless Jazz recliner? Here are some of the relaxing, productive benefits:
The laptop table will transform your favorite Stressless chair, into your favorite place to work.

It slides easily out of the way if you're not planning to use it.

It has notches on the table back that prevent your laptop or tablet from falling off.

The adjustable height and tilt allows you to work at the perfect, ergonomic position.

It attaches to either side of your classic base Stressless recliner by Ekornes.
Start relaxing in your beautiful new Jazz Recliner sooner with our Quick and Easy Shipping Methods.
It's a great time of year to purchase from the amazingly comfortable, Stressless Jazz Series!
This popular, modern recliner delivers exquisite head, neck and back support and the over-stuffed smooth, soft, cushioning allows you to sit undeterred for many hours on end. The Stressless Jazz recliner is among the most modern Stressless recliners available.
Ordering is always fast and secure.

Here's how to checkout securely online 24 hours a day and save under the current promotional offer:
Visit the desired Stressless Recliner or Ekornes Furniture product page.

Select the Stressless recliner, office chair, sofa or sectional that fits you best.

For applicable models, make your

Stressless Accessory Selection

. (Remember that some options are only available with certain models.)

Choose your preferred leather type and color by selecting from the small color swatches. Then choose from the beautiful wood stains. Typically, we keep all stains in stock.

The pricing is displayed automatically (it's displayed next to the product images, top of page).


Now simply scroll down the page and click the "Add to shopping bag" button.

Click the "Proceed to Checkout" button, or the "Cart" button at the top right of the page.

Follow the on-screen instructions and you'll be relaxing in your new Stressless Recliner very quickly.
Have Questions or Prefer to order via phone? Drop us a line at 888-486-9463 or 1-601-932-5111 (Internationally)
Looking to add a matching Stressless Sofa, Loveseat or Sectional? You're in luck as the Ekornes Batick & Paloma Specials Sale Colors are also eligible for additional savings under this promotion. You receive Paloma Special Pricing Colors at Batick Special Pricing levels and Batick Special Pricing Colors at $100 off their regular pricing. These deals can save you $1000's. Simply choose your matching Batick or Paloma leather sofa or sectional model and watch the savings stack up!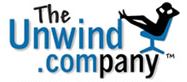 Have Questions or Prefer to order via phone? Drop us a line at 888-486-9463 or 1-601-932-5111 (Internationally). View our Blog to learn about what's new and exciting in detail or drop our Ekornes Brand Specialists a line at 888-486-9463. They can explain the specifics of each product and help direct you to money-saving opportunities. We aren't a furniture store. We provide the latest in relaxation products in an effort to promote a reduction in stress for our customers and friends. There are no hassles or haggles at Unwind. There is simply good people trying to get you the furniture your body needs at the best prices allowed. Our President makes sure that each and every team member at Unwind is wholly focused on providing the best Customer Service available. We want more than customers. We want to help promote a healthier lifestyle overall. These chiropractic approved furniture items are a great way to make every seat in your home back-friendly.
We offer the lowest prices authorized by Ekornes on all Stressless Recliners and Chairs. You save time and money with our Fast Delivery to anywhere in the continental United States (and other parts of North America). We have 1000's of items in stock for immediate shipping.
We deliver Fully-Assembled, Brand-New items right through the front door of your business or home with the Fastest Shipping Methods available. All of our items are backed by the rock-solid 10 year Manufacturer's Warranty at no additional cost. You can truly relax and unwind when you choose the world's most advanced recliners. From the patented technologies, to the outstanding construction and engineering, down to the incredibly useful accessories, you will be able to relieve stress and tension and promote a genuine sense of well-being in this seating solution.
It is certainly a great time of year to purchase from the amazingly comfortable, Stressless Jazz lineup!
This ultra, high-end series delivers exquisite head, neck and back support and the over-stuffed smooth, soft, cushioning allows you to sit undeterred for many hours on end. The polished, steel base insures your recliner will last for many, many years!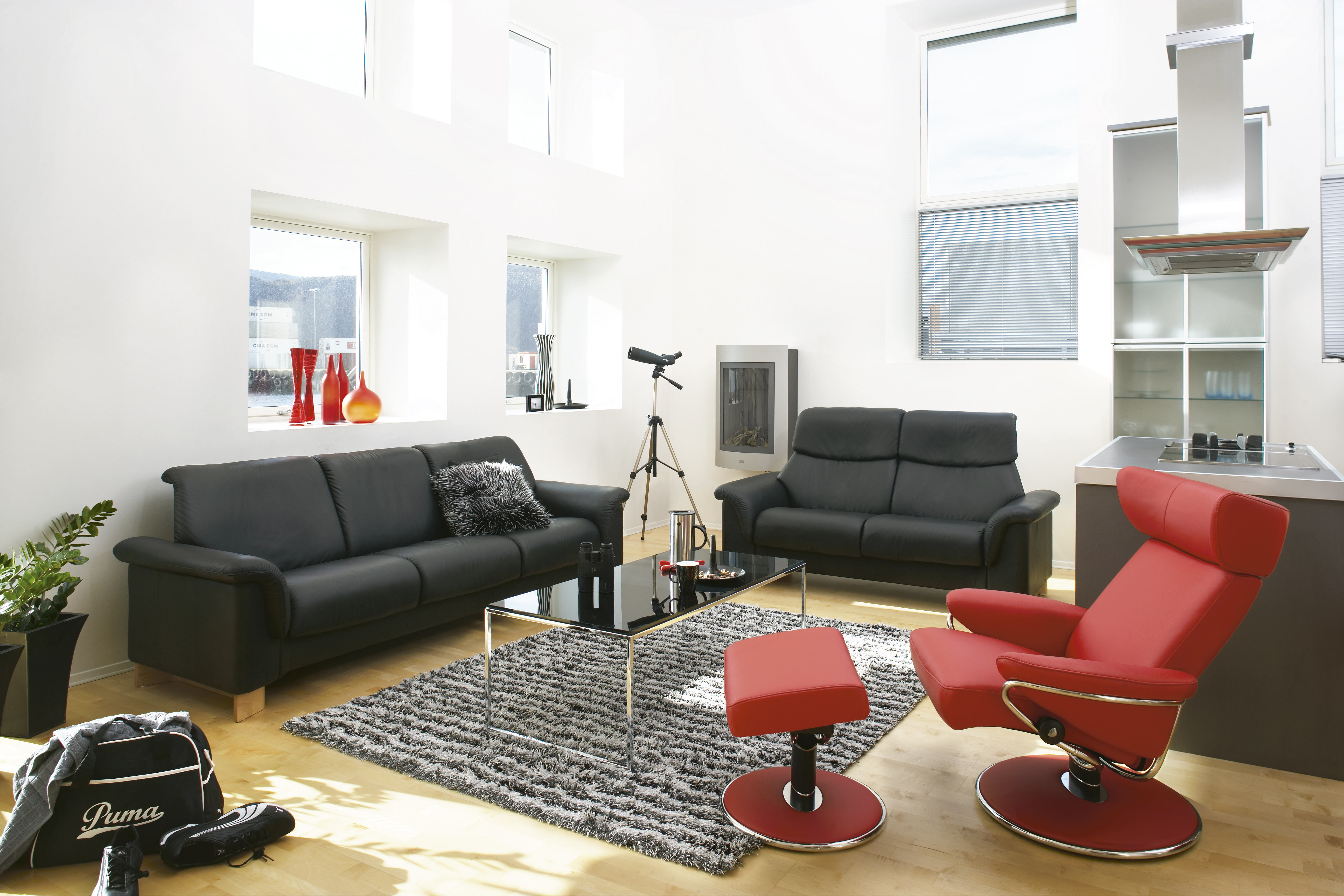 The Jazz is a full-sized model. This recliner chair spares no expense to bring the ultimate in comfort, design and longevity. The incredibly sturdy steel base, the patented and beloved Stressless Comfort Technologies, and the finest leather upholstery ensures you will love this model! The wide-set armrests and adjusting headrest provide very comfortable seating for those that might fit into the "Big & Tall" category. This model's unique headrest shape is intentional. This allows you to fold your arms up behind your head to truly stretch out, relax, and unwind.
Want to add a matching Stressless Sofa, Loveseat or Sectional? You're in luck as there are Ekornes Batick & Paloma Specials for many Stressless Sofas and Furniture that will match nicely with this recliner model. Simply looking for a beautiful Ekornes sofa to pair with this Jazz Recliner? We recomend the Stressless Arion Sofas and Sectionals as well as the E200 Models. These have a "Steel" choice for their feet and it complements the Steel Trim on the recliner perfectly. While the Arion does not qualify, the E200 Model Sofas do qualify for the Every Day 20% Sofa Sale will save you $1000's. Simply choose a matching Batick or Paloma leather sofa or sectional model and watch the savings stack up.
Choose White Glove Delivery on the Stressless Jazz medium- Save $100's
Our Nationwide White Glove Delivery means that we will bring your recliner, office chair, sofa or sectional into your home (or office), unpack it, set it up and take the box/packaging with us when we leave. Of course your furniture will arrive fully-assembled and ready to enjoy!
*Would you prefer to receive your Jazz medium recliner faster? Choose one of our other speedy delivery methods.
Are you searching for a back-saving recliner with more style than an Aston Martin? The Ekornes Stressless Jazz Recliner will surely fit-the-bill. Unlike an imported European automobile, the Jazz Recliner comes equipped with exceptional lumbar, head, neck and leg support. Tight curves and stainless steel trim drive the Jazz recliner into the hearts and home theater rooms around the world. Mostly reserved to those who understand, you can't put a price on a lifetime of comfort- especially when style and back-saving functionality come together so beautifully. Take one for a test drive today- Your Back and body will truly thank you!

Want to view informative Ekornes Stressless videos to assist you in selecting the perfect Stressless Recliner? Simply click the following link, select the search button (the magnifying glass on our YouTube page) and type the name of the Ekornes chair or Stressless furniture item that you would like to preview. You can also search by leather type & color to get a closeup view of most popular leather options.
Like its larger brother (the Stressless Jazz- Large by Ekornes) the Stressless Jazz- Medium, is one of the most modern (or snazzy) recliners produced by Ekornes and in the Stressless Recliner lineup. It's easy to see and feel that beauty is much more than skin deep once you sit down, prop-up your feet and experience what Norwegian comfort is really all about. The Stressless Jazz Recliner usually turns more heads than any other recliner- anywhere. It's sometimes overlooked that the Ekornes Jazz Recliner brings home the same back and neck-saving features that Stressless Recliners and sofas are famous for throughout the world!
The Ekornes Stressless Jazz recliner offers great comfort and support- even to those who are a bit larger or taller (warranty is valid for weights up to 350 pounds).
We always recommending perusing the latest Ekornes Stressless Catalog! It shows models, explains their fabulous features, and even showcases popular colors and pairings. Click the button to the left to view the Ekornes Catalog for Stressless Furniture online or visit our Catalog Page to have one sent out to you immediately. We will drop you catalog in the mail today and it should be almost anywhere in North America in a few days time.
We are dedicated to providing you with a Stress-Free Shopping Experience. We start out with having a huge inventory of Stressless Furniture in stock for immediate shipping. We then build on that by offering Multiple Fast, Shipping and Delivery options across the nation and much of North America. We ensure we are providing the best and lowest prices allowed on all Ekornes Stressless Furniture items. This way you know you are getting a good price without the frustration of dealing with some furniture salesperson. To ensure you are getting exactly the items you need for maximum comfort, we employ an expert team of dedicated Product Specialists. This way when you are looking at a Jazz Recliner, you can rest assured you are working with someone who knows as much as possible about Stressless construction, the warranty, even the improvements constantly being made to reduce the environmental impact of the company.
We invite you to sit down, kick-up your feet and take the Ekornes Stressless Jazz for a test-drive- You'll be glad you did!
Here are a few of the features that make Stressless Jazz Recliners so supportive and comfortable without compromising style-
- Patented Plus System which provides continuous support for your head and lower back.
- Stressless relaxes your entire body by providing perfect balance and optimum support.
- With the Stressless Glide System, you can automatically shift to any seating position by simply using your body weight.
- The easily-moved ottoman also features a built-in Tilt System that adjusts to your body movements for the ultimate in comfort.
- Stressless Recliners and Accessories are built to last for many, many years. A round base and steel support ensure stability.
- Stressless Recliners are created for a custom fit- Many of the other Stressless recliners come in three sizes (small, medium or large) and many sofas are available in two sizes (medium or large). The Jazz Recliner (medium) is comparable to the medium versions of the other Stressless recliner lines (Ekornes Stressless Reno, Stressless Mayfair etc). Both the Ekornes Jazz Recliners (medium and large) share the same attributes. For best results, take a seat and let us help you determine which size will ultimately offer the most comfort and correct support for your individual body size and weight.
Ekornes Jazz Recliners are Exclusively Endorsed by the American Chiropractic Association (the ACA).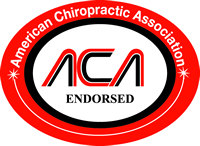 Come visit the Unwind Back & Body Store to experience the Stressless Jazz Recliner for yourself. If you have already decided and are ready to purchase, simply click the "Add To Cart" button below after selecting the available options. Please review our return policy prior to ordering or call 888-486-9463 for personal assistance. You may also email stressless@unwind.com anytime- 24 hours, 7 days a week.
Stressless Jazz Recliner Medium Dimensions:
Recliner- Approximately 33 inches wide x 39 - 43 inches high (approximate as headrest raises) x 29.5 inches in depth (approx.)
Ottoman- Approximately 21.5 inches wide x 17.75 inches high x 14.75 inches in depth
Have questions or need additional information about the Stressless Jazz Recliner Medium or other Stressless Recliners from Ekornes? Please contact us at stressless@unwind.com or at 1-888-4-UNWIND (888-486-9463). We're here to assist you with your Stressless Jazz Recliner, Stressless Furniture or other Soothing Back Product or Furniture purchase.
Warranty Information
10 year warranty on internal mechanism from Ekornes
Additional Details
SKU:

E1212415

MSRP (EKORNES RETAIL PRICING)::

*See Product Description for Promotions

FABRIC (BASE PRICE)::

$3795.00

BATICK LEATHER::

$4195.00

PALOMA LEATHER::

$4295.00

CORI LEATHER::

$4395.00

ROYALIN LEATHER::

$4995.00

Size:

Medium