Description
Choose Fast, Stress-free Delivery on a New Stressless Metro High-Back Standard Base at The Unwind Company.
The Stressless Metro Recliner and Ottoman set is a crowd favorite. Stop by and try one out for yourself. There will be no going back once your back feels the incredible, adaptable lumbar support. While you're in, we invite you to take your time and review all of the Paloma Leather Grade Color choices. It is so incredibly soft and smooth while still being strong and durable. There have been some exciting color additions in 2016. Sparrow Blue and Summer Green have been incredibly popular. [Click here to view Paloma Leather Choices.]
Our Ekornes Authorized Price Reduction Sale is Going on Now!
Now is a great time to save $100's on select Ekornes Stressless Recliners & Furniture items. Supply is limited so call 888-486-9463 or click the Chat button (top of page) to learn how your next Stressless Chair can be delivered nationwide with pricing that simply cannot be matched.

With the changing season comes new ways to save! Choose from many, many Stressless Furniture items in our Ekornes Authorized Price Reduction Inventory (EAPR) and save $100's from what you'd expect to pay. We also make it super easy by including the Ekornes mandated delivery fees in the EAPR model pricing. So the price you get on our Ekornes Authorized Price Reduction models is the "delivered" price with no additional fees- Did we mention the Sales Tax Benefits?
There is no other furniture brand in the world like Ekornes Stressless. Choose a recliner with a perfect comfort zone style. Now, choose the size that fits your body type best, and then you can even choose your favorite base style. There is no one else that understands how important customization is to your comfort like the folks in Norway. [Click here to learn more about the Ekornes' Story.]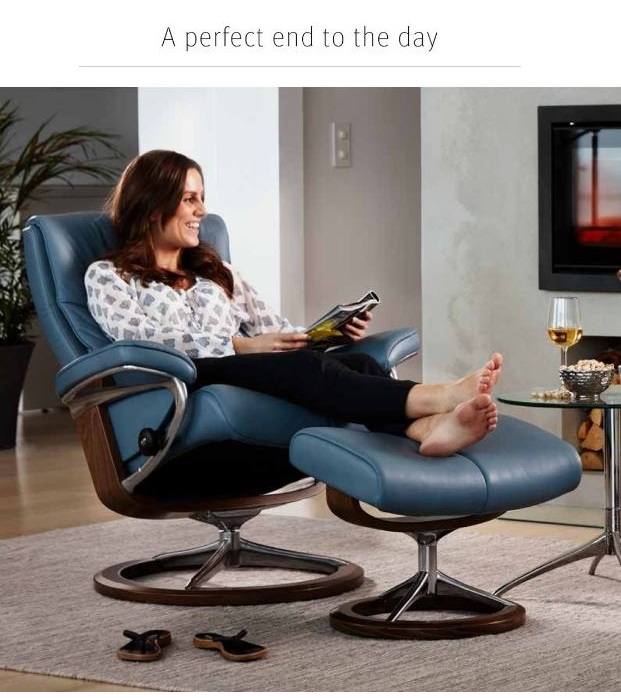 Ordering at Unwind.com is always fast and secure. Here's how to checkout online now and start enjoying your Stressless Recliner even sooner:
Visit the desired Stressless Recliner or Ekornes Furniture product page.

Select the Stressless recliner or office chair model and select the size that fits you best. (Don't forget to choose a base style.)

Make your preferred leather or fabric type selection by clicking one of the small color swatches underneath the desired leather type.

Click your favorite of the 7 beautiful wood stains. (Typically, we have all stains in stock.)

The Lowest Pricing allowed is always displayed automatically (it's displayed next to the product images, top of page).

Now simply scroll down the page and click the "Add to shopping bag" button.

Click the "Proceed to Checkout" button, or the "Cart" button at the top right of the page.

Follow the on-screen instructions and you'll be relaxing in your new Stressless Recliner very quickly.
Our dedicated team of Customer Service Professionals will typically contact you within 1 business day of placing your order. They will verify your shipping address and order information. Want to make sure you are getting the absolute best price and saving the most money? Ask our Customer Service Team to run a double check. If they find any eligible savings, they will gladly apply them to your order. Our #1 goal is your 100% Satisfaction. It's one of the many reasons we are proud to offer a 30 Day Satisfaction Guarantee. If you aren't satisfied with your purchase, we aren't satisfied.
We want to make the shopping process as simple as possible. This is why we have built in the lowest authorized pricing automatically. If you aren't sure about a price, feel to drop us a line at 888-486-9463 or click the "Pricing Information" tab near the top of this page to see all pricing levels for this model. Have more questions or prefer to order via phone? Drop us a line at 888-486-9463 or 1-601-932-5111 (Internationally). You can also chat with our Live Support Team. They are not just Customer Service Professionals, they are dedicated Ekornes Brand Comfort Specialists. They have the knowledge and experience to help pair you with the exact comfort technologies to help you truly relax and unwind.
Enjoy Fast, Worry-free Delivery on a Stressless Metro Recliner Medium with Ottoman.
It's a great time of year to purchase from the amazingly comfortable, Stressless Metro line!
This popular, modern recliner delivers exquisite head, neck and back support and the over-stuffed smooth, soft, cushioning allows you to sit undeterred for many hours on end. The Stressless Metro Medium recliner is among the most modern Stressless recliners available.
Looking to add a matching Stressless Sofa, Loveseat or Sectional? You're in luck as the Ekornes Batick & Paloma Specials Sale Colors are also eligible for additional savings under this promotion. You receive Paloma Special Pricing Colors at Batick Special Pricing levels and Batick Special Pricing Colors at $100 off their regular pricing. These deals can save you $1000's. Simply choose your matching Batick or Paloma leather sofa or sectional model and watch the savings stack up!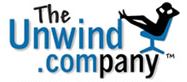 Have Questions or Prefer to order via phone? Drop us a line at 888-486-9463 or 1-601-932-5111 (Internationally). View our Blog to learn about what's new and exciting in detail or drop our Ekornes Brand Specialists a line at 888-486-9463. They can explain the specifics of each product and help direct you to money-saving opportunities.
On most Stressless Recliner models, you can choose a matching accessory. These include: the simple Swing Table, the ultra-convenient Personal/Laptop Table, the useful Ellipse Table, the stylish Urban Table, or the fan-favorite Elevator Ring set.
Got an accessory on your mind? Why not add a laptop table to your new Stressless Metro Low Back recliner? Here are some of the relaxing, productive benefits:
The laptop table will transform your favorite Stressless chair, into your favorite place to work.

It slides easily out of the way if you're not planning to use it.

It has notches on the table back that prevent your laptop or tablet from falling off.

The adjustable height and tilt allows you to work at the perfect, ergonomic position.

It attaches to either side of your classic base Stressless recliner by Ekornes.
We offer the lowest prices authorized by Ekornes on all Stressless Recliners and Chairs. You save time and money with our Fast Delivery to anywhere in the continental United States (and other parts of North America). We have 1000's of items in stock for immediate shipping.
We also deliver Fully-Assembled, Brand-New items right through the front door of your business or home with the Fastest Shipping Methods available. All of our items are backed by the rock-solid 10 year Manufacturer's Warranty at no additional cost. You can truly relax and unwind when you choose the world's most advanced recliners. From the patented technologies, to the outstanding construction and engineering, down to the incredibly useful accessories, you will be able to relieve stress and tension and promote a genuine sense of well-being in this seating solution.
Order as soon as possible while immediate shipping, in-stock inventory levels are at their highest. The savings can really add up, helping you get the best prices.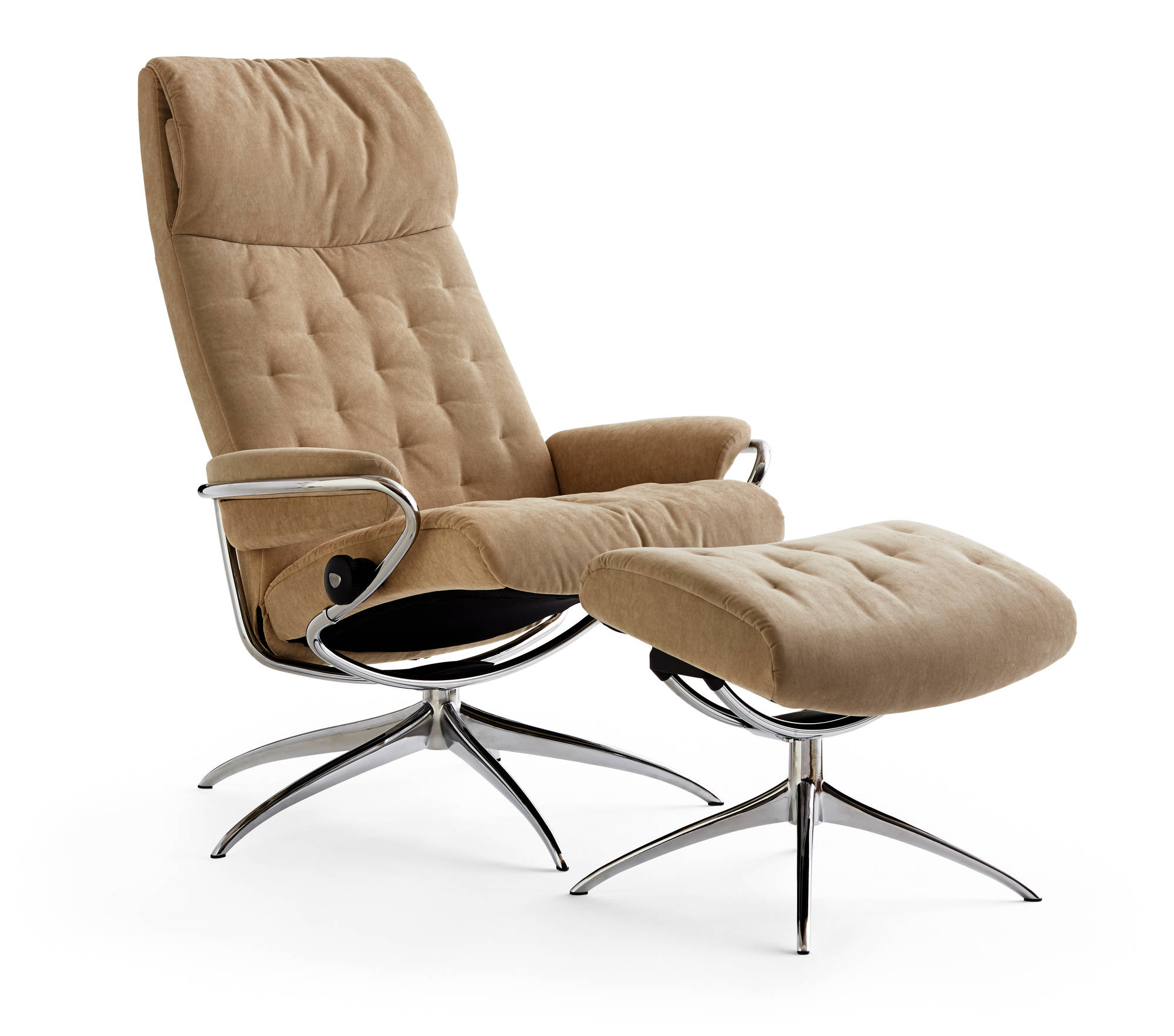 The Standard Base option for the High Back Metro Recliner and Ottoman is virtually identical to the High Back Metro with high base. The Standard Base Metro is 44" tall. This model was introduced in the Summer of 2014. It became quite popular because of its Retro Styling and its unbelieveable comfort. This model features all of the same patented, Stressless Technologies while bringing a few new tricks to the show. The Cervical Pillow Insert can be moved up or down by a few inches to allow you to find that sweet spot of support your neck has been craving. If you want to take this pillow out, simply pull. Ekornes knows that comfort is not "One Size Fits All". They have created customization options to ensure there is a perfect for you.
Try the Verona Fabric for your upholstery. This velvety option is guaranteed to last for decades. The image to the right is Khaki Verona Fabric. It is quite elegant and feature in both the 2014 AND 2015 Ekornes Stressless Furniture Catalogs.
It's a perfect time of year to purchase from the new, polished steel, Stressless Metro lineup!
This newly introduced chair and ottoman series insures proper head, neck and back support and includes many comfort features that add to the appeal of the new retro-styling. The Stressless Metro recliners allow you to sit without strain or sore muscles for many hours on end. These new beauties have been among the fastest-growing, newly launched Stressless recliners at Unwind.
Have Questions or Prefer to order via phone? Drop us a line at 888-486-9463 or 1-601-932-5111 (Internationally)
Want to add a matching Stressless Sofa, Loveseat or Sectional? You're in luck as there are Ekornes Batick & Paloma Specials that will save you $1000's. Simply choose a matching Batick or Paloma leather sofa or sectional model and watch the savings stack up!
Choose White Glove Delivery on the Stressless Metro High-Back Standard Base- Save with sales tax benefits
Our Nationwide White Glove Delivery means that we will bring your recliner, office chair, sofa or sectional into your home (or office), unpack it, set it up and take the box/packaging with us when we leave. Of course your furniture will arrive fully-assembled and ready to enjoy!
*Would you prefer to receive your recliner faster? Choose one of our other speedy delivery methods.
Stressless Metro High Back Recliner with Standard base and Ottoman.
A new level of excellence has been achieved in 2014. Always on the cutting edge of technology and comfort, Ekornes introduced several new items this year. They proudly introducted several new options to the Stressless family. This includes the Verona Fabric, City Recliners, and the vintage-styled Metro high Back Recliner. The new Metro looks as great as it feels. It is a casual nod to the elegant designs of the 1970s while still leading the way in comfort and durability. The brushed steel base is a newer style than the familiar curved European beech wood bases. When you sit down, prop-up your feet and experience true Norwegian comfort, there is simply no other recliner that will do. It's easy to overlook that the Ekornes Metro Recliner brings home the same back and neck-saving features that all Stressless Recliners and sofas are famous for throughout the world!
There is no official matching "Family of Sofas and Loveseats" that matches the Metro models. However, the Stressless Space series and the Arion Sofas match perfectly. You can select the brushed steel legs as an option for these models. You may notice that the Jazz and Blues Recliners also share the brushed steel accents. However, the Metro and City Recliners are the only ones with the shimmering "star base".
What sets apart Stressless Metro Recliners from every other recliner in the world? See below:
Stressless recliners relax your entire body by providing the perfect balance of beauty and optimized support.

The Glide System, allows the recliner to adapt to every movement of your body without the use of any complicated mechanics or motors. With the Stressless Glide System, you can automatically shift to any seating position by simply using your body weight. Need more or less reclining tension? Simply loosen or tighten the Glide Wheels. Once these are set, there isn't much need for further adjustment. Unless someone else is sitting in the recliner with different comfort preferences... If this happens often, you might want to consider getting your spouse their own Stressless recliner. After all, a comfortable couple is a happy couple.

Continuous, positive support is provided to your neck, shoulders and lower back with the Plus System design.

The easily-moved ottoman also features a built-in Tilt System that adjusts to your body movements for the ultimate in comfort. You can't help but notice the extra thick layer of cushioning on the Stressless Metro recliner ottoman. The ottoman also doubles as a soft, separate stool by flipping it upside down and locking the 4 plastic clips. With this much padding on the ottoman, it really does a great job as an independent stool.

Stressless Recliners and Accessories are built to last for many, many years. The unique, steel base insures stability and is extremely durable.

Stressless Recliners are always created for a custom fit- Many Stressless recliners come in three sizes (small, medium or large) and many sofas are available in two sizes (medium or large). The Metro Recliner (medium) is comparable to the medium versions of the other Stressless recliner lines (Ekornes Stressless Jazz Medium, Stressless Mayfair, Stressless Blues Medium etc). Both the Ekornes Metro and City Recliners (medium) share the same attributes. For best results, take a seat and let us help you determine which recliner will ultimately offer the most comfort and correct support for your individual body size and weight. We are also able to assist you over the phone if you're too far away to visit.

Want to see informative Ekornes Stressless Recliner videos? .
Search and watch 100's of Stressless recliner videos at The Unwind Company YouTube site here.
The Ekornes Stressless Metro recliner offers great comfort and support- especially to those who are of average size and weight (warranty is valid for weights up to 350 pounds). For additional details visit the item's product sheet below!

The Unwind Company maintains an A+ Rating with the Better Business Bureau, with millions served. May we assist you as well? We'll always do our very best to get you taken care of- We guarantee it!
We invite you to grab a book, kick-up your feet and sit in the Ekornes Stressless Metro for a few moments- You'll be glad you did- we guarantee it!
Choose Inside Residential or White Glove Delivery!
Important Stressless Metro Recliner Delivery Note:
We have Metro recliners available in multiple locations which allows us the ability to ship your recliner extremely fast and have it delivered quickly from coast to coast. The Unwind Company will offer same-day delivery to almost 70 cities across the United States. Due to the time-sensitivity of our Unwind Express Delivery Service, we are currently unable to process these orders online. Please call 1-888-486-9463 and you can be enjoying your Stressless recliner much faster than you ever imagined. Of course there are some restrictions on this service and sadly, it is not available everywhere.
Not in this much of a hurry? Choose another one of our full-service delivery options. A stress-free shopping experience has been our #1 goal since 1997!
It is no wonder that Ekornes Metro Recliners are Exclusively Endorsed by the American Chiropractic Association (the ACA).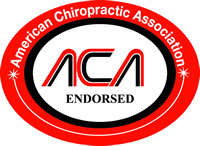 Come visit the Unwind Back & Body Store to experience the Stressless Metro Recliner for yourself. If you have already decided and are ready to order, simply order here securely or call (888) 486-9463. We will ship your chair fully-assembled and you will receive it quickly in most parts of the United States (and North America). Please review our return policy prior to ordering or call 888-486-9463 for personal assistance. You may also email stressless@unwind.com anytime- 24 hours, 7 days a week.
Stressless Metro High Back Recliner with Standard Base Dimensions:


Chair:Width: 31.5" Height: 44" Depth: 28"
Ottoman: Width: 21.5" Height: 21.5" Depth: 16"
Warranty Information
10 Year Manufacturer's Warranty included
Additional Details
MSRP (Ekornes Retail Pricing):

*See Product Description for Promotions

Fabric (base price):

$2695

Batick Leather:

$2895

Paloma or Classic Leather:

$2995

Cori Leather:

$3095

Royalin Leather:

$3295