Description
Large Stressless Spirit Recliner with Ottoman- Save Time and Money at Unwind.
The Stressless Spirit Recliner is incredible. Come visit us and take one for a test drive. You are guaranteed to enjoy this model. The supple padding for the cervical vertebra will beckon you to stay. There will be no going back to your old recliner once your back feels the incredible, adaptable lumbar support. While you're in, we invite you to take your time and review all of the Paloma Leather Grade Color choices. It is so incredibly soft and smooth while still being strong and durable. Some might say this luscious leather will enhance your comfort just a bit more. There have also been some exciting color additions. Sparrow Blue and Summer Green have been incredibly popular. [Click here to view Paloma Leather Choices.]
There is no other brand in the world like Ekornes Recliners. Some may claim to come close but we all know there is no true competition. You choose your comfort zone style, then you choose the size that fits your body type best, and then you can even choose your favorite base style. There is no one else that understands how important customization is to your comfort like the folks in Norway. [Click here to learn more about the Ekornes' Story.]
Your choices just keeping getting better and better. There are several base styles available on the major Stressless Recliner Models. You can choose from the Classic Base, Signature Base, or Office Base. (The London, Paris, City, & Metro Recliners even have their own base style, the Star Base.) The new Signature Base option allows your favorite recliner to gently rock, to dip even lower into the "Sleep Position" to a complete 180º posture.

We want to make the shopping process as simple as possible. This is why we have built in the lowest authorized pricing automatically. If you aren't sure about a price, feel to drop us a line at 888-486-9463 or click the "Pricing Information" tab near the top of this page to see all pricing levels for this model. Have more questions or prefer to order via phone? Drop us a line at 888-486-9463 or 1-601-932-5111 (Internationally). You can also chat with our Live Support Team. They are not just Customer Service Professionals, they are dedicated Ekornes Brand Comfort Specialists. They have the knowledge and experience to help pair you with the exact comfort technologies to help you truly relax and unwind.
Enjoy Fast, Worry-free Delivery on a Stressless Spirit Recliner with Ottoman.
It's a great time of year to purchase from the amazingly comfortable, Stressless Spirit line!
This popular, modern recliner delivers exquisite head, neck and back support and the over-stuffed smooth, soft, cushioning allows you to sit undeterred for many hours on end. The Stressless Spirit recliner is among the most modern Stressless recliners available.
Have Questions or Prefer to order via phone? Drop us a line at 888-486-9463 or 1-601-932-5111 (Internationally). View our Blog to learn about what's new and exciting in detail or drop our Ekornes Brand Specialists a line at 888-486-9463. They can explain the specifics of each product and help direct you to money-saving opportunities.
The Stressless Spirit is one of the wider recliners offered by Ekornes. This beautiful item is nearly 36" across. This allows you to bask and relax in the thickly padded cushions. Allow the Plus System™ and Lumbar Support to provide proper support, exactly where its needed the most. As you recline the seat cushion will automatically move forwards to provide additional support underneath your knees. This prevents any pressure point activation by allowing the legs to rest at a natural angle with a slight bend. You have never been more comfortable than when seated in a Stressless Recliner and ottoman. The footrest even features a tilting system so that it adapts to your leg movements.
Get your Spirit Recliner with Ottoman delivered Fully-Assembled to anywhere in the nation at no additional cost. Take advantage of our White Glove Delivery service and our delivery team will take away your packaging. This leaves you nothing to do but put your feet up and unwind.
It is certainly a great time of year to purchase from the smooth, soft, luxurious Stressless Vision, Dream (and Dream Office), Spirit lineup!
This ultra-comfortable series delivers unsurpassed head, neck and back support and the perfectly soft cushioning allows you to sit undeterred for many hours on end. This line is especially popular among customers that also enjoy the Stressless Paradise sofa.
Have Questions or Prefer to order via phone? Drop us a line at 888-486-9463 or 1-601-932-5111 (Internationally).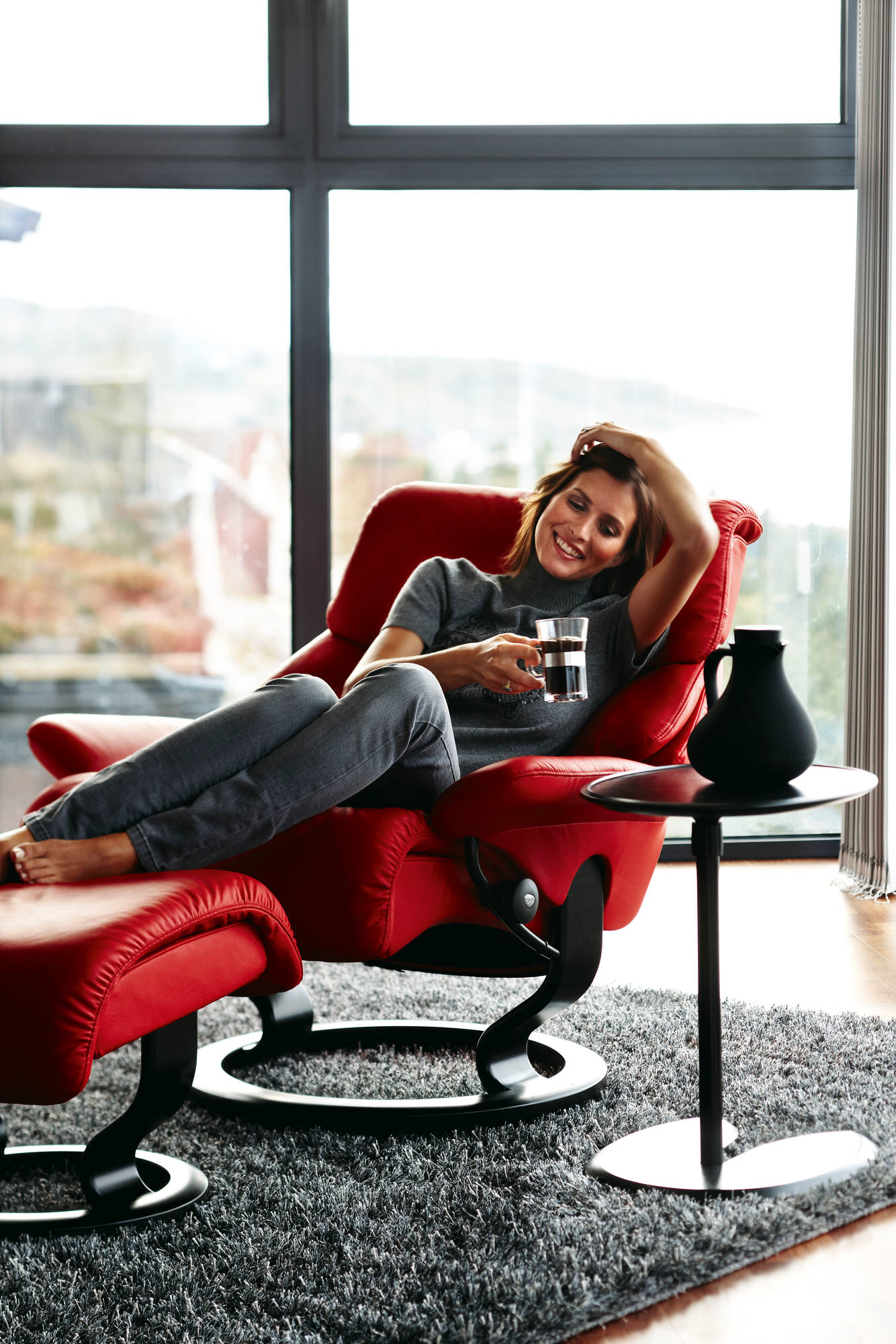 Your Back will Love the large Stressless Spirit Recliner with Ottoman.

With smooth, elegant curves that flow like water in a bubbly brook, the Stressless Spirit Recliner will support your head, neck and lumbar like no other recliner. In fact, you might find it quenches your body's support and comfort needs perfectly. Like its smaller siblings (the popular Stressless Vision recliner and the medium Stressless Dream recliner), the Stressless Spirit recliner is smooth, curvy and extremely comfortable. We find this model to be perfectly suited for those that don't care for the cramped confines of the typical recliner. When sitting in the Spirit Recliner, customer's get a sense of "openness and roominess." Even with the excellent lumbar and neck support, it truly feels very relaxed and uncramped to the larger-sized person. It also works great for average-size folks that need quite a bit of wiggle-room.
Want to view informative Ekornes Stressless videos to assist you in selecting the perfect Stressless Recliner? Simply click the following link, select the search button (the magnifying glass on our YouTube page) and type the name of the Ekornes chair or Stressless furniture item that you would like to preview. You can also search by leather type & color to get a closeup view of most popular leather options.
Search and watch 100's of Stressless recliner videos at The Unwind Company YouTube site here.
The Spirit recliner offers the Patented Plus System for constant comfort and is so stylish and elegant that it will feel "at home" in almost any living room, game room, RV or even at the office. Yet it still manages to deliver the same back and neck-saving features that Ekornes Stressless Recliners, chairs and furniture are famous for throughout the world! The Stressless Spirit offers great comfort and support- especially to individuals who fit the "medium-large" to "large" frame size characteristics (the warranty is valid for weights up to 350 pounds).
Add a beautiful Stressless Swing Table, Stressless Accessory- Laptop Table, or an Ekornes Ellipse Table, and you might find yourself yearning to work a bit more from the house these days. Why not save fuel and reduce back strain at the same time? Now that's an "economic stimulus" that can bring home real life-changing results.
Since we feel that the "wine-of-the-month club" might be losing some ground as far as perks go, we'd like to recommend a perk that will continue to deliver for years to come- a Stressless Spirit recliner. Could someone please call our supervisor and mention this idea? We're thankful for all the worldly Cabernets, but I think we're ready for something that we can enjoy for the next 30+ years- like a Stressless. It's rather interesting, as wine gets better with age and we age better with Stressless.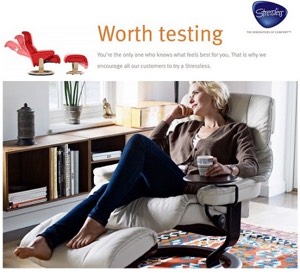 Here are a few of the features that make Stressless Spirit Recliners so supportive and comfortable without compromising a bit on style-
The Patented Plus System which provides continuous support for your head and lower back.

Stressless relaxes your entire body by providing perfect balance and optimum support.

With the Stressless Glide System, you can automatically shift to any seating position by simply using your body weight.

The easily-moved ottoman also features the built-in Tilt System that pivots with your body movements for the ultimate in comfort. The ottoman can also be locked so that it can be used as a handy, separate sitting stool.

Stressless Recliners and Accessories are built to last for many, many years. A round base and double-stem support ensure stability. The European Beechwood is one of the hardest woods we've seen and extremely durable (not to mention stunning to the eye).
Important Stressless Delivery Note:
We have many Stressless recliners in stock in multiple locations which allows us the ability to ship your recliner extremely fast and have it delivered quickly from coast to coast. The Unwind Company currently offers same-day delivery to many cities across the United States. Due to the time-sensitivity of our Unwind Express Delivery Service, we are currently unable to process these orders online. Please call 1-888-486-9463 and you can be enjoying your Stressless recliner much faster than you ever imagined. Of course there are some restrictions on this service and sadly, it is not available everywhere.
Not in this much of a hurry? We offer many other full-service delivery options as well. A stress-free shopping experience has been our #1 goal since 1997!
It is no wonder that Stressless Spirit Recliners are Exclusively Endorsed by the American Chiropractic Association.
Come visit the Unwind Back & Body Store to experience the Ekornes Stressless Spirit for yourself. If you have already decided and are ready to purchase, simply click the "Add To Cart" button below after selecting from the many available options. We will ship your Stressless chair fast and fully assembled. Please review our return policy prior to ordering or call 888-486-9463 for personal assistance. You may also email stressless@unwind.com anytime- 24 hours a day- 7 days a week.
Spirit Recliner Dimensions:
Recliner- Approximately 35.5 inches wide x 39.75-43.75 inches high (height-adjustable headrest) x 32.25 inches in depth
Ottoman- Approximately 22.5 inches wide x 17.25 inches high x 19.75 inches in depth
Have questions or need additional information about the large Ekornes Stressless Spirit or other Ekornes Recliners or furniture? Please contact us at stressless@unwind.com or at 1-888-4-UNWIND (888-486-9463). We're here to assist you with your Stressless Recliner or other Soothing Back Product or Furniture purchase.
Warranty Information
10 Year Warranty on Internal Mechanism from Ekornes.
Additional Details
MSRP (Ekornes Retail Pricing):

MSRP (Ekornes Retail Pricing)

Fabric (base price):

$2995

Batick Leather:

$3295

Paloma or Classic Leather:

$3395

Cori Leather:

$3495

Royalin Leather:

$3795

Size:

Large