Description
Stressless Wing Signature Series Recliner and Ottoman- Stress-Free Delivery from Unwind.
The Stressless Wing Signature Chair and Ottoman is sure to help you soar to new elevations in total body comfort!
The Wing Signature Recliner and Ottoman set is a true customer favorite. Stop by and try one out for yourself. There will be no going back once your back feels the incredible, adaptable lumbar support. While you're in, we invite you to take your time and review all of the Paloma Leather Grade Color choices, which is the most popular leather grade to purchase a Stressless Wing Recliner in, due to its plush and luxurious feel.
Have you taken a look at the following Wing recliner accessories? The ultra-convenient Ellipse Table, the stylish Urban Table, or the fan-favorite Elevator Ring set (or elevator kit for signature recliners).

Our guaranteed low pricing is reflected automatically when you make your leather selection from pull down menu above titled: "Select Leather or Fabric Type and Color

." Need assistance- Please call 1-888-486-9463.
We want to make the shopping process as simple as possible. This is why we have built in the lowest authorized pricing automatically. If you aren't sure about a price, feel to drop us a line at 888-486-9463 or click the "Pricing Information" tab near the top of this page to see all pricing levels for this model.
The Stressless Wing Recliner can be purchased in a wide variety of leather types and colors. To view any of the amazing leather choices, simply use the pull down menu above, which is titled: "Select Leather or Fabric Type and Color". The price of Wing Recliner will change base off of the leather type and color chosen. Can't find the right color or need help? Call 888-486-9463 to speak with an Ekornes Furniture Specialist for further assistance.
*Please note the the Powered Leg Comfort Option is Available in Medium & Large Sizes Only
Ekornes is well known for creating furniture that truly melts stress away! We are proud to introduce the Stressless Wing Fully Powered Recliner with a Classic Base by Ekornes. The Fully Powered classic base, is very similar to the LegComfort classic base, but instead of just having a motorized ottoman attached, the recliner has a motorized ottoman and back. Now, instead of pushing back to recline, you can simply push the button and recline with ease. If you have questions about the Fully Powered Stressless Recliner, or any of the other amazing models listed throughout our site, please call 888-486-9463 or click on the Chat icon. Ekornes Furniture Specialist have access to the latest information and can help find the perfect model, color, and style for any office, home, or living space.
Our Ekornes Authorized Price Reduction Sale is Going on Now!
Now is a great time to save $100's on select Ekornes Stressless Recliners & Furniture items. Supply is limited so call 888-486-9463 or click the Chat button to learn how your next Stressless Chair can be delivered nationwide with pricing that simply cannot be matched.

With the changing season comes new ways to save! Choose from many, many Stressless Furniture items in our Ekornes Authorized Price Reduction Inventory (EAPR) and save $100's from what you'd expect to pay. We also make it super easy by including the Ekornes mandated delivery fees in the EAPR model pricing. So the price you get on our Ekornes Authorized Price Reduction models is the "delivered" price with no additional fees- Did we mention the Sales Tax Benefits?
Enjoy Fast, Worry-free Delivery on a Stressless Wing Signature Recliner and Ottoman.
Choose between many leather colors and a wide assortment of different wood options in all three sizes.
Got an accessory on your mind? Why not add an Ellipse table to your new Stressless Wing Signature Recliner and Ottoman?
The Ellipse table will add the convenience of a sturdy, flat surface that will match your recliner perfectly.

It's great for drinks, magazines, glasses or whatever you need to keep close by.

It can hold more weight than many other Stressless accessories.

The adjustable-height stem allows you to keep your items at the appropriate level next to your Stressless recliner or sofa.

It stands freely next to either side of your Stressless recliner by Ekornes.
Start relaxing in your beautiful new Wing Signature Recliner and Ottoman sooner with our Quick and Easy Shipping Methods.
It's a great time of year to purchase from the amazingly comfortable, Stressless Signature Wing Recliner line! This popular, modern recliner delivers exquisite head, neck and back support and the over-stuffed smooth, soft, cushioning allows you to sit undeterred for many hours on end. The Stressless Wing Signature recliner is among the most modern and padded Stressless recliners available.
Ordering is always fast and secure.

Here's how to checkout securely online 24 hours a day:
Visit the desired Stressless Recliner or Ekornes Furniture product page.

Select the Stressless recliner, office chair, sofa or sectional that fits you best.

Choose your preferred leather or fabric type and color by using the pull down menu above, which is titled: "Select Leather or Fabric Type and Color". Then choose from the beautiful wood stains. Typically, we keep all stains in stock.

The Discounted Pricing is displayed automatically (it's displayed next to the product images, top of page).


Now simply scroll down the page and click the "Add to shopping bag" button.

Click the "Proceed to Checkout" button, or the "Cart" button at the top right of the page.

Follow the on-screen instructions and you'll be relaxing in your new Stressless Recliner very quickly.
The New Signatures Series Base Collection by Ekornes is guaranteed to impress. The BalanceAdapt Technology allows for increased function and enhanced comfort. Think you know Stressless? Think again. The new Signature Bases have a slight Rocking Feature, a deeper recline, and allow you to lay out in a completely flat, 180 degree, position when in Sleep Mode. Call or Chat with an Ekornes Brand Specialist now to learn more.
We love to share the latest information regarding new Stressless models, changes, additions, and farewells to the Ekornes Furniture lineup. This information was recently announced and we'd love to "bring you up-to-speed." Be on the lookout or drop us a line at 888-486-9463 for the latest scoop.
Click here if you want to view the traditional Stressless Wing Medium Recliner and Ottoman with the familiar wooden hourglass base.
We have new recliners, new models, new changes to old models, new options, new leather colors, discontinuation of some colors, and much more. We always recommend clicking here to check out our latest blog post as our dedicated team posts most of the new information to the blog first. Many of these new changes aren't even available for delivery yet. We just wanted to make sure and keep you updated as soon as we found out about these exciting changes.
You can truly relax and unwind when you choose the world's most advanced recliners. From the patented technologies, to the outstanding construction and engineering, down to the incredibly useful accessories, you will be able to relieve stress and tension and promote a genuine sense of well-being in this seating solution.
Just as a reminder, let's take a quick peek at a few of the features that make Stressless Recliners so supportive and comfortable:
Patented Plus System which provides continuous support for your head and lower back.

Stressless recliners relax your entire body by providing perfect balance and optimum support.

With the Stressless Glide System, you can automatically shift to any seating position by simply using your body weight.

The easily-moved ottoman also features the built-in Glide System that adjusts to your body movements for the ultimate in comfort.

Stressless Recliners and Accessories are built to last for many, many years. A round base and double-stem support ensure stability.

Stressless Recliners are created for a custom fit- Many of these recliners come in three sizes (small, medium or large) and many sofas are available in two sizes (medium or large).
At Unwind Furniture Co., we proudly offer the lowest prices authorized by Ekornes on all Stressless Recliners and Furniture items. You save time and money with our Fast Delivery to anywhere in the continental United States (and other parts of North America). We have 1000's of items in stock for immediate shipping. When you choose Unwind, you can relax knowing you saved money and time with the best prices and customer service.
Still have questions or prefer to order via phone? Drop us a line at 888-486-9463 or 1-601-932-5111 (Internationally). Click here to learn more about us or check out our online blog to learn about what's new and exciting in detail. Ekornes specialists are available at 888-486-9463. We can explain the specifics of each product and help direct you to money-saving opportunities.
In an effort to provide you with the quickest and most convenient shipping and delivery options, we offer Fully-Assembled Delivery of brand new items right through the front door of your business or home, as our standard level of service. We save time by using the Fastest Shipping Methods available. Our in-stock shipping options allow us to deliver to virtually anywhere in North America in 1-5 business days. There's no need to pay for slow, standard shipping elsewhere when you can get Priority Shipping, standard at Unwind. All of our items are backed by the rock-solid 10 year Manufacturer's Warranty at no additional cost.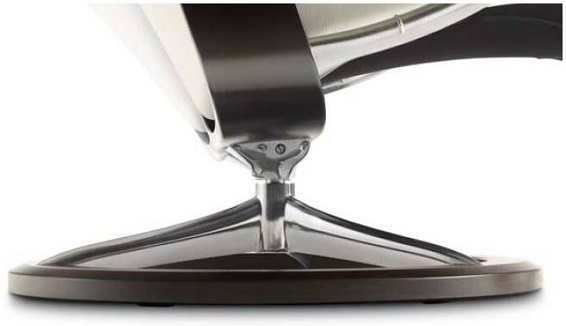 Stressless Signature Series Items: These Wing Recliner models are modern revisions of the original or "Classic Base" option we have grown to love over the decades. The "Signature Base" was delicately introduced in 2015 on the fan-favorite Skyline and View Recliners. These models, for a lack of better words, sky-rocketed in popularity. In a matter of months, they reached new heights of popularity. Their individual styling and Comfort Zones™ brought a new range of comfort to Ekornes' Fans but the brilliant Signature Base™ took things one step further. The BalanceAdapt Technology allows the seat to further adapt and move with your body's adjustments. It also allows the user to rock gently while seated. Finally, it also allows you to sink deeper and lean back further to lay back and engage that beloved "Sleep Mode" function. You can recline to a complete 180° position. "Classic Base" Stressless Recliners allow to recline far back and nearly lay flat, but the "Signature Base" models will take you all the way...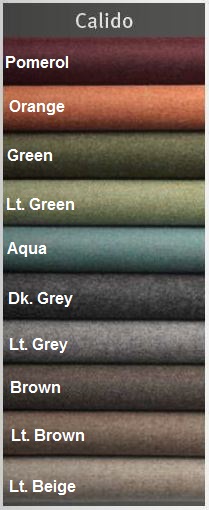 The Designers at Ekornes in Norway know that while Leather has a large crowd-following, there will always be a large demand for an extensive Fabric Upholstery Selection. Click here to view our Stressless Fabric Informational Page. The wide variety of fabrics gives you a wide-spectrum of textures, colors, appearances, and more to consider when selecting a beautiful Fabric Covering for your New Stressless Signature Series Recliner and Ottoman. A few fabrics have gained a slight bit of popularity, but clearly most folks prefer the fine leather options.

There are different, beautiful color choices in fabrics. They range from the hearty Pomerol to the Light Beige and Lighter Green variety. It is an Italian Milled Wool Felt material and meets a robust 80,000 Martindale Cycles Rating in abrasion resistance testing.
Ekornes also introduced a new Full-Grain Leather called Noblesse. This is the absolute, most-exclusive leather grade offered by the manufacturer. It is through dyed so it can retain its color for decades to come. During the tanning process, only the faintest touch of protective lacquer is applied to the leather's surface. This allows the natural softness and luster to glow without hindrance. Some might even say that Noblesse is softer than the former Royalin Grade Leather. The natural grain and texture have been retained and the tanners do not correct the surface of the leather. This means that minor color nuances and skin blemishes may occur. This grade is the most delicate and therefore vulnerable to UV exposure and spills/stains. Choose your Stressless Wing Recliner with Signature Series Base and get Noblesse leather to top it off.
The Stressless Wing Recliners match the Wave Series Sofas perfectly. They accent nicely with the Arion Sectional Options as well. When the Atlantic and Pacific Recliners by Ekornes were discontinued a few years ago, the Wing was introduced to match the sofas that remained. Check out our selection of Stressless Wave and Arion Sofas to find your matching furniture set.

Choose PayPal Credit for their flexible payment options and familiarity when purchasing the fantastically comfortable Stressless Wing Recliner. Finance your purchase, relax with flexible payment options and pay the balance off over time. Remove the pressure of shopping and truly relax and unwind. Easy Payments with PayPal Credit lets you get the comfortable Stressless Furniture when you want it, and budget your payments as you go. You can choose the monthly payment amount and the length of time that works best for you. After all, who know you better than you? Pay with peace of mind. PayPal will notify you when each monthly payment is due, so all that's left to do is sit back, relax, and enjoy your purchase.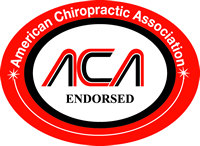 Stressless Recliners by Ekornes of Norway are the only furniture line to be endorsed by the American Chiropractic Association. This is the largest Chiropractic Association in America. It is based in Virginia and serves as the national voice for the profession. The official announcement was made in 2002, but we wanted to remind you that when you choose a brand-new Stressless Signature Wing Recliner, you are not only choosing style. You are choosing a back-healthy seating system.
Being healthy is a priority. No longer can we afford to put our back health and overall well-being to the side. Choose a Chiropractor Approved, Back-Healthy Recliner from Ekornes and you are choosing to make your healthy a priority. You are putting an end to back pain and discomfort. You are investing in a more comfortable tomorrow; a more comfortable version of yourself.
The patented comfort technologies found exclusively in Stressless Brand Recliner Chairs ensures correct support for your head and lower back in any seating position. It's one of the many reasons why they are so much more comfortable than any other brand. Let's take a look at these amazing features that earned such a prestigious endorsement:
Plus System

- allows the head rest of your new

Ekornes Wing Signature Series Recliner

to come forwards slightly as you recline in your seat. This allows you to easily carry on conversation, maintain eye contact with the television or enjoy a snack.

Lumbar Support

- the adaptive ability of the lumbar support allows it to change shape as you recline to ensure you receive the proper amount of support at each changing angle.

360

° Swivel Base

- the patented 2 stem base and 360° range of rotation allow you to effortlessly reach items all around you with minimal strain.

Glide System

- the seamless glide wheel system allows you to recline or sit upright in your chair with a simple adjustment of your body weight. There are no levers to jerk or buttons to push.
Product Dimensions: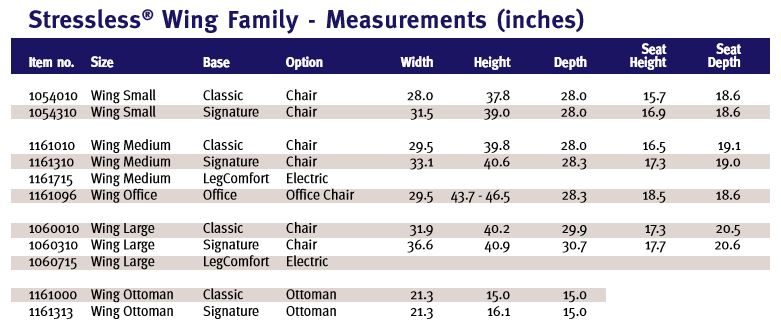 Warranty Information
-10 Year Warranty on Internal Mechanism- Ekornes Guarantees the internal mechanism of its recliners for a period of 10 years from the date of purchase of the product. The 10 Year Guarantee covers the Plus System and the internal metal frame, including the the metal springs and gliding system. It does not cover damage to the leather, woodwork or any faults or damage caused by the use of the product other than in accordance with the manufacturer's recommendations, as well as any faults or damage arising from any repairs made by any persons not authorized by the manufacturer. -5 Year Warranty on the base- The 5 year warranty covers the base for the chair and ottoman, including the swivel ring, gas lift, extensions as well as all foam and interior padding in the chair and ottoman. Also includes electronic parts and motor for LegComfort mechanism and all accessories. Please note that some deformation and indention in padding is considered normal and is part of a break-in process. -2 Year warranty on LegComfort Battery. -1 Year warranty on leather or fabric upholstery- The 1 Year warranty covers the leather or fabric upholstery including stitching and zippered assemblies assuming that the product has been cared and maintained using Ekornes approved guidelines for maintaining leather furniture. *This warranty only protects you when you purchase an Ekornes product from an Ekornes authorized retailer (e.g. Unwind Furniture Co.).
Additional Details
SKU:

E1161315