Unfortunately, the 2014 Home Seating Promo has expired.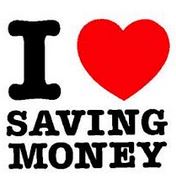 Stressless Home Theater and Sectional Seating allowed you to maximize the amount of seating in a room. Buy during the "Home Seating Promotion" to maximize your savings by receiving up to a $1500 credit to use towards any Ekornes products. Allow me to briefly explain:
Under the Home Seating 2014 Promotion, Ekornes allowed us to provide you with a credit ranging from $750 - $1,500, based on the number of seats in your order. If you bought 2 or 3 seats, you received a $750 credit; 4 or 5 seats, you received an $1,100 credit; and if you purchased 6 or more seats you received a $1,500 credit. This was frequently used to cover the cost of accessories or cleaning kits or some even deducted it from the purchase of another seat. E.g. If you purchased a Stressless Space Low Back Sofa, starting at $3,895, you were already at the 3 seats level. This means you automatically received $750 to spend on any accessories like the Ellipse Tables, Armrest Table, Leather Conditioner OR you can take $750 off of a matching Stressless Taurus Recliner. Want to learn more? Call 888-486-9463 or visit our Promotions Page.
Whether you want to seat 2 or 12, Ekornes has a layout that will suit your needs, see below:
Feel free to visit our Sectionals Page to see some of the Pre-Made Layouts or match together the individual seats and pieces of your choosing. While you are there, be sure to check out the new Home Theater Section and see what's in store. The beauty of getting these seating solutions is that you can seat a great deal of people and they can all sit comfortably. There is no need to sacrifice beauty, function or comfort when you choose Stressless.
We have done our best to streamline the process for you. We have some common layouts already designed for sectionals and home theater arrangements. Certain models can be designed in ways that others cannot. The most popular sectionals with Medium Corners are the Arion (matches the Orion & Taurus chairs), Wave (matches Atlantic & Pacific chairs), Legend (matches Magic Recliners), Space (matches Orion & Taurus), and Eldorado (matches Tampa, Reno, & Vegas Chair Styles).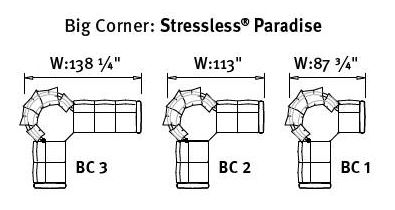 If you are more interested in the ErgoAdapt Technology and modern styles, the E40, E300, & E200 styles have a variety of layouts to suit any room style, size, or decor.

The engineers at Ekornes not only designed Home Theater Seating that basically makes your movie chair the most comfortable seat ever, but they designed layouts that maximize viewing capability and style. There are 3 basic options from which you can build your dream theater: #1. The basic Sector which has regular armrests on the outside and Sector Arm Tables on the inside between the seats; #2. The Sector Arm Option adds a little more utility by having Sectors on both side of the seats; and finally #3. The Corner Table which allows you the ability to rearrange and move your Theater Seating at your leisure because they use fully, independent seats separated by beautiful wooden Corner Tables.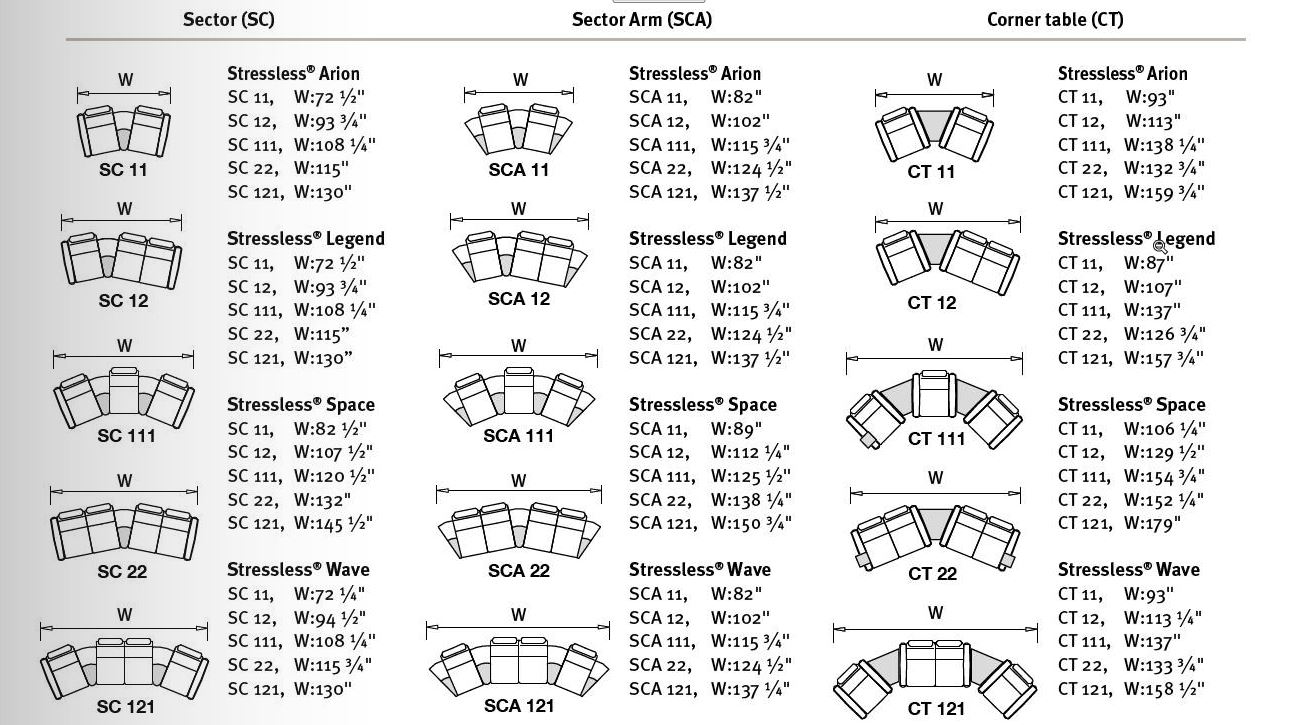 Having trouble finding the exact seating arrangement to suit your needs? Let our friendly staff help. We can create digital mock-ups based on your specifications and descriptions. It is quite common for our friends and customers to ask for custom designs and layouts. Our Ekornes Experts will gladly do these at no cost to you. :) Simply provide your specifications and an email address and they should be able to design the seat of your dreams in typically just a day. [On a side note: our Ekornes Customer Service team is not only very knowledgeable and passionate about this furniture but they are also very friendly and genuinely enjoy helping others achieve comfort and relaxation. It's always a pleasure for me when I bump into one of them.]
Whether you design your own Home Theater Seating or Sectional Sofa today, now is the time to buy. The "Home Seating Promotion" is made to help you save the most on these items. Choose from any of the available pre-designed layouts or design your own. Call 888-486-9463 to speak with a Sectional or Home Theater Specialist today, to have them draw up and email a 3-D design of any Stressless Layout or Ekornes Furniture combination.
Allow me to sum it all up: You can save $100s to more than $1500 on some of the finest furniture in the world with the current promotion. Now I can't speak for you, but I know I might say something like "Thanks for the savings.... What else ya got?". The Unwind Company is proud to offer Free White Glove Delivery and Installation for orders within the continental United States, Sales Tax Benefits, and Free Shipping & Delivery. Ask your Unwind Customer Service Team Member for more details. They will be glad to share! :) For questions you can visit our FAQ Page. If you would like to chat in real time, simply click the flashing yellow button at the top of your screen. We have actual people standing by to answer your questions nearly 24 hours a day. They should be able to answer any and all questions or at least direct you to the appropriate specialist or expert on the subject.
If you have any additional questions or would like to discuss this article, leave a comment.
I will happily get back to you as quickly as possible.
Until next time... Stay comfortable my friends!