How to Care for and Maintain Your Beautiful Ekornes Leather Furniture-
Keep it Vibrant and Beautiful for Years and Years!
Ekornes Leather Conditioners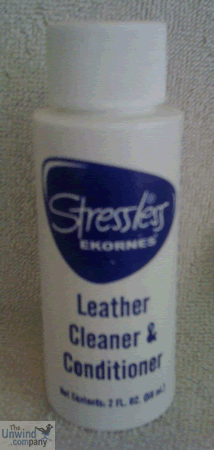 (Click on either image to order the Leather Conditioner and Cleaner in 2 oz. or 8 oz. sizes)
All of the fabulous leather grades offered will require attention and conditioning. This is because they pure, premium, top-grain leather. We strongly recommend using an approved Leather Conditioner anywhere from 1-5 times annually. This will keep the leather strong, moisturized, and young for years of use. Check out the links below to leather care/cleaning products and conditioners:
Leather Conditioners
1-2 Seats: Leather Care Conditioner by Hide Bracer 2oz bottle (approved for Stressless Seating)
2 or more Seats: Hide Bracer Leather Conditioner 8oz bottle (approved for Ekornes Stressless Furniture)
Leather Cleaning & Care Kits
1-2 Seats: Leather Care Kit Small (approved for all Stressless Furniture)
2 or more Seats: Leather Care Kit Large (approved for any Ekornes products)
Here is some helpful information on how to preserve the look and feel of your new Ekornes furniture from Unwind. Remember that furniture in daily use is exposed to various strains caused by many external factors, such as natural body oils, perspiration, general wear and tear and color transfer from jeans or t-shirts.
There are a number of simple steps you can take to preserve the beauty of Ekornes furniture and keep it looking fresh for many years to come. The leather in furniture is neither self-cleaning or self-maintaining. Leather always absorbs moisture. Typical spills can leave marks and should be addressed as quickly as possible (the longer you wait, the harder stains are to remove).
Leather Info
Leather has a limited elasticity. This means that when stretched, it does not completely return to its original shape. Therefore, when leather furniture is used more or less intensively, the leather may become looser over time.
Leather like any other natural material can fade when exposed to direct sunlight over a long period of time. Royalin, being one of the more natural leathers, is particularly more sun sensitive. Therefore to minimize fading, avoid placing the furniture in direct sunlight and exposing it to harmful UV rays.
To maintain the surface properties of the leather, we recommend that you keep a minimum distance of a couple feet between your furniture and any heat source (e.g. radiators, electric heaters, etc).
Leather is not resistant to our furry-friends like dogs, cats and other friendly animals. Do not allow pets on your leather furniture (if this is possible). Their claws may scratch the leather which can lead to an expensive repair. Their saliva is acidic and may also attack the leather finish. If you cannot keep them from enjoying the comfort of your Ekornes furniture, we strongly recommend using a blanket or other type of cover to minimize the risk of damage to your leather furniture.
In order to avoid stubborn stains, always protect your leather when using household chemicals (e.g. domestic detergents such as window cleaners, bleach and finger nail polish, nail polish remover, glue, shoe polish, paint, corrosive materials, oil-based products and hair dyes). Avoid domestic detergents and any products containing solvents and oils, as they may destroy your leather surface. Do not use any traditional household products to remove stubborn stains. Many of these are harsh and cannot be guaranteed safe for use on leather. Do not use a steamer to clean leather furniture.
Certain cosmetics and body care products contain solvents and oils. These products are not beneficial to leather, as they are likely to break-down the leather finish over time. Avoid relaxing in your leather Ekornes furniture with wet hair or with freshly applied hair care products or cosmetics. To avoid build-up of these products, it is best to clean your Ekornes leather recliner regularly as we describe in this page.
All leathers last longer and look and perform better when preventive maintenance is performed. Many of our customers have been enjoying their Ekornes furniture for more than 20 years and say they still look and feel "as good as new." While we are always pleased to hear from such happy customers, we also acknowledge that they made a commitment to treating their furniture in a fashion that greatly assists in its longevity.
Maintain surface appearance and texture by gently wiping your leather once a week with a clean dry cloth or vacuum with a soft brush. This will remove dust and dirt.
Where Does Ekornes Leather Originate?
The leather for Ekornes furniture is a natural material that comes from cattle hides. When the hide has gone through a tanning process and further processing to achieve the correct utilization properties, it is called leather. One characteristic of leather hide is that it is marked by nature, vegetation and the care the animal has been subjected to. Cattle spend most of their lives outdoors and will therefore, like there human counterparts, be marked by many external influences such as insect bites, tears, scars, wrinkles, stretch marks, etc.
Leather Properties
Leather is a natural product and is a beautiful and earthly material that has been used in furniture manufacturing for decades. Each hide is unique in its structure, appearance, characteristics and size. Ekornes may use several different hides when making your custom furniture. This, combined with the leathers play of color's and natural marks, makes each piece of furniture extremely unique. In time, the leather will age and gain what is called "patina." It is important to be aware that although leather furniture can withstand a lot of wear and tear, its appearance will change with the years- Just like us!
Ekornes Leather Characteristics
Hide absorbs dyes differently and therefore the leather may have color nuances. These are due to dissimilarities and different fiber structures, which affect the coloring of the hide and how the hide absorbs the dyes during the tanning process.
All Ekornes leather components are deep dyed, but there could always be a deviation between the basic colour of the hide (the colour of the side that faces the upholstery side of the furniture), and the color of the grain side (the external side) e.g. the colour of the outer layer. This is normal. It is possible to use the same basic color for leathers with different top color's.

Dyes and dyeing methods may vary between the different leather color's and leather qualities. Therefore the basic colour and the colour of the top layer (which forms the wear layer and the final desired colour of the finished product) of a given leather quality may differ.
Some of the Ekornes leather dyes have a two-tone colour effect (shadow-antique effect). Leather dyed with a two-tone effect may change character faster and wear more unevenly than leather with just one colour. This applies in particular to areas of the furniture that are exposed to harder wear such as armrests, seat cushions and neck supports.

Denim clothes and hard textiles such as brightly-finished designer jeans expose the leather to strong wear and may leave color on the leather which is difficult to remove without risking damage of the top color of the leather. Light leather color's in particular are vulnerable to such color contamination.

All furniture leather sold by Ekornes is resistant to light, but changes in color may occur as a result of use and extensive exposure to light. Consequently, Ekornes furniture should not be exposed to direct sunlight or direct heat from heaters and other sources of heat. Leather is vulnerable to exposure to oils from direct contact with human skin (especially from the neck and hands).

Please remember that leather has a relatively long life-time but can easily be damaged by incorrect handling or the lack of simple maintenance.
Natural Markings on Ekornes Leather
Ekornes has stringent, fixed rules for choice and use of leather. Here are the types of natural markings that may be found, and where you can find them on Ekornes furniture and recliners:
Type 1: Used on surfaces subject to wear and other highly visible parts of the furniture
1. Healed scars.
2. Fat folds and neck wrinkles.
3. Veins.
4. Uneven grain.
5. Colour differences resulting from leather varieties.
6. Insect bites.
Type 2: Used on less visible parts of the furniture
7. Salt stains.
8. Clusters of healed scars/bites/scratches.
9. Warts.
Type 3: Used on hidden or less visible parts of the furniture
10. Fertilizer stains.
11. Comb marks.
12. Marks caused by mechanical treatment during tanning or production.
Type 4: The following are never used on Ekornes furniture or recliners:
13. Barbed wire marks.
14. Large scars or scars from open wounds.
Stressless Leather Protection
Stressless Leather Protection is a water-based protection product for all types of leather except nubuck and suede. Stressless Leather Protection protects against oil, water and alcohol stains as well as everyday dirt and grime. It will also keep your leather lovely and soft, and when used regularly in combination with Stressless® Leather Cleaner, prevents pigmented leather from cracking.
We recommend your leather furniture is cleaned and re-protected at least every six months.

Ekornes and The Unwind Company disclaim all liability if you maintain your leather furniture with other products than Stressless® Leather Care products. At Unwind, we ship these quickly and without charging for postage and handling, so there is no need to ever jeopardize the integrity of your beautiful Ekornes furniture by not treating it according to these guidelines.
The Unwind Company stocks 100's of Stressless Recliners, Ekornes Chairs, and Ekornes Furniture items for the Fastest Shipping to virtually Anywhere in the Continental United States!

*Stressless and Ekornes are trademarks of Ekornes ASA - Norway.
The Unwind Company and the Unwind Back and Body Stores are authorized Retailers of Beautiful Ekornes Stressless Furniture, Recliners, Chairs and Accessories.
Have questions or need additional information about Ekornes leather, Stressless Recliners, Ekornes Furniture or Current Promotions?
Please contact us at stressless@unwind.com or at 1-888-4-UNWIND (888-486-9463). We're here to assist you with your Ekornes, Stressless Recliner, Ekornes Furniture or other Soothing Back or Body Product purchase.