Unfortunately, the 2015 Summer Leather Upgrade Promo has expired.
Save up to $500 per seat and Enjoy a Free Leather Upgrade on all Stressless Furniture from Ekornes.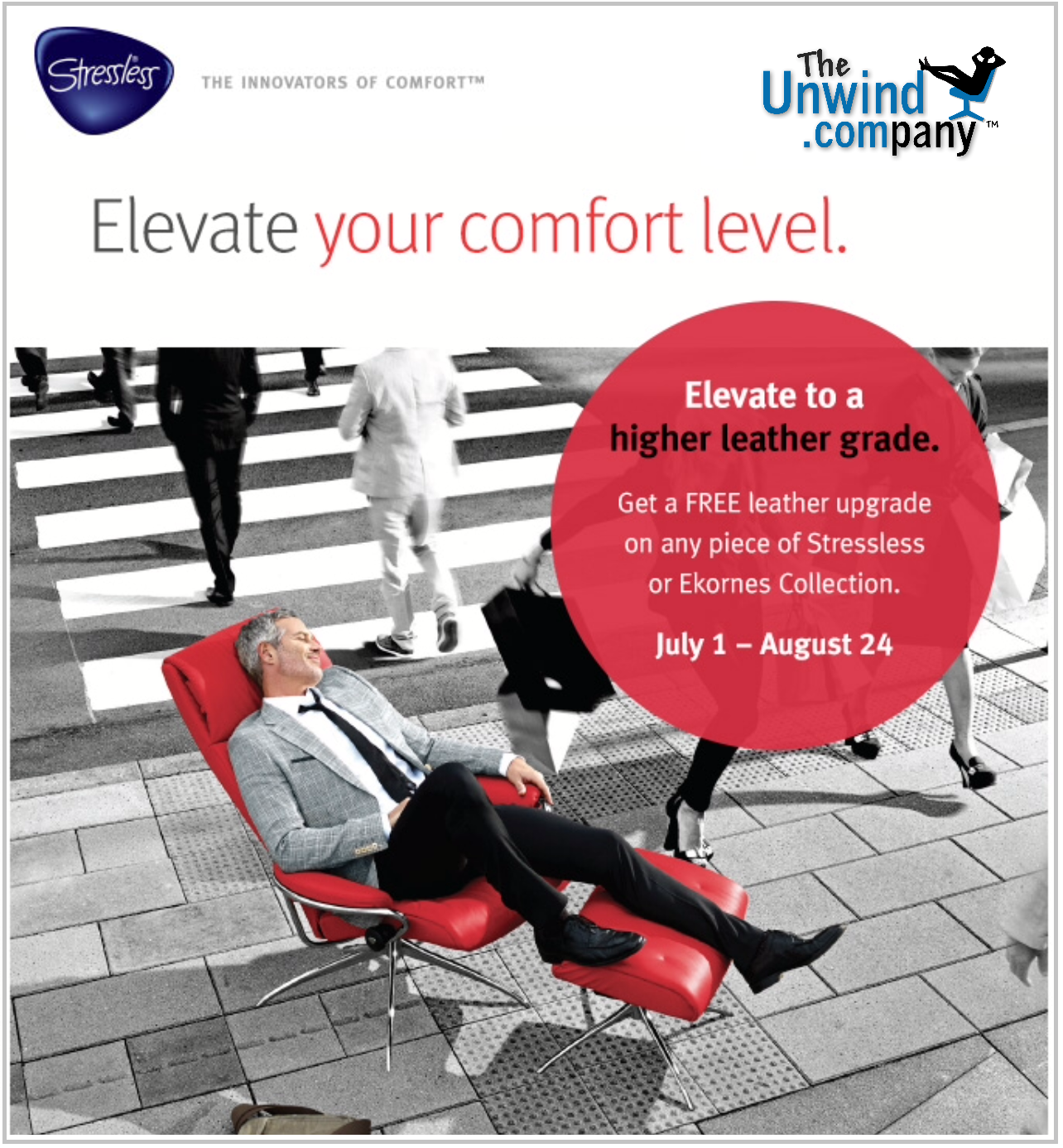 We will automatically apply this discount to your order so long as it is placed between July 1, 2015 through August 24, 2015. We genuinely enjoy helping you save money and sit more comfortably. Which is why we offer Fully-Assembled Delivery to anywhere in the nation, including many locations in Alaska and Canada.
Here's how it works:
When you're choosing your favorite Stressless Recliner, Sofa, Sectional, Office Chair, and/or Ottoman, you need to choose an upholstery option. You can take advantage of a Free Upgrade from the Base Fabric Pricing on these models to the Beautiful Batick Leather option or you can choose another higher leather grade and pay the price of the level below it. See below:
- Purchase Royalin Leather at Cori Leather Prices
- Purchase Cori Leather at Paloma Leather Prices
- Purchase Paloma Leather at Batick Leather Prices
- Purchase Batick Leather at Fabric Upholstery Prices
- Purchase Paloma Special Colors at Batick Special Prices (Applies to sofas with Paloma Special Prices.)
This promotion applies to all Stressless and Ekornes Collection products that feature leather upholstery. Unfortunately, this does not apply to Dinamica, Batick Special, or Fabric Pricing. These pricing levels are absolutely as low as possible.
While we cannot combine this Free Leather Upgrade Promotion with any other offers, you do have another option available to help save you more!
The 2015 Stressless Crown Promotion: Save $300 off of select color choices.
Eligible Colors Include: Chocolate Paloma Leather and Blue, Fog, & Amarone Cori Leathers. You can still pick any of the 7 stocked wood stain colors for your new Stressless Crown Recliner in either medium or large sizes. (Basically, you get double the discount on one of the newest recliner models (The Crown) in one of the newest Leather Grades (Cori) because you are actually paying the Batick Leather Price.
We guarantee you the highest level of Customer Service, the lowest prices allowed by the manufacturer, and a Stress-Free Shopping experience when you choose The Unwind Company. For your convenience, we have built in the discounted prices for each leather grade on each product. If you want to double check and make sure you are getting the best prices on your selected model, chat with us nearly 24/7 or call us toll-free at 888-4-UNWIND. Our dedicated team of Ekornes Brand Specialists will have the most up-to-date listings for pricing, availability and delivery times.
I have missed you, my readers, but I must go. This isn't a long post because the latest Ekornes Leather Upgrade Promotion is nice and simple.
If you have any additional questions or would like to discuss this article, leave a comment.
I will happily get back to you as quickly as possible.
Until next time... Stay comfortable my friends!