Unfortunately, the 2014 Consul Promo has expired.
Are you ready for a Stressless Blowout Sale? Looking to snag a deal on the Ambassador Recliner? Maybe the Consul or Diplomat recliners suit you better.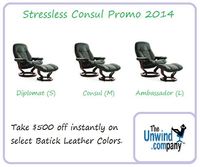 Either way, now is your time. Make your purchase under this promotion to get the best price on these beautiful Stressless Recliners in select Batick Colors. The good news is that you save $500 instantly on these models in their special colors. No coupons. No codes. No complicated checkouts. Select one of these beautiful Batick Leather Options and you will be getting one of the most popular models at closeout prices delivered right to your front door. To learn more, visit our Promotions Page. This will give you a detailed breakdown of the promotion and the item eligibility.
Even better, these 4 color options happen to be the most popular colors in Batick Leather available from Ekornes. On a side note: This leather is actually one of my favorites. It is "family friendly" and budget friendly. In my opinion, it also has the most personality. Getting to know a brand new Stressless Consul in Cream Batick is like making a new friend. When you first meet you will notice the upholstery is firm. It has characteristics that stand out to you like it's pronounced grain, the way the sunlight adds depth to the colors, and the way it greets you when you first sit down. Just like any good friendship, as time progresses the leather evolves and matures. With regular conditioning and typical usage, you will notice a beautiful patina forms. There will be a shimmer and smoothness that becomes more evident with each passing year. After awhile, it will be like you know each other's every thought. The leather will be cool and breath to maximize your comfort while seated and you will become more keen and understanding about the leather's conditioning needs. The Batick Leather is better than a friend because it is more forgiving of tiny things like spilled drinks and lap dogs.

Whether or not Ekornes realizes it, they have set you up to save big with this promotion. To learn more about this awesome company click here: Ekornes Info Page. Not only can you get a recliner and ottoman with an exclusive endorsement from the American Chiropractors' Association but you can also get your favorite Ekornes Furniture items at an instant 20% discount in the featured Batick Leather colors. Black, Brown, Burgundy, & Cream Batick selections will bring down the regular price of a sofa or loveseat by nearly 20%. This ranges anywhere from $400 - $1000 per item. Some models save you even more... Allow me to demonstrate your savings on a Paradise High-Back 3 Seat Sofa in Black Batick leather: Regularly: $6,095 Now: $4,895.00 delivered under the 2014 Special Colors Discount.
Always remember we have Free Shipping, Free Delivery, No hidden fees, Sales Tax Benefits and unparalleled Customer Service. At Unwind, we treat you like family!
If there is a specific topic you would like me to discuss, please send an email with your request to blog@unwind.com
I will happily get back to you as quickly as possible.
Until my next post... Stay comfortable my friends!