It seems like everyone is looking for the best price on Stressless Recliners. Who wouldn't? Before I knew about Unwind, I spent a great deal of time surfing the web and checking in local stores tracking down the lowest price on my favorite Reclining Sofas and Recliners. Finally, the search is over. The Unwind Company guarantees to deliver the lowest, authorized pricing on all Ekornes Furniture. Period. In addition to pricing these beloved items at the lowest, legally allowed prices, they also ship them fully-assembled using the most effective shipping methods available. For example, place an order today for a Mayfair Recliner in our "immediate shipping inventory" and our team will get your item assembled, inspected for quality assurance, and prepped for shipping to your home/office. Sit back after completing your order through our secure website and you will be sitting comfortably in that chair in 2-5 business days. If you are like me, you are asking, "What if I want same-day delivery?". Then you should click here to read about our Unwind Express Delivery. It is guaranteed to be the fastest delivery available. But don't wait, call now as all Express Deliveries must be placed over the phone. 888-486-9463
[Back to the point Lee! Tell me how I can save money and have this amazing Norwegian Furniture in my home.]

If you are seeking recliners at closeout or bargain level pricing then we have a deal for you. The very popular Large Governor Recliner and the Medium Senator. These are "Stress-Free Chairs" at a "Stress-Free Price". To briefly jog down memory lane, let's hear the history of these guys. A few years back, Ekornes discontinued the series. For some unknown reason, they intended to phase out this wonderful option from the lineup forever. During that time of "discontinuation", their popularity soared. The people spoke and it was clear. These models were not going anywhere. They evolved from "discontinued models" to "rarities". Eventually becoming one of the most sought after models.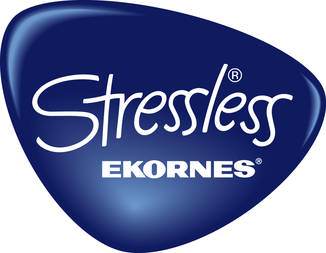 As always, the folks in Norway were receptive to the people's message. They needed to bring back this family of recliners. Just in time for delivery in 2014, these models were established back into production in Sykkylven. There would be no need to special order these items or scour the internet looking for someone still holding onto a few. Now they are stocked and ready to ship at The Unwind Company.
[That seems cool and all but what's the big deal? They are just seats that went away and came back.]
Since "reinstatement" these items are available only in Paloma leather. Which is terrific because it's the most popular leather grade available. It's also one of my favorites. It is soft, supple, and gentle. Those are not the typical adjectives for leather. It also limits the amount of options which makes it easier to decide on what color will work best for you. These models are exclusively available in Black, Chocolate, Light Grey, & Sand Paloma Colors. You can still choose from any of the 7 famous wood stain colors. This allows you to find a suitable match in the wood whether you have Maple, Pine, Cedar, or whatever.
And finally... The last bit of news is the best part. The "Regular Retail Pricing" was never "reinstated". This means we are allowed to literally price these models as low as possible. Our team has found the lowest possible price for these models and has yours ready to go! The prices are so low that we are not even allowed to advertise them. To me, that says it all.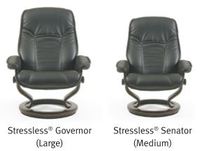 No longer do you have to wait for a sale or a promotion to get the very best offers on quality recliners. These items are also fully-stocked in Paloma leather options for Fast and Free Shipping. No longer do you have to wait months to get the lowest possible prices by special ordering a fabric option. You also don't have to wait to have them in your home where you can truly relax and unwind. Check these models out: The Senator (Medium Size) and The Governor (Large Size). They are available every minute of every day for rock-bottom prices. They are only available in Paloma leathers which is perfect because that's my favorite (it is also the most popular leather for Ekornes' items).
This may sound a bit exaggerated but nevertheless, I'll still say it: "These recliners are among the best value buys in the Stressless lineup." You save $100s on these items and they are brand-new. They have never been sat in, used or "tried out". Once you order and your chair arrives, it's like opening a brand new bag of socks. Simply open the sealed package, remove the plastic, and enjoy the surreal comfort. When I say surreal, I mean the Governor is one chair that is a "perfect fit" for me. I took the "Comfort Test" and found out which seats suit my body. The Comfort Zones on the Governor provide a noticeable support on each side of my lower back. This creates a very comfortable sensation when seated. I also like the subtle and not "flashy" design to the seat overall.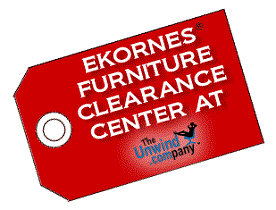 If you are interested in these Gov/Sen options or just want to see what other models and options are available at unbeatable bargains, check out our Stressless Clearance Center. It is full of Brand-New Models, Ekornes Authorized Reductions, Clearance & Closeouts, and Discontinued Items. You are sure to save a bundle and you don't have to wait to receive these. We keep a plethora of items in stock for immediate shipping and can typically deliver within 2-5 business days across the country. depending on location.
If you have any additional questions or would like to discuss this article, leave a comment.
I will happily get back to you as quickly as possible.
Until next time... Stay comfortable my friends!