This Promotion has Ended- Luckily, there are still great deals waiting for you. Click here for the latest blog posts...
We all love Summer- There are a million reasons why...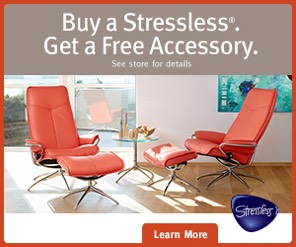 Kids get a break from school and most of us get to enjoy the outdoors and our yards, but stress never takes a Summer break. The heat and physical activities of Summer can leave you stressed and some may even experience back pain. Not to mention that many summer activities can be quite costly. If you are stressed and looking for a great deal on furniture that is guaranteed to relieve stress and relax your mind, then look no further. Right now with qualifying purchases on Stressless Furniture, you can receive a free accessory valued up to $1395. This is an excellent addition, considering that when we get home we just want to relax and kick our feet up. With your free accessory, you can have a place to set your Laptop (laptop table), your drink (swing table), or have a great piece to place your summertime party snacks (Windsor table). Ekornes furniture is handcrafted by skilled upholsterers that take pride in their high quality furniture. Why not compliment your beautiful new pieces with accessories that are as stylish as they are useful.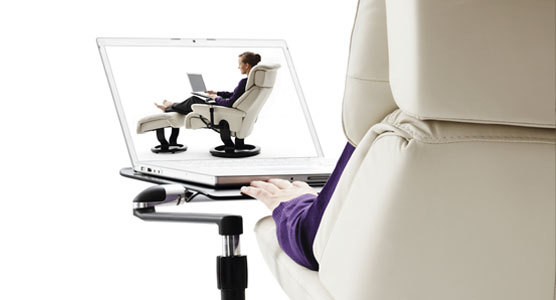 In this section, I am going to describe a situation of why this promotion may be perfect for you.. As I said earlier, when we get home, we are usually tired or stressed from a long day at the office. In today's world, we use our laptops to catch up on work, check our social media sources, or catch up on shows that we have missed. With many traditional recliners, one would have to either place their laptop on their lap or put a pillow underneath it. In buying a qualifying Stressless recliner during this promotion, you will be able to relax in true comfort, with full lumbar support and obtain a stylish laptop table for free… The design of the Personal Laptop Table is truly unique, as it can extend to the side and fold over when not in use. Also, it can be adjusted in height and is angled slightly (fully adjustable) to keep your laptop firmly in place. As you can see, with this promotion you are not only relaxing your back, but are also able to use your laptop with true efficiency, ease, and accessibility. Currently (until July 31st) one of the coolest things about the Stressless laptop table is that it can be included with your qualifying Ekornes chair purchase for free. You're going to love the convenience and ergonomic benefits!
There are many other available options during the Ekornes Comfort Plus Promotion to accessorize your Stressless furniture. These are guaranteed to please and help reduce your Summer stress! To learn about this promotion and qualifying items, take a look at the details below, as they describe which accessories are available, and for which furniture items. Each accessory is unique and designed to be stylish and a perfect fit for your beautiful Stressless Furniture.
Take a look at the details of the Comfort Plus Promotion.
Receive a Swing Table, Personal/Laptop Table, Ellipse Table, Hardfloor protectors or Elevator Ring set absolutely FREE with your purchase of a Stressless Recliner and Ottoman with a Classic Hour-glass base and Stressless office chairs.
Get a FREE Ellipse Table, Alpha Table, Beta Table, Urban Table Small or Elevator Kit with the purchase of a Stressless Recliner and Ottoman with a Signature Series or Star base.
For Stressless Sofa or Ekornes Sofa Collection purchases, receive a FREE Ellipse Table, Urban Table Small, Urban Table large, Enigma Table, Corner Table. Alpha or Beta Table or Ekornes Style Table.
For LegComfort Powered Ottoman models, receive a FREE battery or choose from the free recliner options above.
The Accessory offer can be combined with the Stressless Live offer (now that's a great deal)
It's your choice, personalize your comfort by selecting between the above relaxing offers. Pricing on the Stressless Live (in select colors) is reflected automatically. Need assistance- Please call 1-888-486-9463.
*Promotion cannot be combined with most Clearance or Authorized Price Reduction Models (these are already heavily discounted)