Description
E300 Stressless Loveseat by Ekornes-

Batick Specials are No Longer Available
This beautiful 2 seater comes standard with the built-in ErgoAdapt™ system of support. This ingenious skeleton of modern technology ensures that the seat will adapt to your body as you sit back and will remain flat and stable as you lie across the seats. This model is an ideal Stressless Sofa to help you rest and nap away the turmoil of every day life. Make your living room an escape with this Stress-Free Furniture.
The Batick Special Prices save you a great deal of money. Simply select 1 of the 4 every-day, low-priced colors and your discounted price will be shown at the top of the screen. The four colors also happen to be the 4 most popular Batick Leather colors: Black, Brown, Burgundy, & Cream. These rich colors show depth and warmth. They are subtle enough to last a lifetime and blend with changing fads.

Whether your style lends itself to a modern approach or you would prefer a deep toned wood stain, the E300 Loveseat has a leg option for you. Choose from the brushed steel round legs or choose from any of the 7 beautiful Ekornes' Wood Stains for the wooden roung leg option.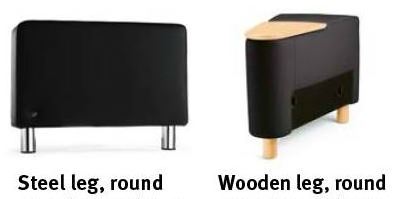 This loveseat is a perfect fit for almost everyone. The best way to find out if it's the best fit for you is to take a test drive! The "Comfort Test" will allow you to better understand how the seat suits your body.
The "Comfort Test"™ - primarily consists of probing questions you should ask yourself to make certain a recliner is the "perfect fit" for you.
Does this chair feel large enough to support your whole body? If the chair is too small for you, you will notice your shoulders may not be properly support by the back cushion. If your head is too far above the back cushion and you feel as if it isn't adequately supported, then this chair is too small. If the chair is too large, you may notice there is too much space between your legs and the armrests. Also, if your head feels "pushed forward" this may indicate that the chair is too large for you.

Is the ottoman positioned correctly for your legs? Maybe you need to move the ottoman closer to the chair or further away so that your legs feel "lighter" and there is no pressure on your knees. Proper leg support is essential to experience all of the comfort benefits unique to Stressless Recliners and Ekornes Furniture.

If the chair is too large it may be difficult to seamlessly recline. If the chair is too small, it may feel as if it moves too freely. We always encourage you to tighten or loosen the glide wheels at this time. If the movement of the chair is still not exactly as you want, the size chair may not be correct for your body.

Lumbar support is one of the greatest features of Stressless furniture. Do you feel adequate lumbar support as you sit, recline and lay back in this chair? If you do, you might have the correct size. If you do not feel 100% great lumbar support it is possible the chair is too big or too small. If your chair is too big, the lumber support can be too high to properly support and ease your back tension. If your chair is too small the lumbar support will be too low and will not be very noticeable.

Can you see directly in front of you? If the headrest is too large for you, you may feel as if your head is being pushed forward. If it is too small, you may notice there is not enough head support to see the tv in front of you with ease. Stressless technologies are designed to provide adequate support in specifc sizes so that your head and neck never have to strain or struggle.

Finally, feel the leather. How does the texture feel to you? The Batick leather is more textured than Paloma and has a thicker layer of protecting lacquer. We like to say each person prefers a specific leather. Also, your environment should be considered when selecting a leather. Pets, children, food, sunlight are all important factors to consider when selecting your premium leather for your Stressless Recliner. Learn more about the leather grades here on our website: [Ekornes Leather Information].
Product Dimensions: Width: 72.5" Height: 28.75" Depth: 38.25"
Additional Details
SKU:

E1271020-BS