Now is the best time to buy and save on select Consul Family Recliners with Ottomans.

Get the absolute lowest prices on Stressless Consul Recliners in select colors during the 2016 Consul Promotional Sale going on now through November 22nd, 2016.
Choose Black, Brown, Burgundy, Cream, Latte, or Grey Batick Leather with the Classic Wooden Base Design and enjoy a $400 discount instantly. These are brand-new, "fresh from the oven" so to speak, recliners with ottomans. There really is a best time to buy particular models and now is that time.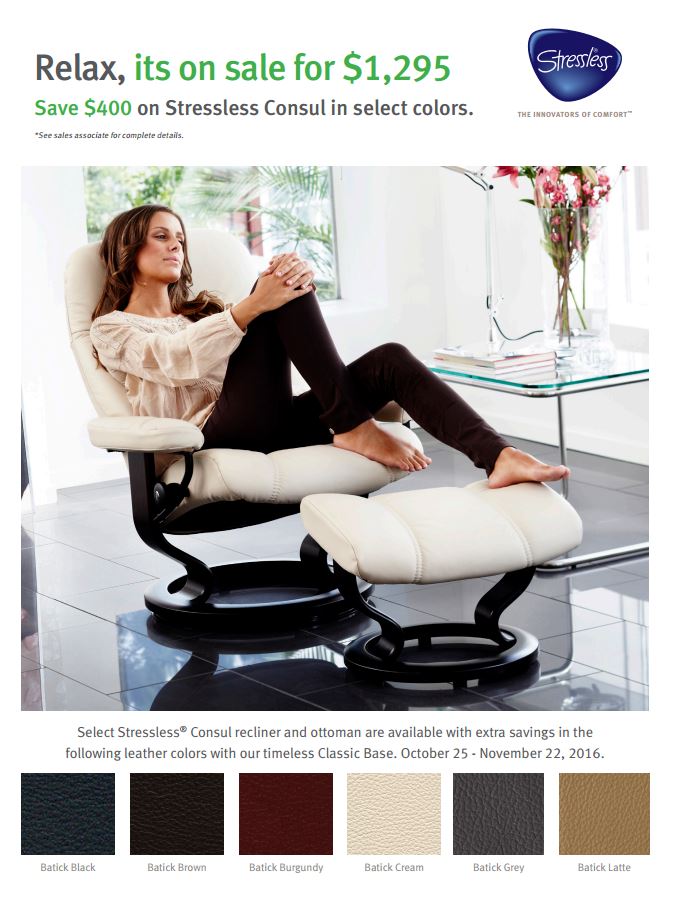 Batick Leather is the perfect choice for those looking for a budget friendly leather option. Batick is well-textured, very resilient to "high wear" environments, and comes in several versatile color choices. If you complete your purchase before November 22nd, you will instantly save $400 on these special colors choices on your Small, Medium, or Large Stressless Consul Recliner Family Models.
When you choose Unwind, you not only choose the lowest prices allowed on all Ekornes Stressless Furniture but you also choose the most knowledgeable and Customer Oriented Team in the nation. We diligently maintain an A+ rating with the Better Business Bureau and do our best to achieve 100% Customer Satisfaction at every opportunity.
Our delivery options are reliable and safe. We guarantee safe arrival of your beautiful new Stressless Recliner and Ottoman pair. We also Fully-Insure all shipments so there is absolutely no risk to you. We know that comfort and relaxation begin the minute you begin shopping with us and they hit their highest peaks once your new recliner is delivered safe and sound and you can begin to truly relax and unwind. However, we also make sure that there is peace and reliability between completing your order and the few days shipping time.
Please don't hesitate to contact us at 888-4-UNWIND to speak with a Customer Service Professional. We can easily answer any questions or take your order right over the phone.
If you have any additional questions or would like to discuss this article, leave a comment.
I will happily get back to you as quickly as possible.
Until next time... Stay comfortable my friends