Hi,
My name is Lee. I am an outspoken advocate for healthy living and improving your well-being. I believe that being the best version of ourselves begins by taking the best care of our bodies as possible. I have learned a great deal in recent years and am still learning new ways every day to better care for myself and my family. Several years ago I learned that there is something called "Healthy Furniture". These are furniture items that you can not only sit on and use to entertain guests but can also use to improve your general well-being. Stressless Furniture is Healthy Furniture and is endorsed by the American Association of Chiropractors for it's positive health benefits and proper support for your body. (There will be a blog post to come about this topic soon...)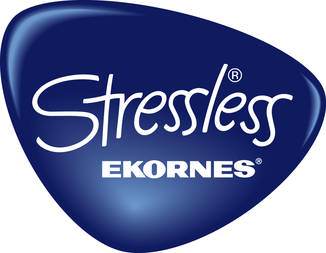 I am also willing to bet that you are tired of your current recliner chair or sofa. I am confident that if you try out a Stressless Recliner or Ekornes' Furniture Piece, you will set a new bar for truly comfortable furniture. The best way to try out the seats is to visit one of our stores and take the "Comfort Test" in a beautiful recliner. However, if you already know which model/models suit you best, you can preview, customize, and design your soon-to-be furniture with the Stressless Design Online Program. This lets you snap photos of your room, design 3D computer renderings of your home, room, and see what it would all look like with beautiful Stressless Recliners and Sofas.
Visit the Ekornes Design Program Online Here. or keep scrolling down to read our quick and easy instructions for this online design program.
First, you need to visit the Design Online page by clicking the link above or copying this address into your browser's URL bar: http://sdo.ekornes.com/?lan=en&UnitSystem=Imperial... - Once you are there, your computer should automatically attempt to install the necessary components to run this amazing program.
Interior Design
You can click the "Interior Design" Tab on the upper right hand side of the page to layout the floor plan and specifics of your room. The "Room Layout" option allows you to select the shape of your room and the "Floorplan" option allows you to customize the digital rendering to the exact measurements and specifications of your home or office. This includes inserting windows and doors.The "Room Elements" option will let you add things like house plants, blinds, end tables, even an old upright piano into the room. To move and adjust these items on your screen, simply click and drag them to the preferred location in the room design.
Products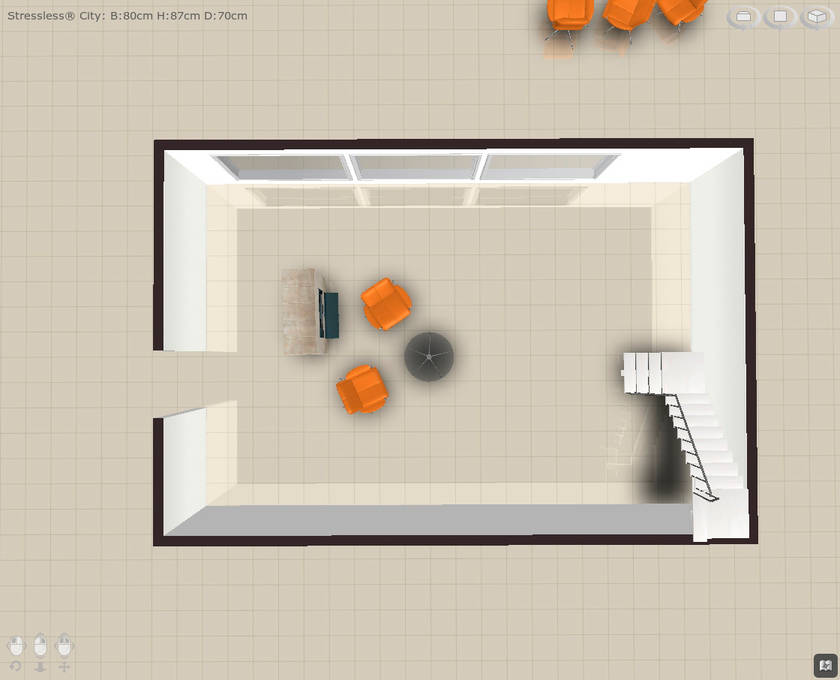 When you are ready, you can add your soon-to-be recliners and furniture into the room design. Once you have completed your room, including colors and elements, you can add any current Ekornes Stressless Furniture item directly in the room. You can drag, spin, rotate, and place the furniture wherever you prefer. Try moving the item to several places in the room design to choose from multiple options. You can also click the "Play Icon"

on Stressless Recliners and Sofas. Simply click the furniture piece and then click this play icon. It will demonstrate the ability to recline and adjust for each seat selected.
Once you have your beautiful Ekornes Furniture placed, simply click the furniture piece one time. This will open up another design option on the right hand side of the screen that will allow you to select the upholstery option and color. If you have a Stressless Sunrise Recliner and Ottoman item placed in your room and you would prefer Black Paloma Leather with Walnut Stained wood, you can adjust it right on your screen. Click the recliner once and go to the "Leather" option on the right hand side of the screen. Click it once and it will show the 4 Grades of Leather: Batick, Paloma, Cori, & Royalin. Select the Paloma option and then find "Black" about 2 rows down. This will change your recliner on the screen in real time. You can play around and try out various colors and combinations.motion capability of that furniture item. I.e. It will make the recliners recline and the ottomans tilt.
Sofas
You can also use this Design Program to layout your existing room and create a custom Stressless Sectional Sofa. The E200, E40, E300, Arion, Liberty, Paradise, Legend, Wave, & Eldorado Models can be customized into Sectionals.
Simply click the "Products" Tab next to the "Interior Design" Tab. This will open up a menu and you can click "Sofas" at this point. Then choose the model of your liking and begin to select the components to design your dream sectional or home theater set. As you select the items on the right, you will need to click on the actual image to choose which side of the unit to place your seat. Once completed, you can then customize your upholstery choice with Fabric or Leather, same as the recliners.
I know it's been a long post, but I promise I'm almost finished... ☺
Print Report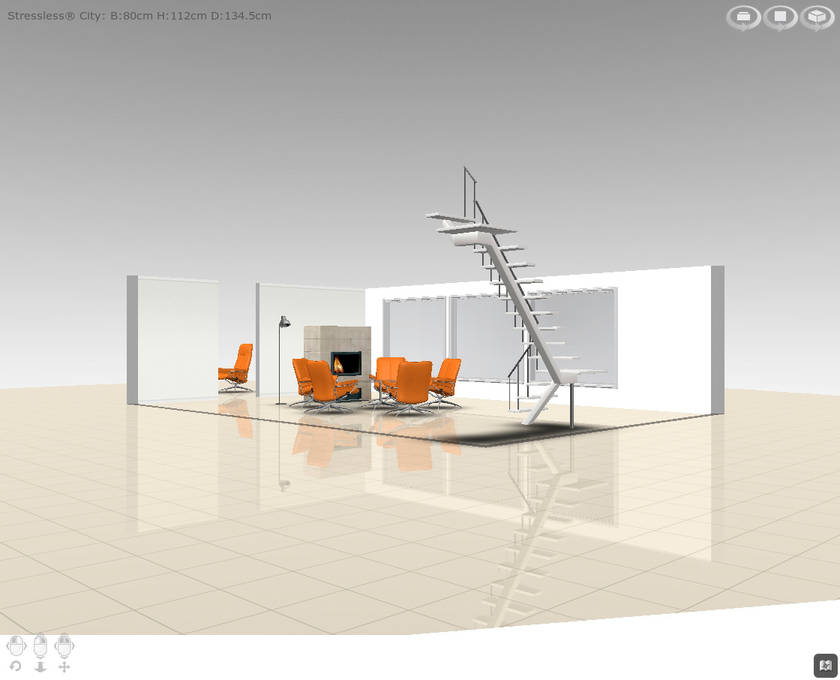 When you have finished designing, you can print a shopping list right from this program. Once you have completed your room, placed your furniture items and have chosen your upholstery, it's time to click "Print Report" at the bottom of the screen. This will generate a list of the actual items needed with the accurate SKUS to assist you in placing the perfect order at your friendly, authorized retailer of Ekornes and Stressless Items. Click the "Print Report" button at the bottom of the screen and allow the program a moment to generate the list for you. Please note that the more items you have on your page, the longer it will take to generate an accurate list. For example: If you have 1 Stressless Recliner, it will take about 10 seconds to generate the list and SKUS and if you have 1 Sectional Sofa, multiple accessories and recliners, it can take closer to 30-45 seconds.
Once you have this list you are ready! Simply give us a call at 888-4-UNWIND (888-486-9463) and we can have your order processed in a flash and get you the lowest, authorized prices available. You can print your Items & SKUS list or you can save it as a PDF file.
To save your work, you first need to create an account. Click on 'Log in' at the top of the window. You can choose between using your Facebook ID, Google+ or create a new user account with Ekornes. After you have logged in, you will see the 'Save' button at the bottom of the window. If you have saved a design, click on 'Open' in the toolbar at the bottom of the window to open the file.
iPhone & iPad App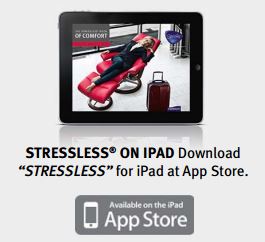 If you are like me and prefer to use your iPhone or iPad over a regular computer, you can download the Application from the Itunes App Store by copying this address into your URL bar: https://itunes.apple.com/no/app/stressless-design-... or by clicking the image to the right.
If you accidentally forget your password, don't worry. You can reset it in a flash. Click on "Forgot password" in the log-in window and enter the e-mail address you used to create the account. You will then be sent a new password via e-mail.
Thanks for being a faithful reader of this blog! We appreciate you. Please don't hesitate to leave comments and questions or send our specialists a question by submitting your request on our "Ask An Expert" page.
If you have any additional questions or would like to discuss this article, leave a comment.
I will happily get back to you as quickly as possible.
Until next time... Stay comfortable my friends!