Unfortunately, the 2015 Companion Promo has expired.
In an effort to extend the current sale to provide savings opportunities for every single person, Ekornes has added another way you can save under the current promotion. Now, choose any size Sunrise Recliner and Ottoman in your favorite Paloma Leather color and get $300 off instantly (select colors apply). This means Black, Chocolate, Light Grey, Rock, Sand, & Tomato are $300 off of their regular pricing. Some of Ekornes' best selling colors like Chocolate or Light Grey Paloma are $300 off instantly. This is especially helpful if you only want a single recliner. If you only want 1 Sunrise Recliner and don't want an additional item or ottoman, then choose 1 of the many gorgeous Paloma Leather color choices and get $300 off the regular pricing.
Having trouble seeing this discount in your cart? Drop our Ekornes Experts a line at 888-486-9463 and they can help you out in real time and have you taken care of in a flash.
- - - - - - - - - - - - - - - - - - - - - - -
The 2015 Companion Seating Promotion is a great way to get the best prices on all of your favorite Ekornes Furniture and Stressless Recliners. This promo is especially helpful to those looking to buy more than 1 piece since the first piece purchased generates an instant $500 discount off of additional items.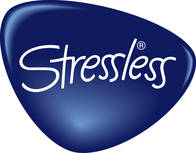 The promotion will apply automatically to all orders placed between Friday April 17th, 2015 through end of day June 22nd, 2015. If you checkout online and aren't sure if the promotion is displayed in your order don't worry! If it isn't, our dedicated team of Ekornes Experts will automatically amend your order to reflect the discount and send you an email letting you know we saved you extra money. We enjoy helping you relax and unwind and we know saving money makes it even easier to sit comfortably.
Let's check out the various ways we can save money on some of this beautiful, comfortable furniture. We will write the "Official Ekornes Promotional Rules" and then demonstrate some ways to personalize it. Let's do the short version in a chart before we do the long version. This way you can read the chart and continue shopping. Please see below:
Companion Seating Promotion 2015
SAVE up to $500 on additional seating and ottomans with any qualifying purchase.

First: Purchase your 1st item at its regular price.

Next: Choose one of the following discounts on your 2nd item of equal or lesser value:

+ Stressless Recliner- Ottoman is FREE (pay for chair only price)
See #1 and #4 Below
+ Stressless Ekornes Sofa (includes sofas, love seats, 1 seat sofa chair)- Receive $500 instantly off MRP
See #2 Below
+ Sofa Ottoman- Receive $500 off MRP
See #3 Below
+ Stressless City/Metro Low Back Chairs- Receive 20% off MRP instantly
See #6 Below
+ Stressless Office Chair- Receive 20% off MRP
See #6 Below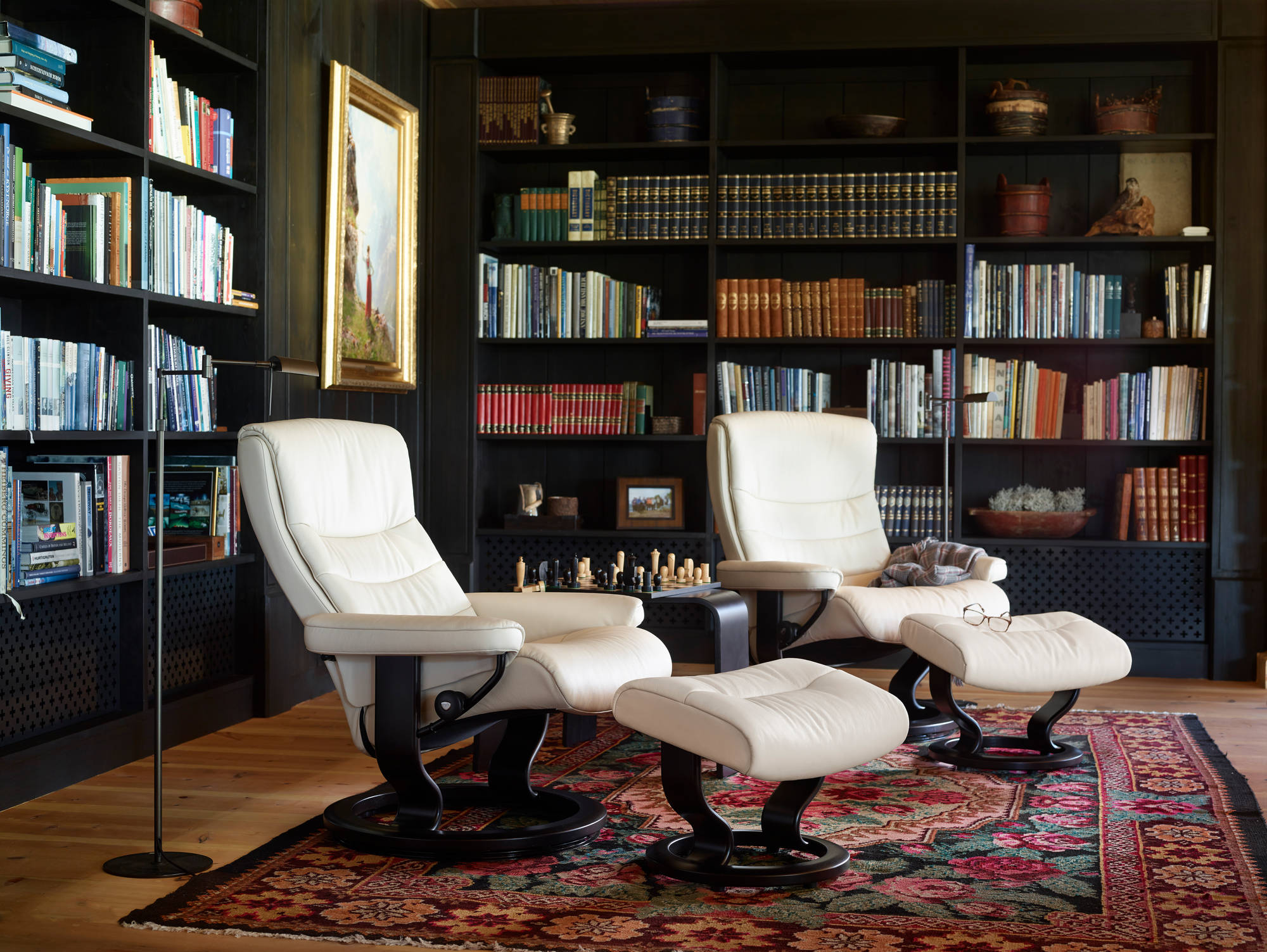 #1- Get your recliner and another recliner with a FREE ottoman.
Ekornes says, "Purchase a Stressless Recliner and ottoman at regular price and receive a free recliner ottoman with purchase of a second companion Stressless Recliner at equal or lesser value."
What this means: Buy One Stressless Recliner/Ottoman Set and Receive a Second Recliner/Ottoman Set at an instant discount. The price reduction comes from getting the 2nd ottoman for free! There aren't many occasions where you can say your Stressless anything was free.
For example: Buy 1 Mayfair Recliner and ottoman in Taupe Paloma Leather for $2,695.00 and your second Mayfair Recliner and ottoman in Taupe Paloma is priced at $2,156.00. This means you save $539 on this particular configuration. Ekornes knows that you don't always want to buy 2 identical recliners. That's why they are letting us mix and match. E.g. Buy 1 Ekornes Mayfair Recliner and Ottoman in Taupe Paloma Leather for $2,695 and get a Stressless Sunrise Small in Sand Paloma for $1,836.00.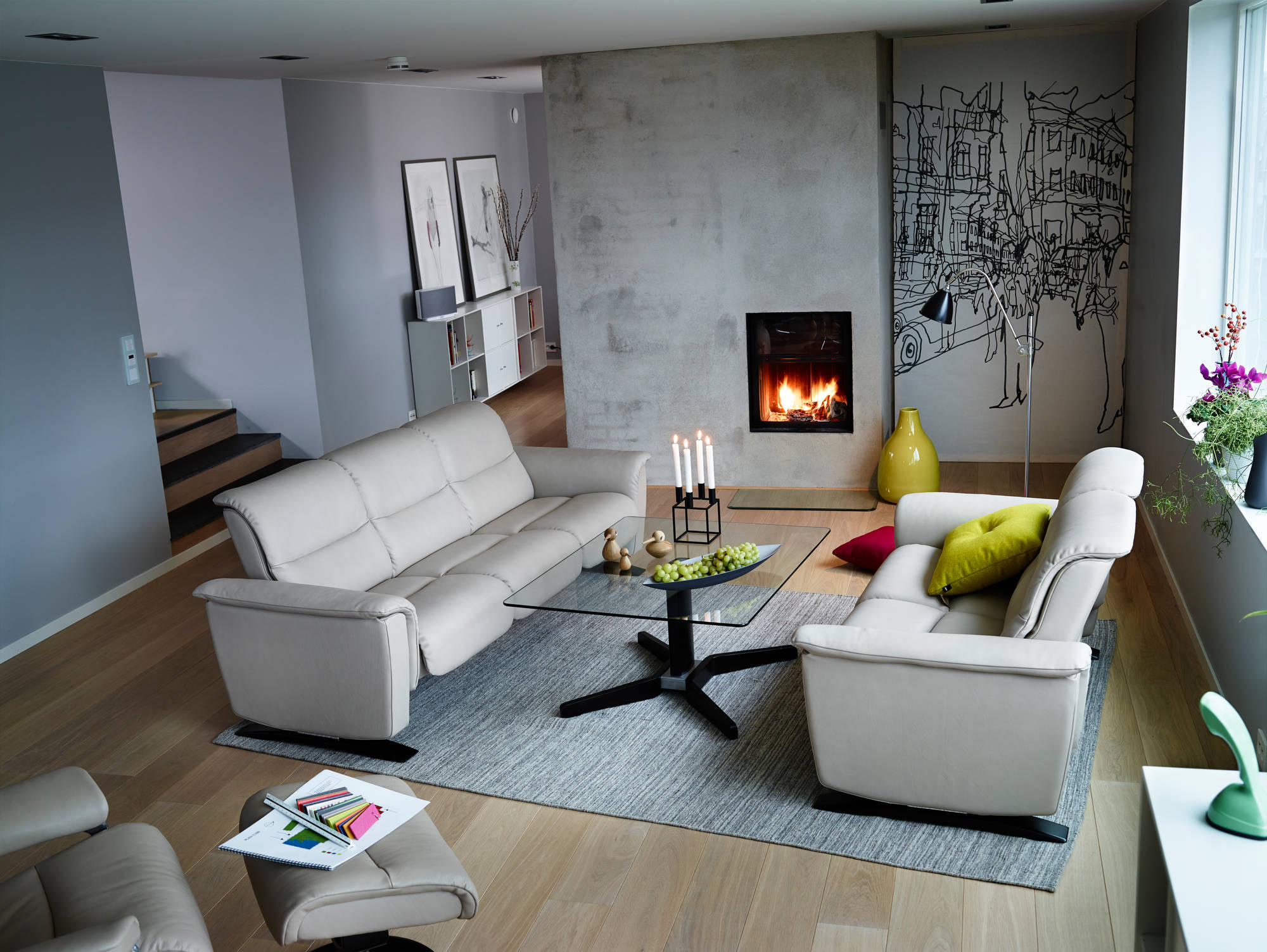 #2- Get the matching or coordinating Sofa Set.
Ekornes says, "Purchase a Sofa or Loveseat and receive $500 off the purchase of any additional companion sofa or love seat."
What this means: Buy one Stressless Sofa and receive the matching love seat at $500 off MRP. Maybe you don't want a matching set but want 2 completely different models. Buy one Stressless Sofa and receive another sofa/love seat of equal/lesser value at $500 off MRP. This would be especially helpful if you had 2 rooms to put a sofa or love seat in and didn't want to stick with just one model.
For example: Buy 1 Stressless Legend High Back Sofa in Black Paloma for $5,795 and the matching Stressless Legend Low Back Love Seat in Black Paloma for $3,095. If you would prefer not have matching models, you can buy 1 Stressless Legend High Back Sofa in black paloma for $5,795 and a ultra-popular Liberty High Back Love Seat in Brandy Paloma for $4,995. You can have 2 completely different models in very different colors.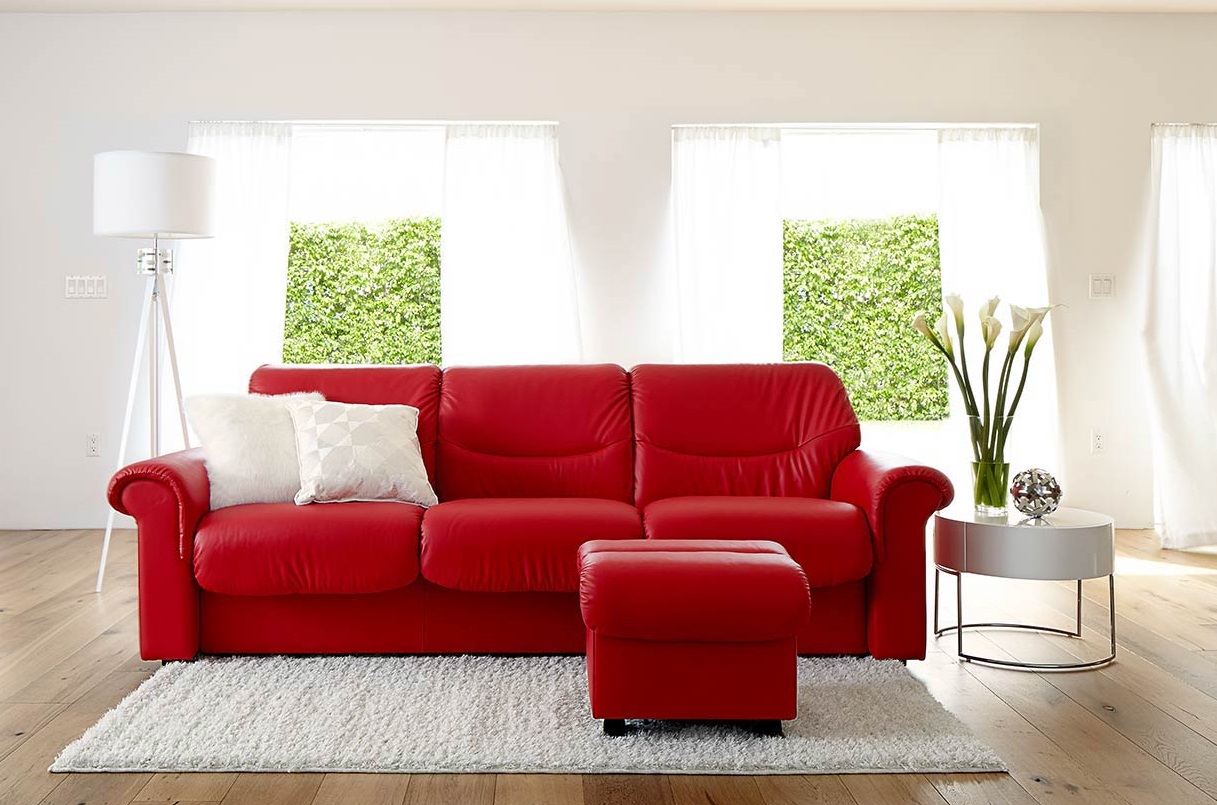 #3- Get the useful and stylish matching Sofa Ottoman.
Ekornes says, "Purchase a Sofa or Loveseat and receive $500 off the purchase of any Sofa Ottoman."
What this means: Buy a Sofa or Love seat in the upholstery and color of your choice and receive a $500 discount off of any sofa ottomans. This means Soft Ottomans, Modern Ottomans, The Double Ottoman with Table, and even the Oval Ottoman for $500 off their regular pricing.
For example: Purchase a Stressless Liberty Low Back 3 Seat Sofa in Tomato Paloma leather for $5,295 and get the matching medium soft ottoman in Tomato Paloma Leather for $450. Maybe you want the Sofa and the Loveseat and a Double ottoman. Get your Liberty Low Back Sofa in Tomato Paloma for $5,295 and the Liberty High Back Love Seat in Tomato Paloma for $4,995 and then get your Tomato Paloma Ekornes Double Ottoman with Table for $895.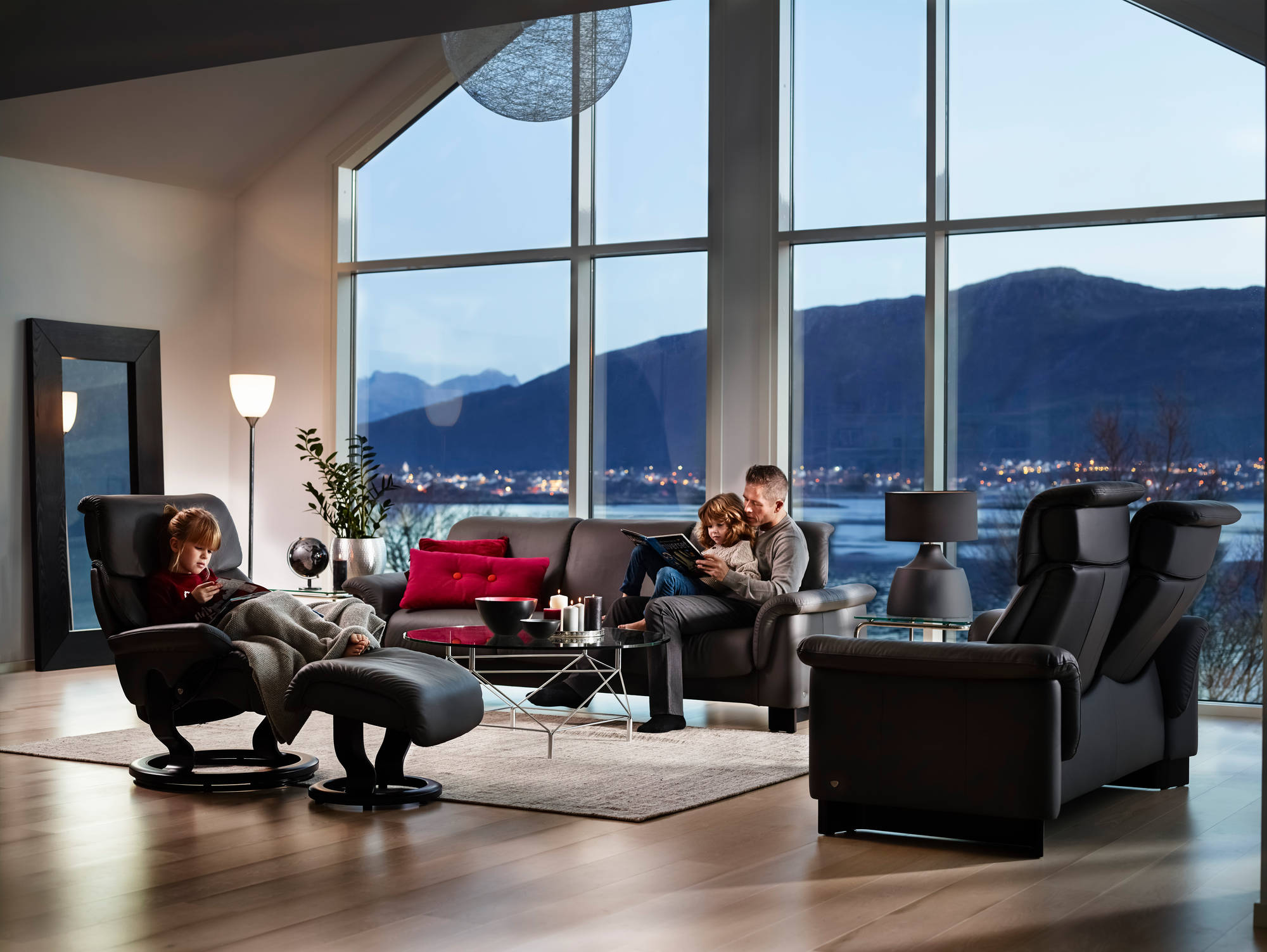 #4- Get the recliner that matches your sofa or love seat.
Ekornes says, "Purchase a Sofa or Loveseat and receive a FREE recliner ottoman with the purchase of an additional companion Stressless Recliner."
What this means: Get your favorite Ekornes Sofa and then receive the FREE ottoman for a companion recliner. We price all our recliners standard including the ottoman. Using this promotion, you can deduct the cost of the ottoman and still get the ottoman! That's my kind of deal.
For example: Buy a beautiful, new Stressless Paradise High Back Love Seat in Grey Batick for $4,795 and get your matching Medium Sized Dream Recliner and Ottoman for $2,636. That's a savings of $659 instantly for Factory-Fresh, brand-new Ekornes Furniture backed by the solid Manufacturer's Warranty.
At Unwind, we know that what you are looking for may not fall neatly into the 4 options laid out above. That's why we dug deeper and explored the promotional rules to find some gems and additional savings opportunities. Check out these few extra and little known ways to save on other items under this promotion: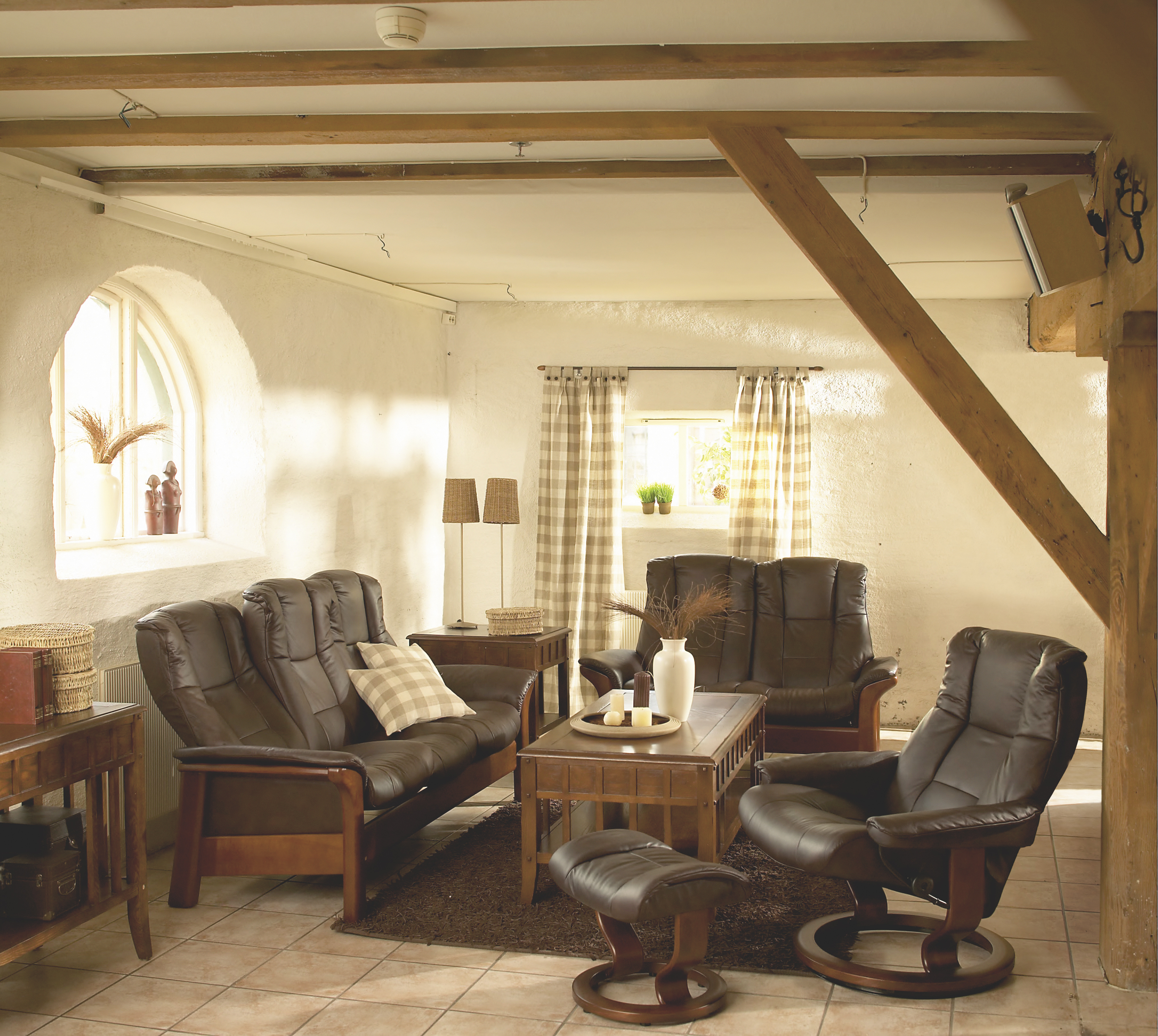 #5- Combine the Every day 20% off Sofa Special Color Sale.
When purchasing a Buckingham, E200, E300, Legend, Liberty, Manhattan, Metropolitan, Oslo, Panorama, Paradise, or Wave Model Sofa or Love Seat, choose one of the Batick Special or Paloma Special Colors that are 20% off already and use them to get the absolute lowest prices around on all Ekornes Stressless Furniture.
For Example: Purchase a Stressless Buckingham High Backed Love Seat in Chocolate Paloma for $3,595 (which is $1000 off regular Paloma price of $4,595) and a Mayfair Recliner and Ottoman in Chocolate Paloma for $2,156. In case you don't have a calculator handy, that's a savings of nearly $1,500.00 on brand-new, factory fresh Stressless Furniture. Just a reminder: You can choose any of the 7 wood stains available. In order of lightest to darkest, they are: Natural, Teak, Cherry, Walnut, Mahogany, Wenge, & Black. These do not change your price for any Ekornes Furniture items.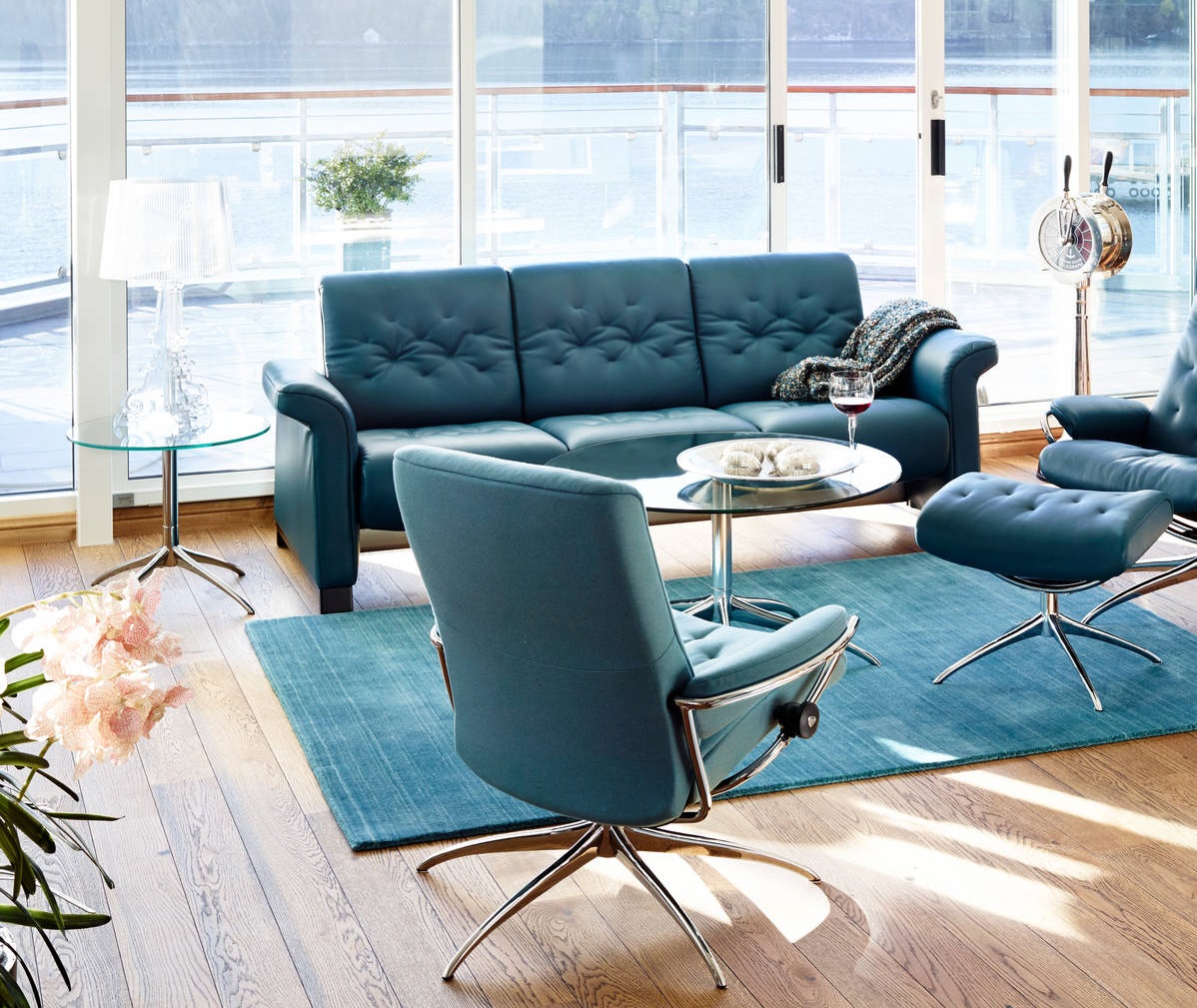 #6- Choose a Low-Back Chair or Matching Office Model.
Stressless Chairs that do not feature an ottoman are available at an instant 20% discount. This means purchase a Sofa or Love Seat and get a matching Low Back Recliner Chair at 20% off the regular pricing. This applies to the Metro Low Back Recliners, City Low Back Models, and All Stressless Office Chairs.
For example: Order the fabulous new Stressless Metropolitan Sofa in Petrol Cori Leather for $6,195 and get a Metro Low Back Recliner in the same matching leather and color for $1,676. This way you can fill out a room or create a beautiful set while still saving money with our lowest prices authorized by Ekornes and our Free Shipping and Delivery. The Low Back models are incredibly popular for informal seating areas and casual rooms. The Office Chairs work for Home or Business Offices. There is no better feeling than knowing you will have a Stressless Seat waiting for you at home or at work.
1 More Little Known Fact about the Companion Seating Promo 2015:
Stressless Sectionals & Sector Groups (Home Theater or Cinema Seats) will generate a $500 discount towards sofa seating or sofa ottomans or a FREE recliner ottoman with purchase of a companion recliner for every 2 sectional seats purchased. This means you purchase a sectional like the E200 C22 Configuration with Longseat and you can take $1000 instantly off of your sectional. This clearly demonstrates that Ekornes understands how important it is for you to decide how to save money and get the best price for your needs.
Please don't hesitate to chat in real-time with our dedicated Ekornes Brand Specialists or call 888-486-9463. Our team is not only composed of "brand specialists" but also "brand enthusiasts". They are readily available, very knowledgeable, and understand the meaning of True Customer Service.
I hope this information was helpful in explaining the current Stressless Promotional Sale. If you have questions, please don't hesitate to comment below or send an email to blog@unwind.com. We will be updating and adding to this post for the next few days to ensure it is accurate and comprehensive. We appreciate your taking the time to read our humble blog.
If you have any additional questions or would like to discuss this article, leave a comment.
I will happily get back to you as quickly as possible.
Until next time... Stay comfortable my friends