Unfortunately, the 2014 Charity Promo has expired.
It's time for the holidays and for saving big on Stressless recliners and Ekornes Furniture. The Charity Promo is here to help you and help others. Ekornes not only goes above and beyond to deliver unparalleled comfort but now they are going to extend that comfort to others in need. This promotion applies to all orders placed between November 26, 2014 all the way through January 19, 2015.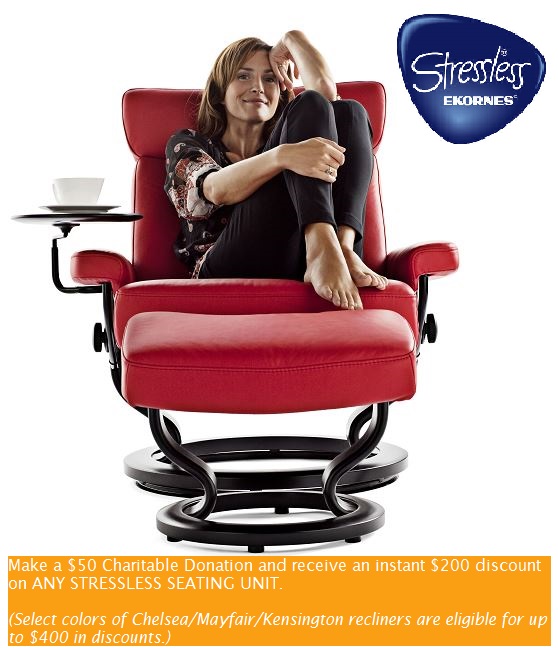 Save instantly with $200 off any Stressless Seating Unit. This applies to all Recliners, Office Chairs, Sofas, Loveseats, Sectionals, and even the fixed-back sofa collection.
Let's double those savings and make it $400 off any Mayfair Recliner, Chelsea or Kensington Model in select colors. The great news is those "select colors" happen to be some of the most popular options in Paloma leather. They include Black, Chili Red, Chocolate, Cognac, Light Grey, New Winered, Oxford Blue, Rock, Sand, & Taupe. Did we mention these are all brand-new, never-been-sat-in, fresh out of the wrapping models?
How does it work Lee? Our IT team has tried to keep the process as uncomplicated as possible. Simply make your fabric and leather selections and add your item(s) to your shopping bag. When you are ready to check out, be sure to add a $50 Charitable Donation to your cart OR when you complete your purchase just make a note in your order saying you will mail in your check, already made out to your Charitable Organization of Choice. Allow me to demonstrate below:
How to order online:
1. Visit the product page of your favorite Stressless Seat.
2. Make a Fabric or Leather Selection from the swatches on the right-hand side of the screen.
3. Select your "Charity Promotion 2014" option of donation/discount.
3. Make sure and select 1 of the 7 wood stain choices. (This does not apply to City, Metro, & Jazz Recliners.)
4. Click the "Add to Shopping Bag" Button.
5. Then visit the Donation Item page: $50 Charitable Donation Page and add this item to your "Shopping Bag".
OR
5. If you would prefer to donate to a different charity or a local organization, simply write a note in your order stating "I will mail in a check or proof of donation."
6. Sit back, relax, and our team will have your Stressless Seating Unit in your home as quickly as possible.
I am a bit of a chart nerd. So please forgive me in advance. Below are some plain, little charts to explain Ekornes' pricing and how you save money during this promotional period. In the first chart, the left column shows the "Every Day Pricing" for the Consul Recliner and Ottoman. The column on the right is the "Charity Promotion 2014 Pricing" for the same exact model. You save $200 instantly on a brand-new model. Simply make a $50 donation to a charitable organization.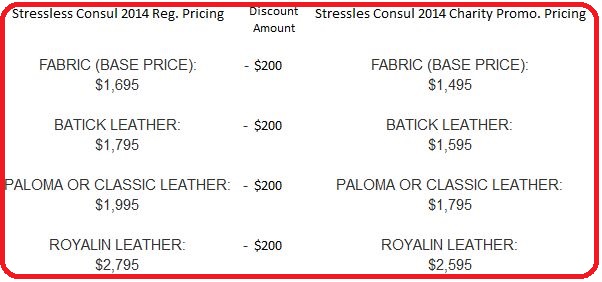 See below for the extra discount available on the Mayfair Recliners. The column on the left is the "Every Day Pricing" for the Mayfair Recliner and Ottoman.The column on the right is the "Charity Promotion 2014 Pricing" for the same exact model. You save $200 instantly on a brand-new model. Simply make a $50 donation to a charitable organization. Note: the 10 Paloma leather colors that save up to $400 off their regular 2014 pricing.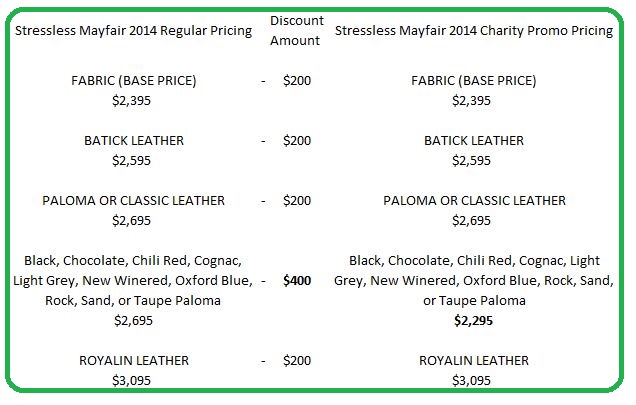 We truly appreciate your spirit of philanthropy during this holiday season. Any and all donations are welcome. There is no greater "Seasons Greetings" than a gift to someone in need. At this time, I also feel it's important to note that 100% of your donations will be going directly to the charity specified, The Make-A-Wish Foundation. If you have any questions about donating, ordering or how to get your proof of donation for tax deduction purposes, don't hesitate to contact us. You can email us at: customerservice@unwind.com or call us at 888-486-9463 Monday through Saturday 8am-5pm CST. Our Customer Support Team will be more than happy to answer any and all questions.
If you have any additional questions or would like to discuss this article, leave a comment.
I will happily get back to you as quickly as possible.
Until next time... Stay comfortable my friends!