Description
We are very proud to introduce the Stressless Air 2-Seat Sofa by Ekornes. Ekornes is world renowned for creating beautifully designed furniture of the highest quality. The Stressless Air Sofa is no exception and is a beautiful addition to an already extensive line of amazing Stressless sofas!
Paloma leather has quickly became the most popular Leather Grade to purchase the Air 2-Seat Sofa in, due its plush and luxurious feel. The Air is on sale in Paloma Special colors! All six of these colors can be viewed by using the pull down menu below "Select Leather or Fabric type and color". When using the pull down menu, the Price will change based off of which Fabric or Leather Grade/Color are chosen. The Paloma special colors are great colors that fit well into any home and are usually the most affordable option! Looking for a Leather or Fabric Type and Color that is not listed? Call 888-486-9463 to speak with an Ekornes Furniture Specialist. Ekornes Furniture Specialist are available to help find the perfect Leather or Fabric Type an Color for any home.
When purchasing the Stressless Air 2-Seat Sofa by Ekornes, there are three different leg options it can be equipped with. Two of the leg options are called Wood Straight and Wood Angled. Both of the wood leg options come in a wide variety of wood stain colors including: Natural Stain, Walnut Stain, Black Stain, Grey Stain, Oak Stain, Teak Stain, Brown Stain, and Wenge Stain. The third leg option is called Polished steel and is available in two different heights. The dimensions for all of the leg options are listed below.
Leg Options: Wood Straight 7.1", Wood Angled 7.1", Polished Steel 5.5" or 7.1"
A key quality when looking for furniture is whether or not the furniture is solid and will last a substantial time. When purchasing Stressless furniture, one can rest assured that the quality of the furniture is outstanding and the piece will last for many years to come! Ekornes is so sure of the fantastic quality of there many beautiful furniture pieces, that they offer a 10 year warranty with each piece. To see more information about the Ten year warranty, simply click on the Warranty Details tab above.
We always have multiple Shipping options available! [Inside Residential or White Glove Delivery] We want your shopping experience with us to be truly "Stress-Free." Choose our White Glove delivery option if you would like your Stressless Air 2-Seat Sofa brought into your home, set up in room of choice, and have our delivery teams take away all of the packaging and shipping materials. This is truly a frustration free experience.
The Stressless Air Sofa is available in Four Preset Sofa configurations or a custom sectional. Two of the four preset sofas are the Air 3-Seat Trio and the Air 3-Seat Duo. The 3-Seat Trio and the 3-Seat Duo are the same width, but the Duo has two wider cushions, while the Trio has three smaller cushions. The 2-Seat sofa is the least widest Air Sofa available and is perfect for smaller to medium size rooms. The Air 2.5-Seat sofa has wider cushions and is a wider version of the Air 2-Seat Sofa. The Air can be made into a custom sectional, which is perfect for larger rooms.
Dimensions: Width 60.6", Height 31.5"/33", Depth 37", Seat Height 16.5"/18.1", Seat Depth 23.2"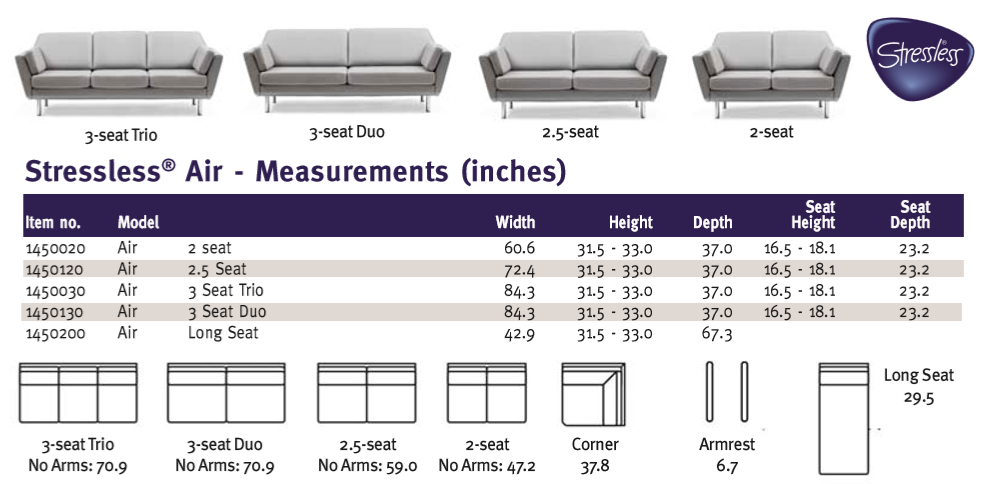 It's simple and secure to checkout online. Here's how to order online and save:
Visit the Ekornes Furniture or Stressless Recliner product page.

Visit the product page of the Stressless Sofa, Love Seat or Sectional that fits you best.

Choose your preferred leather or fabric type and color by using the pull down menu above titled:"Select Leather or Fabric Type and Color".

Don't forget to choose 1 of the 7 beautiful wood stains and leg option, where applicable.

The latest pricing is displayed automatically near the top of the product pages (it's located next to the product images, top of page).

Now simply scroll down the page and click the "Add to shopping bag" button.

Click the "Proceed to Checkout" button, or the "Cart" button at the top right of the page.

Follow the on-screen instructions and you'll be relaxing in your new Stressless Sofa or Love Seat very quickly.
Once you have completed your order you will receive an email confirming the details. Our dedicated Customer Service Team will typically follow up with you by phone within 1 business day to confirm your order of the Air 2-Seat Sofa and provide you with an ETA. Our Ekornes Specialists will also do a "double check" to make sure you are receiving the lowest, discounted pricing available.
Choose PayPal Credit for their flexible payment options and familiarity. Finance your purchase of the Stressless Air 2-Seat Sofa, relax with flexible payment options and pay the balance off over time. Remove the pressure of shopping and truly relax and unwind. Easy Payments with PayPal Credit lets you get the comfortable Stressless Furniture when you want it, and budget your payments as you go. You can choose the monthly payment amount and the length of time that works best for you. After all, who know you better than you? Pay with peace of mind. PayPal will notify you when each monthly payment is due, so all that's left to do is sit back, relax, and enjoy your purchase.
Have unanswered questions or need information on a Stressless Air Sectional configuration? Stressless Sales Specialist are available to answer all questions and help find the perfect layout for any size room! To get in touch with a Sales Specialist, simply call 888-486-9463 or send an email to CustomerService@Unwind.com. Let us take the Stress out of furniture shopping with beautiful Stressless furniture and excellent customer service!
The Unwind Company maintains an A+ Rating with the Better Business Bureau, with millions served. May we assist you as well? We'll always do our very best to get you taken care of- We guarantee it!
Warranty Information
-10 Year Warranty on Internal Mechanism- Ekornes Guarantees the internal mechanism of its recliners for a period of 10 years from the date of purchase of the product. The 10 Year Guarantee covers the Plus System and the internal metal frame, including the the metal springs and gliding system. It does not cover damage to the leather, woodwork or any faults or damage caused by the use of the product other than in accordance with the manufacturer's recommendations, as well as any faults or damage arising from any repairs made by any persons not authorized by the manufacturer. -5 Year Warranty on the base- The 5 year warranty covers the base for the chair and ottoman, including the swivel ring, gas lift, extensions as well as all foam and interior padding in the chair and ottoman. Also includes electronic parts and motor for LegComfort mechanism and all accessories. Please note that some deformation and indention in padding is considered normal and is part of a break-in process. -2 Year warranty on LegComfort Battery. -1 Year warranty on leather or fabric upholstery- The 1 Year warranty covers the leather or fabric upholstery including stitching and zippered assemblies assuming that the product has been cared and maintained using Ekornes approved guidelines for maintaining leather furniture. *This warranty only protects you when you purchase an Ekornes product from an Ekornes authorized retailer (e.g. The Unwind Company and Unwind.com). This warranty only applies when you have purchased Ekornes Furniture for your own normal indoor use. This warranty does not cover floor samples or products designated "As Is" at the time of purchase. **The Ekornes warranty covers the cost and shipping of replacement parts. Ekornes, the Unwind Company or Unwind.com LLC is not responsible for any other costs incurred while replacing the product, including but not limited to service/repair charges.