Unfortunately, the 2015 Charity Promo has expired.
Enjoy great savings and low prices on your favorite Stressless Recliners and Ekornes Furniture items from The Unwind Company. The holidays are here and so is the 2015 Charity Promo. Ekornes delivers comfort and relaxation year round to our friends and customers. Now, they are taking it a step further and reaching out to those in need. When you make a donation of at least $50 to a charitable organization, you receive an instant discount on your favorite recliners, sofas, office chairs, and more.

The promotion officially kicks off on Wednesday November 18, 2015. It extends for 61 days, with the last day for accepting orders to be Monday January 18, 2016.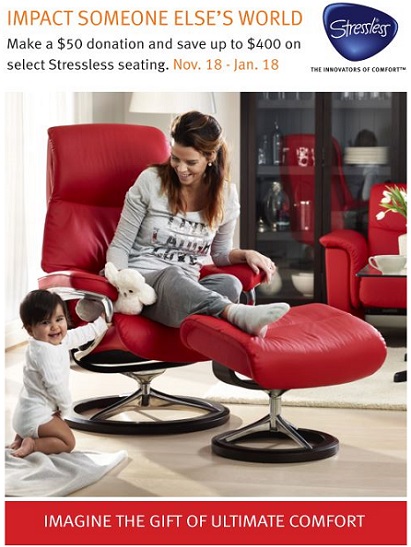 Save $200 instantly on any Stressless Seating Item. This applies to the recliners, chairs, office chairs, sofas, loveseats, sectional sofas, home theater sets and fixed back sofas.
But wait! There's more... Select models and colors are eligible for a double discount. Yes, you read that correctly. Take $400 off Select Stressless Recliners and Sofas, when you make a $50 donation. Did we mention these are all brand-new, never-been-sat-in, fresh out of the plastic models?
The Stressless Skyline (M), View (M), Tampa (S), Reno (M), & Vegas (L) Recliners are all eligible for the double discount. Get the best prices on these models during the 2015 Winter Promotion by Ekornes. Choose from any of our regularly stocked color choices for these models and your $200 discount will double into $400 off! We have Batick, Paloma, Cori, & Royalin leather options available. We also keep all 7 wood stain choices in stock so you have your choice of options.
How to order online: Simply make your fabric and leather selections and add your item(s) to your shopping bag. When you are ready to check out, be sure to add the $50 Charitable Donation item to your cart OR when you complete your purchase just make a note in your order saying you will mail in your check, already made out to the Charitable Organization.
Here's how to order online and save under the current 2015 Charity Promotion:
1. Visit your preferred Stressless or Ekornes Furniture item product page.
2. Choose a Fabric or Leather Color from the colored swatches on the right-hand side of the screen.
3. Your Charity Promotion Discounted Price will be automatically reflected at the top of the page.
4. Don't forget to make a wood stain selection, when applicable.
5. Click the "Add to Shopping Bag" Button.
6. Then visit the Donation Item page: $50 Charitable Donation Page and add this item to your "Shopping Bag".
OR
6. If you would prefer to donate to a different charity or a local organization, simply make a note in your order stating "I will mail in a check or proof of donation."
7. Sit back, relax, and our team will have your order delivered right to your home as quickly as possible.
Remember, when you choose The Unwind Company, you are making the choice to go with the folks carrying an A+ Rating with the Better Business Bureau. You are choosing dedicated relaxation specialists who are diligently providing the lowest prices allowed on of our healthy furniture and relaxation items. You are getting the best prices and the best values, period. We do our very best to provide a Stress-Free Shopping Experience for each and every one of our friends and customers. We treat you like family.
Here's The Official Rules & Details:
- Customers make a minimum $50 donation to charity and receive $200 off the purchase price of a Stressless Recliner, Stressless Office Chair, Stressless Sofa or Loveseat, or Sectional/Home Theater Set.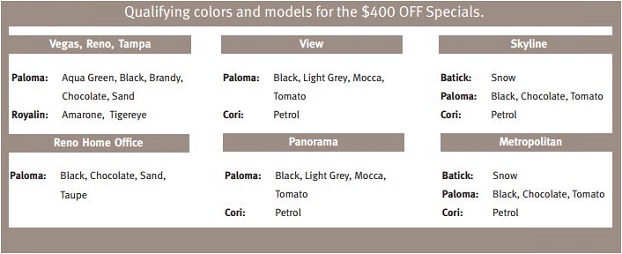 - Customers make a minimum $50 donation to charity and receive $400 off the purchase price of the following models: Skyline, View, Metropolitan, Panorama, Tampa, Reno, Vegas, & Reno Office Chair, in select colors.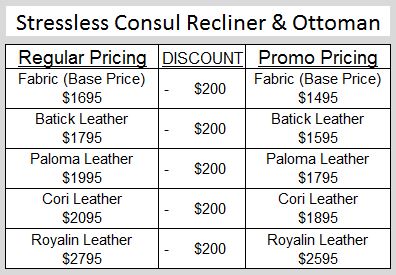 Let's take a closer look at how these savings look in dollars for a couple of models. Reference the little charts below to explain Ekornes' pricing and how you can save money during this promotional period. The first chart is for the Consul Recliner and Ottoman. The column on the left is the regular pricing and the one on the right is the "Charity Promotion 2015 Pricing" for the same exact model. You save $200 instantly on these brand-new models when you make a $50 donation to a charitable organization.
You can choose any color option or configuration for the Consul recliner and ottoman set and be eligible for the $200 discount. Choose the fan-favorite Basic Batick Leather and walk away with the lowest priced leather for this model. [Click here to learn more about Ekornes' Leathers.]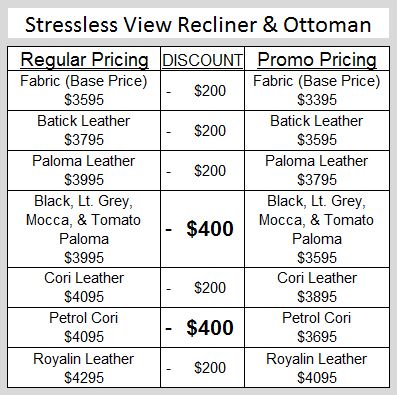 Now let's take a look at one of the models eligible for "Double Discounting" ($400 off regular pricing) under the current promotion. The column on the left is the "Every Day Pricing" for the View Recliner and Ottoman. The column on the right is the "Charity Promotion 2015 Pricing" for the same exact model. You will notice that most options are eligible for the $200 savings, just like the Consul Recliner. You will also notice there are 5 colors that are eligible for an instant $400 discount. Simply make a $50 donation and get $400 off these select colors: Black Paloma, Light Grey Paloma, Mocca Paloma, Tomato Paloma, and Petrol Cori.
We truly appreciate your orders and your spirit of philanthropy during this holiday season. Any and all donations are welcome. There is no greater "Seasons Greetings" than a gift to someone in need, at this time of year. At this time, I also feel it's important to note that 100% of your donations will be going directly to the charity specified, The Make-A-Wish Foundation. If you have any questions about donating, ordering or how to get your proof of donation for tax deduction purposes, don't hesitate to contact us. It is our pleasure to assist you fully and completely. You can email us at: customerservice@unwind.com or call us at 888-486-9463 Monday through Saturday 8am-5pm CST. Our Customer Support Team will be more than happy to answer any and all questions.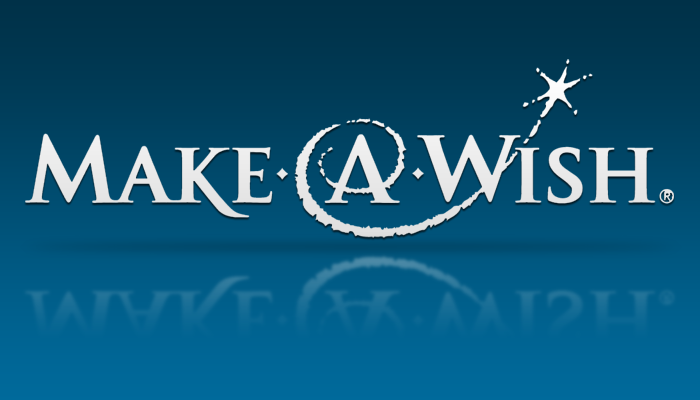 We will be sending 100% of your donations to the Make-A-Wish Foundation. This organization uses your donations to "grant wishes" to children enduring life-threatening medical conditions. Click the "Make-A-Wish" Icon to the left to learn more about this compassionate organization.
If you have any additional questions or would like to discuss this article, leave a comment.
I will happily get back to you as quickly as possible.
Until next time... Stay comfortable my friends!