Stressless Recliners by Ekornes are truly amazing. They are more than furniture. They are solutions to comfort and ultimately a sense of genuine health and well-being. There are a variety of models in multiple sizes with an array of color and upholstery choices. True customization is possible with Ekornes. You can also add-on and enhance your experience with some of their useful accessories. I want to look at one of the more popular accessories: The Elevator Rings.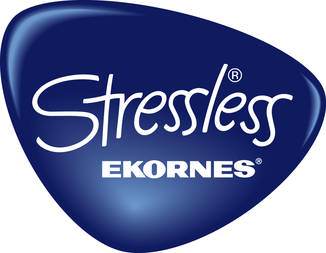 These simple devices allow you to further enjoy your already wonderful Ekornes Chair. The Ring itself adds about 1.33" to the Seat Height of your recliner. Just to note: There are also Elevator Rings for the ottomans. These simply slide onto the black pad feet of your ottoman base and raise its height about 1.33". The Elevator Ring is durable, lightweight and easy to install. It is made from the incredibly hard European Beech Wood that is used for your chair's base. The Rings are painted a matte black to ensure ease of coordination. They will simply look like an extension of the Black Swivel Ring underneath the wooden base. At around 1.33 inches, Ekornes' engineers discovered that the angle at which your knee rests will be reduced. This reduces any strain on your knees, thus making it easier to stand from a seated position.
There are 3 sizes available to match up with the 3 sizes of Stressless Recliners. Large, Medium, & Small. If you have a Stressless Vegas Recliner, you would need a Large Elevator Ring. If your recliner is the Stressless Magic Medium, you will be served by the Medium Sized Elevator Ring. In the case you have a Chelsea recliner from Ekornes, you will need the Small Ring. Just make sure you know how many clips you have underneath!
Prior to 2012, Ekornes manufactured 2 different sizes of wooden bases for the 3 chair sizes: The Small/Medium & the Large. Ingenious design allowed them to fit a Small and Medium Seat on a base that had the same diameter on the bottom. The engineers at Ekornes are constantly innovating and announced at the end of 2011, that they would introduce 3 sizes of bases: The Small, the Medium, & the Large. The bases are difficult to tell apart unless you lay the chair on its back and count the Black Plastic Clips that connect the Wooden Base to the Plastic Swivel Ring that touches the floor. If there are 6, your wooden base was produced prior to 2012. If there are 8, your wooden base was produced post 2012.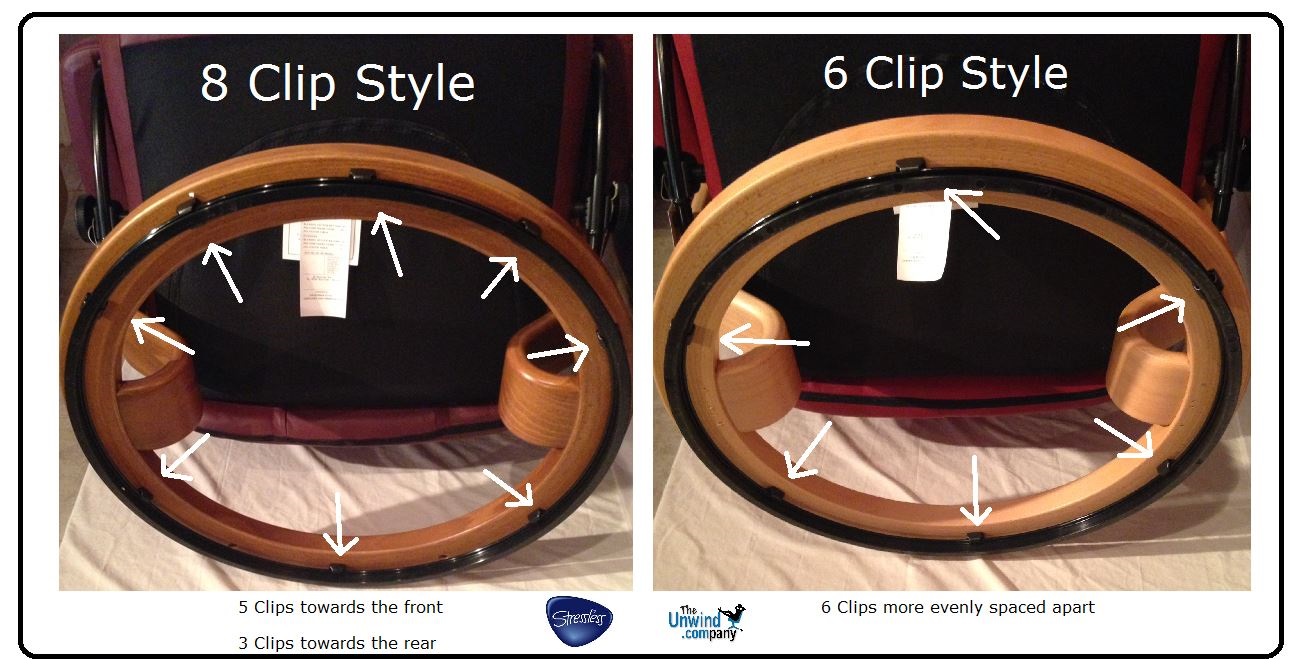 If you purchased your recliner chair since 2012, most likely you have a base with 8 clips underneath. It is still possible to receive 6 clip styles as they have not been disbanded/eliminated. Ekornes has simply switched to primarily producing 8 Clip Bases from 2012 forwards. Let's look at the measured diameters of the circular rings. This is a secondary way to determine (or at least rule out) the size of your recliner base

The last thing to mention about these fantastic and easy to use accessories, is the ability to "Double-Stack". The ingenious folks at Ekornes thought ahead and knew that one elevator ring might not be enough for everyone. They have designed these rings to safely stack up to 2 rings. It is not recommended to stack more than 2. This would cause an imbalance in the center of gravity leading to a lack of stability as you recline. In order to stack your rings, you will need an Elevator Ring Connector Kit. This attachment kit can be purchased at Unwind.com and is readily stocked for fast shipping and your convenience. Ekornes provides a 5 year warranty on this Connector Kit at no additional cost to you. It is only necessary if you intend to stack Two Elevator Rings together. It includes a Black Swivel Ring and a set of clips to securely attach the top ring to the bottom one. If you order both elevator rings and the attachment kit at the same time, our team of Product Experts can assemble your "Double Stacked Ring Set" prior to shipping, upon request. This will even further simplify the installation/attachment.
I hope this information was helpful in explaining the differences between the elevator ring styles. If you have questions, please don't hesitate to comment below or send an email to blog@unwind.com.
If you have any additional questions or would like to discuss this article, leave a comment.
I will happily get back to you as quickly as possible.
Until next time... Stay comfortable my friends!