Description
Ekornes Stressless Legend High-Back 3 Seat Sofa- Stress-free Delivery from Unwind.
Feel the daily stress disappear when you order a Stressless Legend sofa from The Unwind Company.

It's always a great time to purchase from the most-comfortable, back-healthy furniture line in the world- Stressless by Ekornes. Stressless Sofas and Love Seats deliver the highest levels of head, neck and back support. The dense, soft memory foam cushioning allows you to sit undeterred for many hours on end.
The Stressless Legend High-back Sofa delivers excellent support for your back and body

It's simple and secure to checkout online. Here's how to order online and save:
Visit the Ekornes Furniture or Stressless Recliner product page.

Visit the product page of the Stressless Sofa, Love Seat or Sectional that fits you best.

Choose your preferred leather grade and color by clicking the small color swatches underneath the desired leather type.

Don't forget to choose 1 of the 7 beautiful wood stains and leg option, where applicable.

The latest pricing is displayed automatically near the top of the product pages (it's located next to the product images, top of page).

Now simply scroll down the page and click the "Add to shopping bag" button.

Click the "Proceed to Checkout" button, or the "Cart" button at the top right of the page.

Follow the on-screen instructions and you'll be relaxing in your new Stressless Sofa or Love Seat very quickly.
If you have questions or want to double-check the promotion pricing, please drop us a line at 888-486-9463.
Once you have completed your order you will receive an email confirming the details. Our dedicated Customer Service Team will typically follow up with you by phone within 1 business day to confirm your order and provide you with an ETA. Our Ekornes Specialists will also do a "double check" to make sure you are receiving the lowest, discounted pricing available.
Have Questions or Prefer to let us do the typing?
Drop us a line at 888-486-9463 or 1-601-932-5111 and place your order over the phone

.
In addition to connecting you with the world's most comfortable furniture, we want to help you relax and unwind by offering a 30-Day Satisfaction guarantee. Please review our posted policy online for complete details. We do our very best to ensure 100% Satisfaction at every opportunity.
We ship fast. We can ship virtually anywhere and typically your items arrive Fully-Assembled. All you have to do is sit down and enjoy. We provide multiple levels of delivery to ensure there is an option to suit your needs. Ask us about Expedited Shipping Opportunities or our White Glove Services. Click here to learn more about Ekornes and here to learn more about The Unwind Company.
Have Questions or Prefer to order via phone? Give us a call at 888-486-9463 or 1-601-932-5111 (Internationally) during normal business hours. Click here to View our Blog to learn about the newest changes and latest developments in detail or drop our Ekornes Brand Specialists a line at 888-486-9463. They can elaborate on product specifics, make recommendations, and identify ways to help you save additional money on these wonderful seating solutions.
Increase your comfort and overall sense of well-being. Make the choice to get a Stressless Sofa today. Reduce your stress levels and make your home a sanctuary for relaxation. Imagine the improvements more comfort and relaxation could make in your day. Now let your imagination become reality and get your Sofa or Love Seat from the Unwind Company. We are one of Ekornes' largest and most popular retailers in the nation. We can ship your items Fully-Assembled and provide multiple levels of delivery to ensure there is an option to suit your needs. Ask us about Expedited Shipping Opportunities or our Platinum Level White Glove Services. Click here to learn more about sales and promotions.
The clever design of this model allows you that "personal comfort zone" where you deserve to relax. The world's troubles are on hold; you have time to yourself to relax and let the stress float away. You are entitled to comfort like this. You work hard; you deserve to relax and enjoy. Seize the day with this sofa. Make it yours and we will get it to you with our fast shipping and delivery options.
The Legend Sofa is the ultimate Stressless Sofa. There are 3 seats of pure comfort. Each seat independently reclines of each other. This allows each person, even the middle seat, to recline at a level that suits their preferences. You will barely even feel your neighbor reclining as each seat has its own supports and Glide Rails. Maybe you have family visiting or company and they want to adjust the Glide Speed of their seat. Not a problem! Simply reach down, between the seats, and feel the tension cuff on each Glide rail. Simply twist to the right to tighten or to the left to loosen.

The engineers at Ekornes not only designed this model to comfortably sit 3 people, but they also designed it to last a life time. Every piece of Ekornes Furniture comes backed by a rock-solid warranty. The standard factory warranty lasts 10 years. However, we have recently learned that there are components that are warranted for a lifetime. Only the highest quality components and pieces are used to assemble this fine furniture. Each item has been intentionally perfected and crafted at Ekornes to ensure comfort, longevity, and style. Click here to learn more about life in Norway and this wonderful manufacturer: About Ekornes.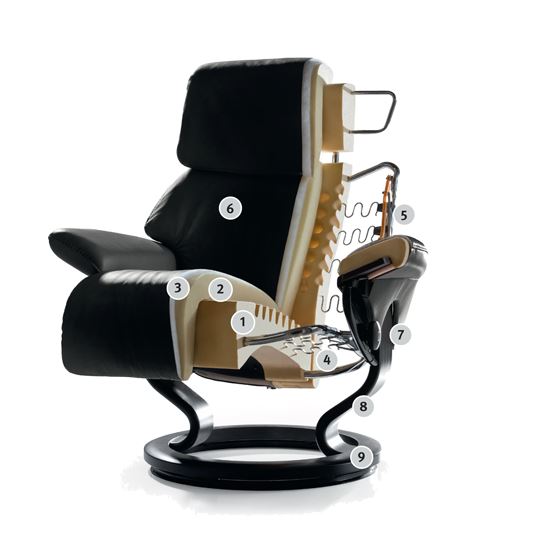 Let's take a peek "under the hood" and find out what sets the Legend apart from everything else:
#1 - The technologically advanced foam is poured directly onto the sturdy steel frame. This ensures longevity and minimal compression of the foam. The perforation along the top-side of the foam allow your body to literally sink into layers of cool and comfortable foam. A totally supported body is a totally comfortable body.
#2 - As if the dense and soft foam was not enough, Ekornes adds an additional layer of polyurethane based foam to provide a buffer between you and the foam core below. This allows your body to feel as if it is sinking deeply into the foam and allows the foam core beneath to breathe.
#3 - A layer of polyester fibrous sheeting is added on top of those layers to ensure optimal comfot by adding cushioning to your padding.
#4 - The engineers at Ekornes use "Flexo Springs" for multiple reasons. The main reason is their ingenious design moves past those coil springs of yester-year and into a future where sinuous steels bands can support your body comfortably for 20-25 years.
#5 - The Plus System™ mechanisms ensure you achieve ultimate comfort in all positions. The mechanisms allow you to have seamless head and back support whether seated, reclining, or laying in your Stressless Seat.
#6 - Ekornes only uses the best cuts of Top-Grain Leather. This means they only use the finest and most pure leathers from tanneries across Europe. Each hide is meticulously inspected and evaluated during the process of becoming an Ekornes' Approved Upholstery.
#7 - The Glide Mechanisms on each side of the seat ensure a user experience like no other. These Glide Wheels & Glide Rails allow you to recline simply by adjusting your body weight. There are no clunky levers or buttons.
#8 & #9 - Apply to the Stressless Recliners, they allow the seat to rotate a full 360º.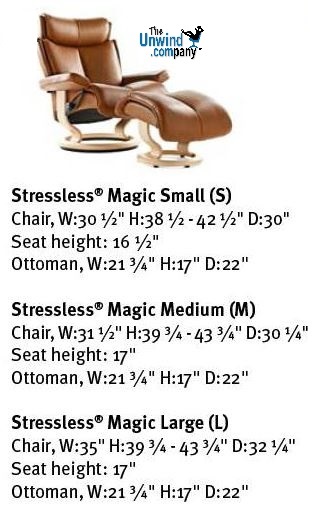 In this style, you can choose from a 3 Seat Sofa, a 2 Seat Loveseat, an infinite combination of Sectional Configurations, and from 3 sizes of matching recliners. The Stressless Magic Recliners are available in Small, Medium, & Large in a variety of upholsteries and colors. Sitting in of these magical recliners is identical to sitting in a Legend Series Seat. The Headrests, back cushions, and seat cushions are identical. You can order your sofa today in the color/upholstery of your choosing and order your recliner in 6 months and get the exact same configuration. Ekornes uses laser scans for each item to ensure color accuracy and relevancy. Comfort is key but Consistency is very important as well. Bring a harmony to your decor with complimentary seats. Maybe coordinating leathers and colors would suit you better than identical colored chairs and sofas. Our Customer Support Team is trained to assist you through the entire shopping process.
Want to see one of these beauties in action? Check out our Extensive Video Library on YouTube! You can see 100s of Ekornes Furniture pieces in a variety of upholstery options and colors. These allow you to get a "first-hand" look without ever leaving the comfort of your home. No more need to trek down to our stores, just find the model and color in one of our videos.
Click the image on the right to be taken to our page on YouTube. If you are looking for something specific or have a question about shipping times and availability, please don't hesitate to contact us. We are available nearly 24/7. You can chat online in real time, drop us a line at 888-486-9463, or send an inquiry to info@unwind.com. We will be sure to contact you as quickly as possible.
It is no wonder Ekornes received an exclusive endorsement from the American Chiropractic Association.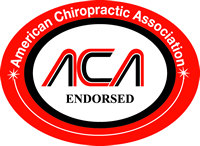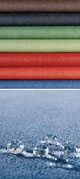 Ekornes saw the need to provide outstanding fabrics. There are many people who prefer a velvety smooth fabric, or a durable, loose-knit yarn-texture fabric. Ekornes fabrics are not only superb in usual it's and design but they are also available at a lower price than the leather selections offered. Dinamica fabric is the most premier fabric and is equal in price to the Batick leather option. There are so many color options when it comes to fabric coverings for your Stressless Furniture.
New to 2015, there will be several more fabric options. No longer do you have to settle for soft or hard fabrics. Now you choose the exact fabric, in the exact color, at the best possible prices. Click here to learn more: Stressless Fabrics in Detail. Each option has a unique set of characteristics and colors: Luna, Siena, Ocean, Dinamica, Verona, Ultrasuede™, Karma, Crocus, Calido, Umbra, Iris, Flora, Silva, Molli, & Terra. The options are virtually limitless and the prices are at their lowest. Fabric options, excluding Dinamica and Ultrasuede™, are the lowest prices available for the Legend Series.
If you are looking for leather and still want to save money then we suggest you chec out our "Everyday Sofa Specials". Select colors in Batick and Paloma leather save you approximately 20% instantly. We want to help you save money on Stressless Sofas and Ekornes Furniture. Introduced in 2014 and carried through 2015, there will be 4 select colors in Batick Leather and 4 select colors in Paloma leather that are available with any of the Ekornes Collection Sofas, Stressless sofas and loveseats, Sectionals, Home Theater Seating units & matching sofa ottomans. The colors are: Black, Brown, Burgundy, & Cream Batick leathers and Black, Chocolate, Light Grey, & Sand Paloma leathers. These discounts only save you money, they won't change your delivery time. (delivery times are dependent on the models - many are available to be made to order and ready within a month.) This color chart below shows you which colors/leathers save you money instantly.
Come visit the Unwind Back & Body Store to experience the Stressless Legend Sofa for yourself. If you have already decided and are ready to purchase, simply click the "Add To Cart" button below after selecting the available options. We offer many full-service delivery options. A stress-free shopping experience has been our #1 goal since 1997! Please review our return policy prior to ordering or call 888-486-9463 for personal assistance. You may also email stressless@unwind.com anytime- 24 hours, 7 days a week.

Choose PayPal Credit for their flexible payment options and familiarity. Finance your purchase, relax with flexible payment options and pay the balance off over time. Remove the pressure of shopping and truly relax and unwind. Easy Payments with PayPal Credit lets you get the comfortable Stressless Furniture when you want it, and budget your payments as you go. You can choose the monthly payment amount and the length of time that works best for you. After all, who know you better than you? Pay with peace of mind. PayPal will notify you when each monthly payment is due, so all that's left to do is sit back, relax, and enjoy your purchase.
Now that you know the product, let's take a moment to explain what sets The Unwind Company apart. Allow us to show you what true "Customer Service" is and how we can provide a "Stress-Free Shopping Experience".
Fast Shipping, no hidden fees, sales tax benefits, your items ship fully assembled and fast.

Shop confidently knowing Unwind maintains an A+ rating with the BBB, with millions served. May we assist you as well? We'll always do our very best to get you taken care of- We guarantee it!.

We have 1000s of items in stock for quick shipping.

A "stress-free" shopping experience. We have made a commitment to not only striving for 100% Customer Satisfaction but also to providing the most courteous and prompt service in the furniture industry.

Unwind Express Delivery - Want same-day delivery? Get an in-stock item and select "Unwind Express Delivery". To Learn more, click here:[Fastest Delivery Around].

We have a team of and friendly and knowledgeable Ekornes Specialists. They are available and ready to assist you.

After-Hours Live Support via our online Chat Program. We are able to handle and service warranty issues worldwide.

We can ship anywhere in the continental United States and most of North America. We ship to many places in Canada very quickly as well. There are numerous places worldwide we can ship to with guaranteed delivery!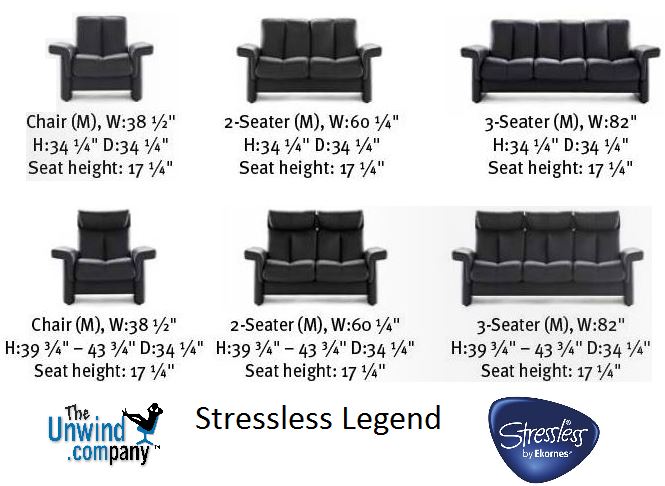 Legend 3 Seat Sofa dimensions are: Width: 82" Height: 39.75 - 43.75 Depth: 34.25 Seat Height: 17.25"
Warranty Information
10 year Warranty on Internal Mechanisms
Additional Details
SKU:

E01280030

MSRP (EKORNES RETAIL PRICING):

*See Product Description area for Promotions

FABRIC (BASE PRICE):

$6295

BATICK LEATHER:

$6795

PALOMA LEATHER:

$7195

CORI LEATHER:

$7495

Noblesse:

$8495