Description
As of April 16, 2016 Batick Specials are No Longer Available
Ekornes Stressless Wave - Low-Back 3 Seat Sofa - Please call 1-888-486-9463 to learn about the latest Ekornes specials and promotional discounts.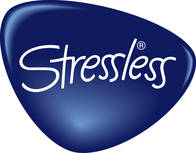 You might think Stressless Sofas couldn't get any better than they are today. However, Ekornes has made their furniture even better by providing "Special Pricing" options to allow you, the person needing truly comfortable furniture, to instantly save 20% on Stressless Sofas. This means every day, every week, every month; Stressless Sofas are on sale! You select one of the 4 eligible colors for your Stressless Sofa or Loveseat and you are saving big money. Did we also mention that we provide fast shipping and delivery on all these items?
Batick Special Colors include: Black, Brown, Burgundy & Cream. These are four of the most popular choices for the Batick leather option.
Below are just a few noteworthy characteristics of Stressless Sofas that you should never forget:
Stressless sofas provide perfect balance and optimum support to relax your entire body.

The Plus™ system allows the lumbar support in the seat, along with the headrest, to adapt to your body's movements. This provides you with "proper support" in all seating styles and positions. The Plus™ system provides continuous support for your head and lower back. The internal construction features a double-sided mechanism to ensure maximum stability and functionality. The durable steel frame and flexo springs provide for superior resilience and continuous support.

The Stressless® Glide wheels allow you to customize the movement of your Stressless Sofa so that it is in sync with your body and your comfort.

Comfort Zones™ are specifically shaped and molded to provide each seat with its own distinctive seating style and support. The indentations, seams, and shapes in these Comfort Zones allow your body to sink deeper into the seat enhancing individual user's level of comfort and overall satisfaction with their seat.

10-year warranty on the internal mechanism (Did we mention that Ekornes is so confident in their products that they provide this Standard, at no additional cost?)

During manufacturing, the technologically-advanced foam is applied directly onto the Stressless Sofa Frames. This allows for additional longevity for your seat cushions and your comfort. An additional pad of soft space-age foam ensures optimum comfort. The super-soft polyester fiber cushions your body and ensures an attractive look.

The sturdy Steel Frame and its specifically designed "Flexo Springs" allow you to feel nearly weightless as you recline and relax.

The unique Stressless® Glide system automatically adjusts to your body weight.

You can have ottomans that match both in style and upholstery - Add one of the many Small/Large Sofa Ottomans to your sofa and you will be glad you did. Not only do these ottomans serve as hideaway storage, but they also have the capacity to tilt and adjust to your legs. This way you get the best support for your legs; every time.

Stressless sofas are built to last a lifetime. Only the most premium leathers and fabrics are used to ensure a luxurious feel from Day 1 to Day 10,000.

No one builds a sofa like Stressless. Period.
Warranty Information
10 Year Warranty from Ekornes for all internal mechanisms.
Additional Details
SKU:

E01184030-BA-SP