Description
Productivity Comes Standard with a Traditional Stressless Wing Office Chair from Unwind.com.
If you're considering a Stressless Wing Office chair, select any leather by using the pull-down menu. The lowest authorized price will be shown automatically.

* Then choose a wood stain.
* Click the "Add to Shopping Bag" button and proceed to checkout.
* Follow the simple on-screen instructions and you'll be relaxing in your new Stressless Recliner before you know it.
Ekornes is world renowned for creating beautiful furniture for homes and offices. The Stressless Wing Office chair is no exception and helps bring more executive comfort to any home or office.
Also consider one of the following accessories: the simple Swing Table, the ultra-convenient Personal/Laptop Table, the useful Ellipse Table, or the stylish Urban Table.

We want to make the shopping process as simple as possible. This is why we have built in the lowest authorized pricing automatically. If you aren't sure about a price, feel to drop us a line at 888-486-9463 or click the "Pricing Information" tab near the top of this page to see all pricing levels for this model.
The Paloma leather grade has quickly became the most popular leather option to purchase the Stressless Wing Office Chair in. To view any of the beautiful Paloma colors, or any of the other amazing Leather or Fabric Types and Colors, simply use the pull down menu above, which is titled: "Select Leather or Fabric Type and Color". The price of the Stressless Wing Office Chair will change based off of the leather or fabric type and color chosen through the pull down menu. Looking for a leather or fabric color that is not listed on the pull down menu? Call 888-486-9463 to speak with an Ekornes Furniture Specialist about the Wing Office chair or any of the other amazing Products offered through our website.
Our Ekornes Authorized Price Reduction Sale is Going on Now!
Now is a great time to save $100's on select Ekornes Stressless Recliners & Furniture items. Supply is limited so call 888-486-9463 or click the Chat button (top of page) to learn how your next Stressless Chair can be delivered nationwide with pricing that simply cannot be matched.

With the changing season comes new ways to save! Choose from many, many Stressless Furniture items in our Ekornes Authorized Price Reduction Inventory (EAPR) and save $100's from what you'd expect to pay. We also make it super easy by including the Ekornes mandated delivery fees in the EAPR model pricing. So the price you get on our Ekornes Authorized Price Reduction models is the "delivered" price with no additional fees- Did we mention the Sales Tax Benefits?
Enjoy Fast, Worry-free Delivery on a Stressless Wing Ergonomic Office Chair.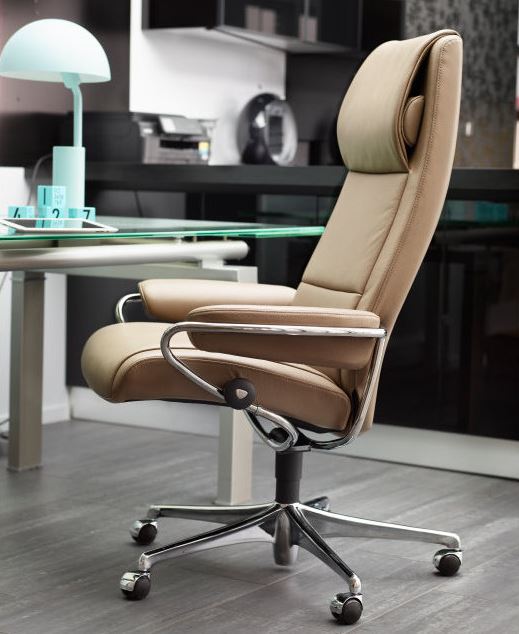 Choose between many leather colors and a wide assortment of different wood options in all three sizes.
Got an accessory on your mind? Why not add a laptop table to your new Stressless Wing Medium Office Chair? Here are some of the relaxing, productive benefits:
The laptop table will transform your favorite Stressless chair, into your favorite place to work.

It slides easily out of the way if you're not planning to use it.

It has notches on the table back that prevent your laptop or tablet from falling off.

The adjustable height and tilt allows you to work at the perfect, ergonomic position.

It attaches to either side of your classic base Stressless recliner by Ekornes.
Start relaxing in your beautiful new Wing Office Chair sooner with our Quick and Easy Shipping Methods.
It's a great time of year to purchase from the amazingly comfortable, Stressless Wing Office Chair line!
This popular, modern recliner delivers exquisite head, neck and back support and the over-stuffed smooth, soft, cushioning allows you to sit undeterred for many hours on end. The Stressless Wing Office Chair is among the most modern and comfortable of the Stressless recliners available.
Ordering is always fast and secure.

Here's how to checkout securely online 24 hours a day and save under the current promotional offer:
Visit the desired Stressless Recliner or Ekornes Furniture product page.

Select the Stressless recliner, office chair, sofa or sectional that fits you best.

Choose your preferred leather type or fabric type and color by selecting from the pull down menu above, which is titled: "Select Leather or Fabric Type and Color". Then choose from the beautiful wood stains. Typically, we keep all stains in stock.

The Discounted Pricing is displayed automatically (it's displayed next to the product images, top of page).


Now simply scroll down the page and click the "Add to shopping bag" button.

Click the "Proceed to Checkout" button, or the "Cart" button at the top right of the page.

Follow the on-screen instructions and you'll be relaxing in your new Stressless Recliner very quickly.
If you have questions or want to double check the promotion pricing, please drop us a line at 888-486-9463.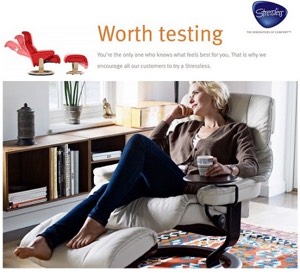 Once you have completed your order you will receive an email confirming the details. Our dedicated Customer Service Team will typically follow up with you by phone within 1 business day to confirm your order and provide you with an ETA. Our Ekornes Specialists will also do a "double check" to make sure you are receiving the lowest, discounted pricing available.
Have Questions or Prefer to let us do the typing?
Drop us a line at 888-486-9463 or 1-601-932-5111 and place your order over the phone

.
In addition to connecting you with the world's most comfortable furniture, we want to help you relax and unwind by offering a 30-Day Satisfaction guarantee. Please review our posted policy online for complete details. We do our very best to ensure 100% Satisfaction at every opportunity.
We ship fast. We can ship virtually anywhere and typically your items arrive Fully-Assembled. All you have to do is sit down and enjoy. We provide multiple levels of delivery to ensure there is an option to suit your needs. Ask us about Expedited Shipping Opportunities or our White Glove Services. Click here to learn more about Ekornes and here to learn more about The Unwind Company.
Have Questions or Prefer to order via phone? Give us a call at 888-486-9463 or 1-601-932-5111 (Internationally) during normal business hours. Click here to View our Blog to learn about the newest changes and latest developments in detail or drop our Ekornes Brand Specialists a line at 888-486-9463. They can elaborate on product specifics, make recommendations, and identify ways to help you save additional money on these wonderful seating solutions.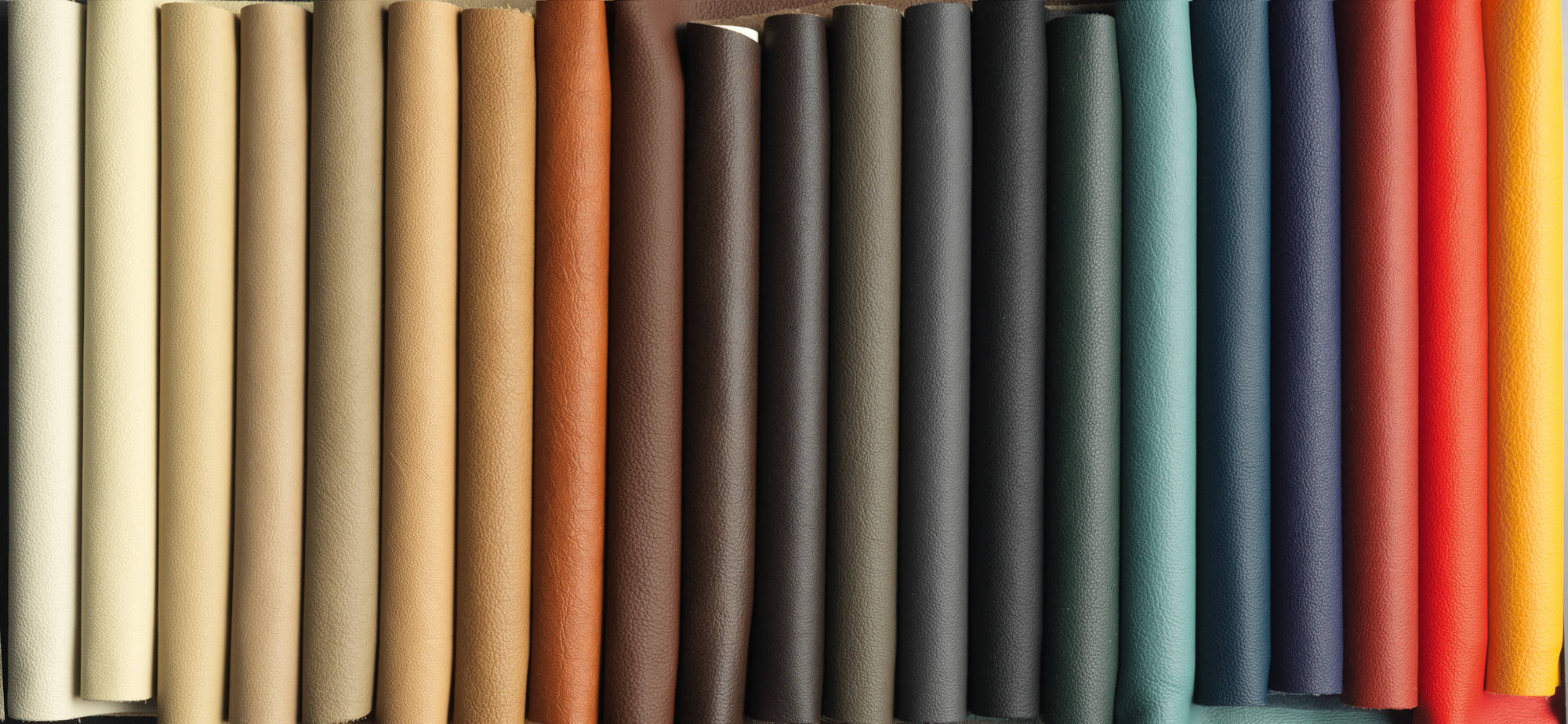 Leather is a terrific choice, if you want an upholstery that will stand the test of time. Ekornes' leather is a great choice if you want real leather. All Ekornes' hides are 100% Premium Top-Grain Leather. These beautiful hides are incredibly comforting to the touch and are available in a total of 75 different colors. You're sure to find a color that works for you and your room. As with all leathers, a little bit of maintenance and care annually will ensure you enjoy the leather upholstery for the maximum lifespan and beyond. Please feel free to check out our web page to learn additional details about leather care and maintenance for Ekornes' leather choices.
Paloma Grade Leather is one of the most popular leathers available from Ekornes. This fantastic upholstery option is 100% pure, premium Top-Grain Leather. It is "through dyed" for color enhancement, environmental consciousness, and longevity. It has a distinctly smooth surface that makes it so much softer than Batick Grade Leather. During the manufacturing and tanning processes, Ekornes' engineers sand the grain away from this leather to provide a uniform texture and appearance. Almost all Stressless Office Chairs, Recliners, Sofas, Sectionals, and accessories have a stocked version in Paloma Grade leather, due to its popularity. Check out the numerous color choices available to you in this grade at our Ekornes Leather Page.
Stressless by Ekornes Wing Office Chairs are made in Norway. They are the only brand office furniture in the world to be endorsed by the American Chiropractic Association. This is the largest Chiropractic Association in America. It is based in Alexandria, Virginia and serves as the national voice for the profession. The endorsement was officially announced early in 2002 but we wanted to take a moment and remind you that when you choose a brand-new Medium Stressless Wing Office Chair, you are not only choosing style. You are choosing a back-healthy seating solution. The patented comfort technologies found in Stressless Brand Recliners is identical to the technology inside the Office Chairs. They ensure correct and positive support for your head and lower back in any seating position. It's one of the many reasons why these chairs are so much more comfortable than any other brand in the world.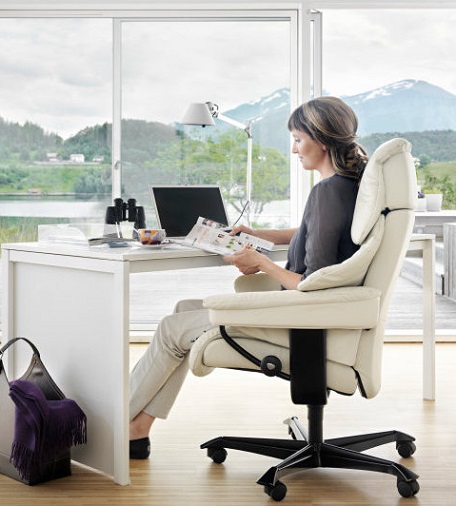 Let's take a glance at these amazing features that earned this prestigious endorsement:
Plus System- This tech allows the headrest of your new Wing Medium Sized Office Chair to come forwards slightly as you recline in your seat. This allows you to easily carry on conversation, maintain eye contact with your computer or workstation or even enjoy a quick snack.
Lumbar Support- The adapting ability of the lumbar support allows it to change shape as you recline to ensure you receive the proper amount of support at each changing angle. Work upright comfortably as you feel the lumbar support connecting with your lower back. Take a break, lean back, and relax as the inner frame changes shape to accomodate your body.
360° Swivel Base- the 360° range of rotation allow you to effortlessly reach items all around you with minimal strain. The smooth wheels allow you to easily navigate your work area with minimal effort.
Glide System- the smooth glide wheel system allows you to recline or sit upright in your chair with a simple adjustment of your body weight. There are no levers to jerk or buttons to push.
There's no better time than now to get your new Ekornes Chair. You spend a majority of your time at work or working. Why wouldn't you want to make your seating as comfortable and healthy as possible? It's time to take care of yourself and nurture your back. Imagine the improvement a little bit of comfort could make in your day. We ship Fully-Assembled and provide multiple levels of delivery to ensure there is an option to suit your needs. Ask us about Expedited Shipping Opportunities or our White Glove Services. Click here to learn more about Ekornes and here to learn more about The Unwind Company.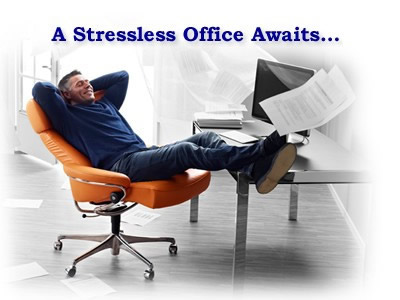 Stressless Office Chairs deliver many years of productivity-improving comfort and ergonomics into your business or home office. They have all of the same, overwhelmingly comfortable Stressless Comfort Technologies. Such as: The Plus System®, The Glide System®, premium leathers, Super-Soft Polyester Fiber Cushions over a Space-Age Foam Core, Flexo Springs, and full 360° rotational ability. Learn more about Ekornes and what makes them so special here: [About Ekornes]
They Look and Feel Like Ekornes Stressless Recliners - because they are Stressless Recliners. Experience full-body comfort at work or in your home office. Ekornes has taken ultimate comfort to a new arena, so that you can enjoy real Stressless comfort while working. We have tons of new Ekornes Office Chairs in stock for fast nationwide delivery!
Stressless Office Chairs & Recliners arrive fully-assembled with Full Manufacturer's Warranty and our Money Back Guarantee. Choose Nationwide In-Home/Office White-Glove Delivery - Select White-Glove Delivery when you order your back-saving Stressless Office chair from Unwind.com and we'll bring your chair inside and even set it up.
Call 1-888-486-9463, chat, or email stressless@unwind.com to connect with a Stressless Office Chair Specialist.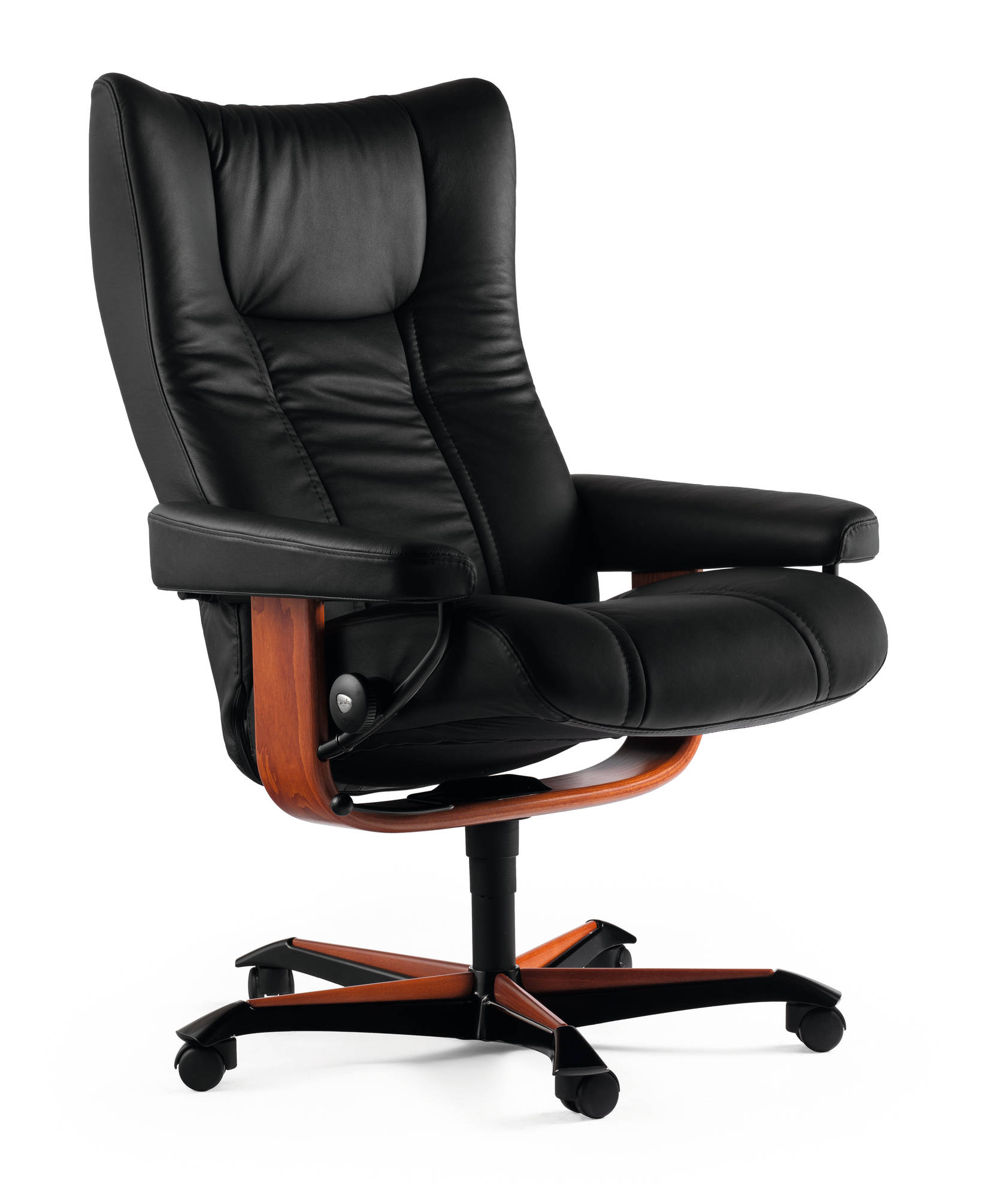 The Wing Office Chair has a traditional "Executive Chair" feel to its overall design. It has a higher than average back and a deep recess designed to accomodate your shoulders and neck. This causes the head cushioning to align perfectyl against the nape of your neck. Anyone who is prone to pain the Occipital Region of their skull will truly enjoy the design of the seat. The terrific Stressless Technologies are all present in this model. This includes the Plus System™. The ACA endorsement, the 10 Year Warranty from the Manufacturer, and the world's finest upholstery.
Ekornes proudly offers 4 different types of leathers and 11 different fabric options for their Stressless Office Chairs. The 4 grades of leather provide you the option to choose a leather whose characteristics suit the environment. I.e. Batick Leather is touted as being very "Family Friendly" because it has a substantial layer of protective lacquer on its surface that makes it more resistant to spills. View our Batick Leather Info Page.
It is certainly a fantastic time of year to purchase a distinguished, comfortable, Stressless Wing Office chair!
This popular, comfortable office chair insures consistent head, neck and back support and includes soft, smooth cushioning. The Wing office allows you to sit without strain or sore muscles for countless hours on end. Also, take a good look at the matching Wing recliner- another favorite.
Want to add a matching Stressless Sofa, Loveseat or Sectional? You're in luck as there are Ekornes Batick & Paloma Specials that will save you $1000's. Simply choose a matching Batick or Paloma leather sofa or sectional model and watch the savings stack up!
Choose White Glove Delivery on the Stressless Wing Office Chair- Save with sales tax benefits
Our Nationwide White Glove Delivery means that we will bring your recliner, office chair, sofa or sectional into your home (or office), unpack it, set it up and take the box/packaging with us when we leave. Of course your furniture will arrive fully-assembled and ready to enjoy!
*Would you prefer to receive your Wing office chair faster? Choose one of our other speedy delivery methods.
Welcome to the Stressless Wing Office Chair by Ekornes- In Stock Now! Select White Glove or Inside Residential Delivery at Unwind.com.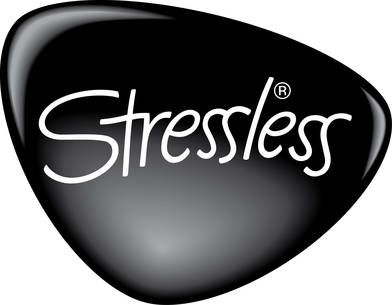 Every Stressless has a relaxing story to tell, beginning and ending with the word "comfort." It has been the driving inspiration of all Stressless design features for the last 40 years. As a matter of fact, Ekornes themselves has been in the business of quality for 80 years. So, the entire time Ekornes has been making the world's finest back-care and total-body comfort recliners, they have also been thinking and researching the whole concept of true body comfort. Read more about this inspiring manufacturer here: Everything about Ekornes.
It also means that every single detail in a Stressless is there for a reason. The sole purpose of Stressless by Ekornes is to make you as comfortable as possible. Now, they have taken this ultimate comfort a step further, so that you can enjoy real Stressless comfort even while you are working at home or office. Imagine how productive you can be at your occupation if there is absolutely no thoughts about comfort or time. The minutes will slip by unnoticed as you sit comfortably in the finest office chairs available.
Stressless is a trademark of Ekornes, in the beautiful country of Norway.
The Unwind Company, Unwind.com and our network of relaxation and backcare sites & stores, are factory-authorized, nationwide in-home providers of Back-Saving Stressless Recliners, Ekornes Sofa's, Stressless Office, furniture and Accessories.
Don't forget that all Stressless Wing Office Chairs arrive fully-assembled with the Full Manufacturer's Warranty and our own 30-day Money Back Guarantee. Read more about that guarantee here: Unwind Shipping and Returns.
Having the right sized recliner ensures that you achieve the maximum levels of comfort and physical relaxation possible. The engineers at Ekornes realized that no two people are identical so it makes sense that there would need to be multiple sized chairs to fit everyone comfortably. Almost all styles and models feature a Medium and Large version and some even have a Small, Medium, & Large version. You will find that most people can move up a size, i.e. from a Small to a Medium, without really noticing. It is similar to finding the perfect fitting shoe; a small size up is not a very noticeable change.

Take the Comfort Test™ to reveal which size, model, and style is going to suit your body's comfort needs perfectly:
Are the height and width of this chair a fit for your body? Do your shoulders fit within the edges? Is the lumbar support correctly positioned in your lumbar vertebral region?

Does the chair easily move with your own body? As you shift positions, the chair itself should easily adjust to contour to your body. This ensures continuous support.

Is the gliding motion adjusting seamlessly with your body? This is an automatic feature. Either tighten or loosen the glide wheels to increase the pressure needed to lean back or decrease the effort to recline.

If the lumbar support is in the intended region, your back will relax into its natural, slightly curved posture.

How does the headrest feel? The cushioning promotes optimal comfort when your head is supported. Too much cushion behind the head and you will feel inclined and too little cushion and your head will be too far back. With Stressless Office Chairs, your head should naturally rest in a comfortable position once you have found the right model for you.

Does your body feel relaxed? You take a seat in the right sized model and you will feel as each part of your body connects with a portion of the chair. This will cause your body to begin relaxing muscles and releasing tension. Your body will being naturally to allow the chair to support you as it conforms naturally to the shape of your back.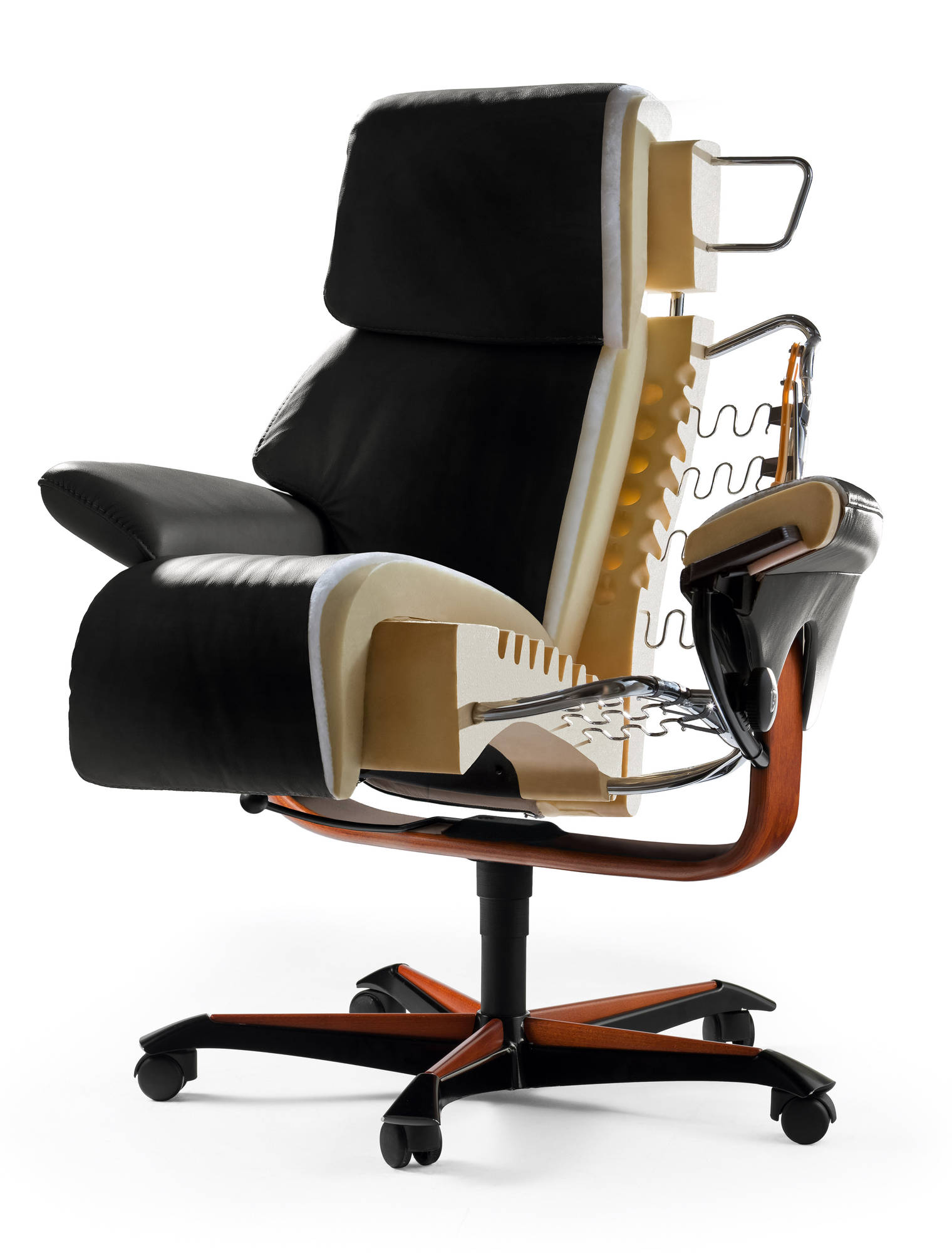 All Stressless Office Chairs contain the same internal mechanisms and supportive skeletons as the world renowned recliners and Ekornes Furniture. Read on to learn more about what makes this furniture not only some of the finest crafted furniture in the world but also some of the most comfortable:
The seams and designs are intentional efforts to enhance each person's comfort level and allow unique styles of seating. These divisions or seams divide the seat itself into "Comfort Zones". This allows each person to find that seat that supports their back and body in just the right place.

The incredibly strong steel frame and flexo springs are concealed within multiple layers of foam. This allows you to literally sink into your chair.

The continually adjusting Plus System provides a specific type of continual support that has earned this brand an exclusive endorsement from the American Chiropractors' Association.

The patented Glide System allows you to seamlessly sit, work, recline, and relax without using any levers. The technology uses your body weight to provide any motion needed to transition. It's flawless.

The Office Chairs even feature a "Gas Lift" Lever that allows you to raise or lower the height of your seat. This means no matter your desk or workstation, your chair should fit comfortably.

The 5 stems of the Star-Shaped base provide a low center of gravity and a dependable foundation to support you for the lifetime of comfort that your body deserves.
Choose Nationwide In-Home/office White-Glove Delivery-
Select White-Glove Delivery when you order your back-saving Stressless Office chair from Unwind.com and we'll bring your chair inside and even set it up (we'll even take the packaging when we leave).
We have a large selection of Stressless Office Chairs in-stock now for the Fastest Delivery to most of North America
Please call 1-888-486-9463, click to Live Chat, or email stressless@unwind.com to connect with a Stressless Office Chair Specialist.
**Our popular White-Glove, Inside-Delivery Service is offered to most delivery addresses in the "upper 48" United States. This service can be combined with other non-related special offers. In the extremely rare case that we cannot deliver using this delivery method, we will drop you a note &/or line before shipping your furniture, to offer an alternative method to match your needs perfectly and without additional charge.
May we assist you with your Stressless Recliner, Stressless Office Chair, Ekornes Sofa, Stressless Furniture or other backcare item? We're here to assist you at ekornes@unwind.com or 1-888-486-9463 (or:1-601-932-5111).
Choose PayPal Credit for their flexible payment options and familiarity. Finance your purchase, relax with flexible payment options and pay the balance off over time. Remove the pressure of shopping and truly relax and unwind. Easy Payments with PayPal Credit lets you get the comfortable Stressless Furniture when you want it, and budget your payments as you go. You can choose the monthly payment amount and the length of time that works best for you. After all, who know you better than you? Pay with peace of mind. PayPal will notify you when each monthly payment is due, so all that's left to do is sit back, relax, and enjoy your purchase.
We look forward to helping you relax and unwind to the fullest- Even while you work!
Product Dimensions: W: 29.5" H: 43" - 45.5" D: 28" Seat Height: 17.25" - 20"
Warranty Information
-10 Year Warranty on Internal Mechanism- Ekornes Guarantees the internal mechanism of its recliners for a period of 10 years from the date of purchase of the product. The 10 Year Guarantee covers the Plus System and the internal metal frame, including the the metal springs and gliding system. It does not cover damage to the leather, woodwork or any faults or damage caused by the use of the product other than in accordance with the manufacturer's recommendations, as well as any faults or damage arising from any repairs made by any persons not authorized by the manufacturer. -5 Year Warranty on the base- The 5 year warranty covers the base for the chair and ottoman, including the swivel ring, gas lift, extensions as well as all foam and interior padding in the chair and ottoman. Also includes electronic parts and motor for LegComfort mechanism and all accessories. Please note that some deformation and indention in padding is considered normal and is part of a break-in process. -2 Year warranty on LegComfort Battery. -1 Year warranty on leather or fabric upholstery- The 1 Year warranty covers the leather or fabric upholstery including stitching and zippered assemblies assuming that the product has been cared and maintained using Ekornes approved guidelines for maintaining leather furniture. *This warranty only protects you when you purchase an Ekornes product from an Ekornes authorized retailer (e.g. The Unwind Company and Unwind.com). This warranty only applies when you have purchased Ekornes Furniture for your own normal indoor use. This warranty does not cover floor samples or products designated "As Is" at the time of purchase. **The Ekornes warranty covers the cost and shipping of replacement parts. Ekornes, the Unwind Company or Unwind.com LLC is not responsible for any other costs incurred while replacing the product, including but no limited to service/repair charges.
Additional Details
SKU:

E1161096