Description
Large Stressless View Recliner with Ottoman- Start Relaxing Today.
The Large Stressless View Recliner and Ottoman set is a crowd favorite. Stop by and try one out for yourself. There will be no going back once your back feels the incredible, adaptable lumbar support. While you're in, we invite you to take your time and review all of the Paloma Leather Grade Color choices. It is so incredibly soft and smooth while still being strong and durable. There have been some exciting color additions recently. Sparrow Blue and Summer Green have been incredibly popular. [Click here to view Paloma Leather Choices.]
Now is a great time to save $100's on select Ekornes Stressless Recliners & Furniture items. Supply is limited so call 888-486-9463 or click the Chat button (top of page) to learn how your next Stressless Chair can be delivered nationwide with pricing that simply cannot be matched.

With the changing season comes new ways to save! Choose from many, many Stressless Furniture items in our Ekornes Authorized Price Reduction Inventory (EAPR) and save $100's from what you'd expect to pay. We also make it super easy by including the Ekornes mandated delivery fees in the EAPR model pricing. So the price you get on our Ekornes Authorized Price Reduction models is the "delivered" price with no additional fees- Did we mention the Sales Tax Benefits?
There is no other furniture brand in the world like Ekornes Recliners. You choose your comfort zone style, then you choose the size that fits your body type best, and then you can even choose your favorite base style. There is no one else that understands how important customization is to your comfort like the folks in Norway. [Click here to learn more about the Ekornes' Story.]

For the beloved Stressless Recliners, you can choose from the Classic Base, Signature Base, or Office Base. (The London, Paris, City, & Metro Recliners even have their own base style, the Star Base.) New to 2016, the Signature Base option allows your favorite recliner to gently rock, to dip even lower into the "Sleep Position" to a complete 180º posture.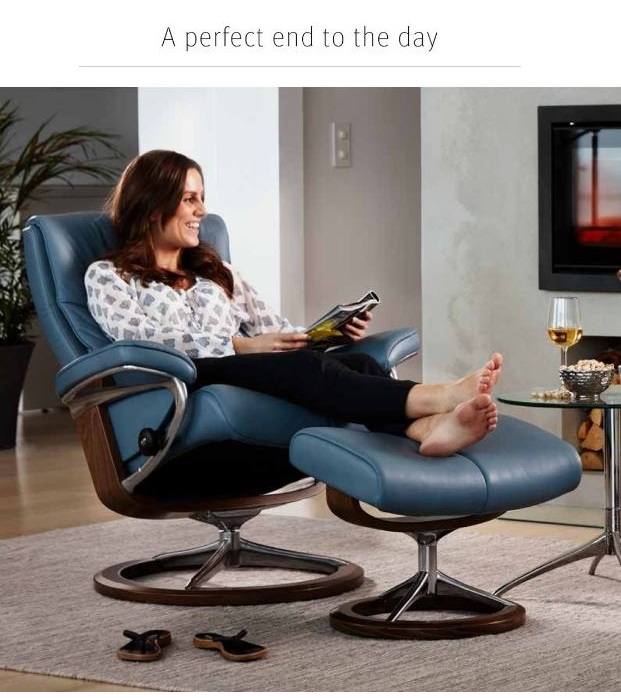 Ordering at Unwind.com is always fast and secure. Here's how to checkout online now and start enjoying your Stressless Recliner even sooner:
Visit the desired Stressless Recliner or Ekornes Furniture product page.

Select the Stressless recliner or office chair model and select the size that fits you best. (Don't forget to choose a base style.)

Make your preferred leather or fabric type selection by clicking one of the small color swatches underneath the desired leather type.

Click your favorite of the 7 beautiful wood stains. (Typically, we have all stains in stock.)

The Lowest Pricing allowed is always displayed automatically (it's displayed next to the product images, top of page).

Now simply scroll down the page and click the "Add to shopping bag" button.

Click the "Proceed to Checkout" button, or the "Cart" button at the top right of the page.

Follow the on-screen instructions and you'll be relaxing in your new Stressless Recliner very quickly.
Our dedicated team of Customer Service Professionals will typically contact you within 1 business day of placing your order. They will verify your shipping address and order information. Want to make sure you are getting the absolute best price and saving the most money? Ask our Customer Service Team to run a double check. If they find any eligible savings, they will gladly apply them to your order. Our #1 goal is your 100% Satisfaction. It's one of the many reasons we are proud to offer a 30 Day Satisfaction Guarantee. If you aren't satisfied with your purchase, we aren't satisfied.
We want to make the shopping process as simple as possible. This is why we have built in the lowest authorized pricing automatically. If you aren't sure about a price, feel to drop us a line at 888-486-9463 or click the "Pricing Information" tab near the top of this page to see all pricing levels for this model. Have more questions or prefer to order via phone? Drop us a line at 888-486-9463 or 1-601-932-5111 (Internationally). You can also chat with our Live Support Team. They are not just Customer Service Professionals, they are dedicated Ekornes Brand Comfort Specialists. They have the knowledge and experience to help pair you with the exact comfort technologies to help you truly relax and unwind.
Enjoy Fast, Worry-free Delivery on a Stressless Signature View Recliner Large with Ottoman.
It's a great time of year to purchase from the amazingly comfortable, Stressless View line!
This popular, modern recliner delivers exquisite head, neck and back support and the over-stuffed smooth, soft, cushioning allows you to sit undeterred for many hours on end. The Stressless View Signature Medium recliner is among the most modern Stressless recliners available.
Looking to add a matching Stressless Sofa, Loveseat or Sectional? You're in luck as the Ekornes Batick & Paloma Specials Sale Colors are also eligible for additional savings under this promotion. You receive Paloma Special Pricing Colors at Batick Special Pricing levels and Batick Special Pricing Colors at $100 off their regular pricing. These deals can save you $1000's. Simply choose your matching Batick or Paloma leather sofa or sectional model and watch the savings stack up!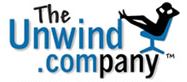 Have Questions or Prefer to order via phone? Drop us a line at 888-486-9463 or 1-601-932-5111 (Internationally). View our Blog to learn about what's new and exciting in detail or drop our Ekornes Brand Specialists a line at 888-486-9463. They can explain the specifics of each product and help direct you to money-saving opportunities.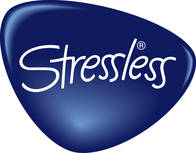 We are proud to announce the latest information regarding new models, changes, additions, and farewells to the Ekornes Furniture and Stressless Recliners for 2016. This information was just announced and we wanted to bring it to you as quickly as possible. Be on the lookout as most of these changes will take effect April 2016. There are so many that some will still be coming in Summer 2016.
We have new recliners, new models, new changes to old models, new options, new leather colors, discontinuation of some colors, and much more. We always recommend clicking here to check out our latest blog post as our dedicated team posts most of the new information to the blog first. Many of these new changes aren't even available for delivery yet. We just wanted to make sure and keep you updated as soon as we found out about these exciting changes.
You can truly relax and unwind when you choose the world's most advanced recliners. From the patented technologies, to the outstanding construction and engineering, down to the incredibly useful accessories, you will be able to relieve stress and tension and promote a genuine sense of well-being in this seating solution. Just as a reminder, let's take a quick peek at a few of the features that make Stressless Recliners so supportive and comfortable:
Patented Plus System which provides continuous support for your head and lower back.

Stressless recliners relax your entire body by providing perfect balance and optimum support.

With the Stressless Glide System, you can automatically shift to any seating position by simply using your body weight.

The easily-moved ottoman also features the built-in Glide System that adjusts to your body movements for the ultimate in comfort.

Stressless Recliners and Accessories are built to last for many, many years. A round base and double-stem support ensure stability.

Stressless Recliners are created for a custom fit- Many of these recliners come in three sizes (small, medium or large) and many sofas are available in two sizes (medium or large).
At The Unwind Company, we proudly offer the lowest prices authorized by Ekornes on all Stressless Recliners and Chairs. You save time and money with our Fast Delivery to anywhere in the continental United States (and other parts of North America). We have 1000's of items in stock for immediate shipping. When you choose Unwind, you can relax knowing you saved money and time with the best prices and best customer service.
In an effort to provide you with the quickest and most convenient shipping and delivery options, we offer Fully-Assembled Delivery of Brand-New items right through the front door of your business or home, as our standard level of service. We save time by using the Fastest Shipping Methods available. Our Delivery Options can have Recliners, in stock for Immediate-Shipping, delivered to virtually anywhere in North America in 1-5 business days. There's no need to pay for slow, standard shipping elsewhere when you can get Priority Shipping, standard at Unwind. All of our items are backed by the rock-solid 10 year Manufacturer's Warranty at no additional cost.

Stressless View Family Product Dimensions: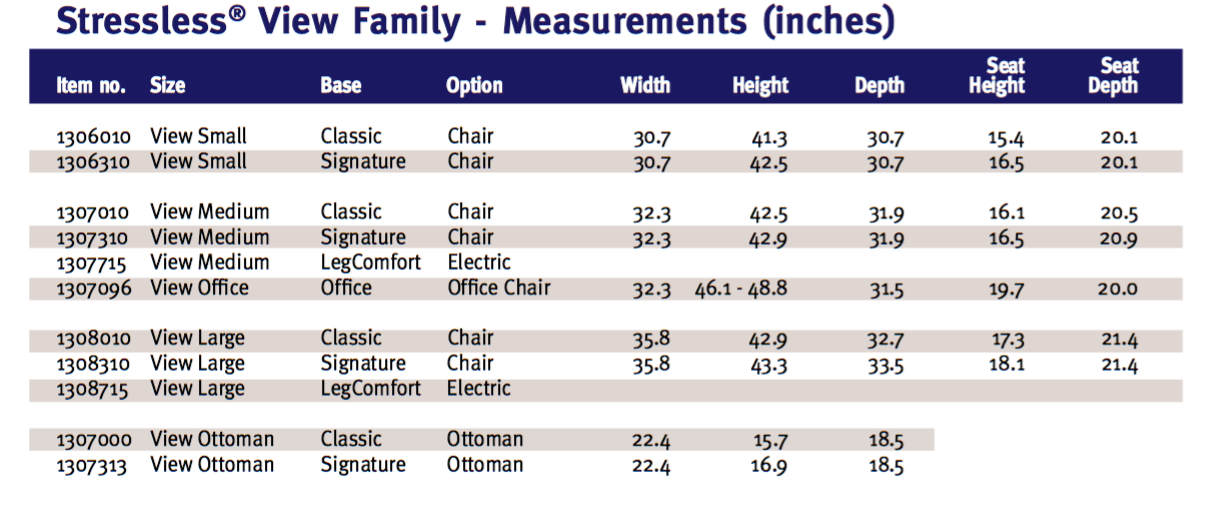 Warranty Information
10 Year Warranty from the Manufacturer