Description
Ekornes Stressless Arion Home Theater Seating SC 121 includes:

1 Arion High-Back Chair Left Arm
1 Arion High-Back Chair Right Arm
1 Arion 2 Seat No Arms
2 Sector Arm Tables
[Ottomans are not included but there are special discount options. Call 888-486-9463 for more details.]
Stressless Home Theater Seating
There are 4 models of Stressless Sofas that can be custom-made into a Home Theater Seating Arrangement for you. These models are the Arion, Legend, Space, & Wave Sofa Series. The beauty of using Stressless sofas to form your Theater seats is that you get the award-winning, patented comfort of Stressless by Ekornes with your own unique influence on the design and layout of the seats.
Use your unique tastes and design strategies to form an excellent home theater experience, unlike any other. Whether you are watching the latest rental DVD or "binge-watching" episodes to catch up before a series premiere. You are in control as you choose the number of seats, the layout, style of legs and armrests and match them to your room!
As with all Stressless Sofas you get more than a great seat. You get the patented technologies that set this furniture apart from those that consider themselves competition. The Stressless Glide System & Plus System allow you to seamlessly recline, adjust the headrest, and provide an articulating lumbar support. It is a thing of beauty when function and design meet in a tidy and smart piece of furniture.
As with all Stressless furniture, we advise you to sit in them at a retail showroom to get a feel for each seat and to take the "Comfort Test". This will help match you with the most comfortable model for your seating style. Make sure you check out our other Stressless pages for accessories, ottomans, tables, recliners, sofas, sectionals, and cleaning products. You will find all the information you need to make your purchase, including product measurements, warranties and where to buy Stressless.
It is no surprise that Stressless Furniture is Exclusively Endorsed by the American Chiropractic Association (the ACA). Due to their patented technologies, superior longevity, and overall intelligent design.
You can assemble, construct or customize a Theater Seating Arrangement in an endless variety of ways. There a few pre-formed design ideas that can help steer you through the process and help simplify things for you. Below are some popular patterns/seating arrangments: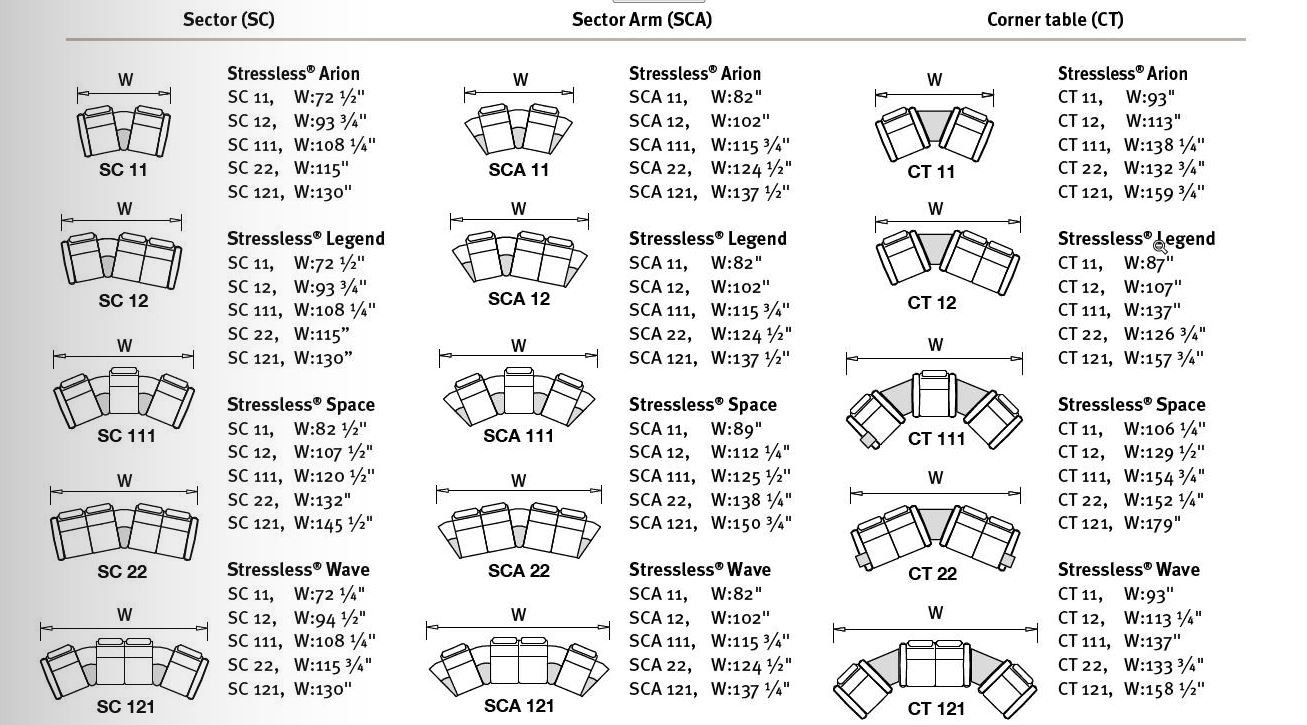 If guaranteeing the lowest authorized price was not enough, we also provide White Glove Delivery options for all of our Home Theater Seating Deliveries (within the continental United States). Want to learn more about this type of Specialized Delivery service? Click Here: [White Glove Delivery Explained].
Our company's mission is to help bring relaxation and comfort into our customer's lives. We carry only items and products that will help you achieve some relaxation and time to unwind. Shop confidently knowing that we have a [Customer Satisfaction Guarantee]. We have been in business for well over a decade and have earned a strong reputation for our Excellent Customer Service.

The Unwind Company maintains an A+ Rating with the Better Business Bureau, with millions served. May we assist you as well? We'll always do our very best to get you taken care of- We guarantee it!
Warranty Information
-10 Year Warranty on Internal Mechanism- Ekornes Guarantees the internal mechanism of its recliners for a period of 10 years from the date of purchase of the product. The 10 Year Guarantee covers the Plus System and the internal metal frame, including the the metal springs and gliding system. It does not cover damage to the leather, woodwork or any faults or damage caused by the use of the product other than in accordance with the manufacturer's recommendations, as well as any faults or damage arising from any repairs made by any persons not authorized by the manufacturer. -5 Year Warranty on the base- The 5 year warranty covers the base for the chair and ottoman, including the swivel ring, gas lift, extensions as well as all foam and interior padding in the chair and ottoman. Also includes electronic parts and motor for LegComfort mechanism and all accessories. Please note that some deformation and indention in padding is considered normal and is part of a break-in process. -2 Year warranty on LegComfort Battery. -1 Year warranty on leather or fabric upholstery- The 1 Year warranty covers the leather or fabric upholstery including stitching and zippered assemblies assuming that the product has been cared and maintained using Ekornes approved guidelines for maintaining leather furniture. *This warranty only protects you when you purchase an Ekornes product from an Ekornes authorized retailer (e.g. The Unwind Company and Unwind.com). This warranty only applies when you have purchased Ekornes Furniture for your own normal indoor use. This warranty does not cover floor samples or products designated "As Is" at the time of purchase. **The Ekornes warranty covers the cost and shipping of replacement parts. Ekornes, the Unwind Company or Unwind.com LLC is not responsible for any other costs incurred while replacing the product, including but no limited to service/repair charges.
Additional Details
SKU:

EARIONSC121