Description
Stressless Buckingham High-Back 3 Seat Sofa- Enjoy Stress-free Nationwide Delivery.
Feel the daily stress disappear when you order a Ekornes Stressless Buckingham High-Back sofa from The Unwind Company.

It's always a great time to purchase from the most-comfortable, back-healthy furniture line in the world- Stressless by Ekornes. Stressless Sofas and Love-Seats deliver the highest levels of head, neck and back support. The dense, soft memory foam cushioning allows you to sit undeterred for many hours on end.
The Stressless Buckingham High-back Sofa delivers excellent support for your back and body

It's simple and secure to checkout online. Here's how to order online and save:
Visit the Ekornes Furniture or Stressless Recliner product page.

Visit the product page of the Stressless Sofa, Love Seat or Sectional that fits you best.

Choose your preferred leather grade and color by clicking the small color swatches underneath the desired leather type.

Don't forget to choose 1 of the 7 beautiful wood stains and leg option, where applicable.

The latest pricing is displayed automatically near the top of the product pages (it's located next to the product images, top of page).

Now simply scroll down the page and click the "Add to shopping bag" button.

Click the "Proceed to Checkout" button, or the "Cart" button at the top right of the page.

Follow the on-screen instructions and you'll be relaxing in your new Stressless Sofa or Love Seat very quickly.
If you have questions or want to double check the latest pricing, please drop us a line at 888-486-9463.
Once you have completed your order you will receive an email confirming the details. Our dedicated Customer Service Team will typically follow up with you by phone within 1 business day to confirm your order and provide you with an ETA. Our Ekornes Specialists will also do a "double check" to make sure you are receiving the lowest, discounted pricing available.
If you have questions or want to double check the promotion pricing, please drop us a line at 888-486-9463.
Once you have completed your order you will receive an email confirming the details. Our dedicated Customer Service Team will typically follow up with you by phone within 1 business day to confirm your order and provide you with an ETA. Our Ekornes Specialists will also do a "double check" to make sure you are receiving the lowest, discounted pricing available.
Have Questions or Prefer to let us do the typing?
Drop us a line at 888-486-9463 or 1-601-932-5111 and place your order over the phone

.
In addition to connecting you with the world's most comfortable furniture, we want to help you relax and unwind by offering a 30-Day Satisfaction guarantee. Please review our posted policy online for complete details. We do our very best to ensure 100% Satisfaction at every opportunity.
We ship fast. We can ship virtually anywhere and typically your items arrive Fully-Assembled. All you have to do is sit down and enjoy. We provide multiple levels of delivery to ensure there is an option to suit your needs. Ask us about Expedited Shipping Opportunities or our White Glove Services. Click here to learn more about Ekornes and here to learn more about The Unwind Company.
Have Questions or Prefer to order via phone? Give us a call at 888-486-9463 or 1-601-932-5111 (Internationally) during normal business hours. Click here to View our Blog to learn about the newest changes and latest developments in detail or drop our Ekornes Brand Specialists a line at 888-486-9463. They can elaborate on product specifics, make recommendations, and identify ways to help you save additional money on these wonderful seating solutions.
Increase your comfort and overall sense of well-being. Make the choice to get a Stressless Sofa today. Reduce your stress levels and make your home a sanctuary for relaxation. Imagine the improvements more comfort and relaxation could make in your day. Now let your imagination become reality and get your Buckingham Sofa or Love Seat from the Unwind Company. We are one of Ekornes' largest and most popular retailers in the nation. We can ship your items Fully-Assembled and provide multiple levels of delivery to ensure there is an option to suit your needs. Ask us about Expedited Shipping Opportunities or our Platinum Level White Glove Services. Click here to learn more about sales and promotions.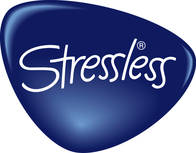 This Sofa is one of the most popular reclining models available today. It is a perfect fusion of traditional padding and styling with modern comfort technologies. Ekornes knew the Buckingham was going to be a success right out of the gate. It presents a calm, reserved style. The perpendicular seams are intentionally created to provide a "Comfort Zone Layout" that provides the user with a feeling of total body support. It almost feels like an "overstuffed" couch but maintains the cleaner lines unique to Stressless.
This model is so popular that we are occasionally under-stocked. If you hurry, there might be a few in our clearance section. Click here to check: [Stressless Clearance].
The Windsor is the matching, medium-sized model of the Buckingham. Check out its page here: [Stressless Windsor Sofa]. It is equally as comfortable and is available in all of the same colors. It is also backed by the same rock-solid 10 Year Warranty.
The Buckingham and Windsor models cannot currently be made into sectional sofas. However, there are numerous Stressless models that are available as Sectional pieces. Check out our page to see some pre-designed sectionals or combine your desired pieces to make a truly unique Stressless Sectional that will knock your socks off! [Sectionals Main Page]. You should also check out the home theater seating that features all the Stressless product benefits. [Home Theater Seating Page]
Stressless by Ekornes is one of the most famous comfort furniture brands worldwide, and is manufactured in Norway. We serve customers the world over. You name a place and there is a person who knows about this furniture. Stressless sofas have been manufactured for nearly 20 years and Ekornes is constantly working on improving every detail of the Ekornes Sofa and Stressless Furniture line.
Matching Recliners: The Mayfair(small), Mayfair (medium), & the Mayfair(large). These excellent recliners will make your back feel so supported and relaxed, you might think you are weightless or in a sea of tranquility. The matching Stressless Recliners feature the same seaming and "Comfort Zone" design. They bring the highest levels of comfort and support to you and fall somewhere in the middle of the current Stressless pricing lineup. Once you sit down and let your body sink into the extremely soft cushioning, you'll know that you've reached a level of comfort you could previously only imagine. This family of recliners and sofas is one of the most elegant models designed by Ekornes.

Take the Comfort test at an Unwind location (or the Stressless store closest to you) and experience the difference a sofa likes this makes. Lets briefly discuss the "Comfort Test": It primarily consists of probing questions everyone should ask themselves before buying a Stressless sofa or recliner to make sure the model is a "perfect fit" for you.
Does this chair feel large enough to support your whole body? If the chair is too small, you will notice your shoulders may not be properly support by the back cushion. If your head is too far above the back cushion and you feel as if it isn't adequately supported, then this chair is too small. If the chair is too large, you may notice there is too much space between your legs and the armrests. Also, if your head feels "pushed forward" this may indicate that the chair is too large for you.

Is the ottoman positioned correctly for your legs? Maybe you need to move the ottoman closer to the chair or further away so that your legs feel "lighter" and there is no pressure on your knees. Proper leg support is essential to experience all of the comfort benefits unique to Stressless Recliners and Ekornes Furniture.

If the chair is too large it may be difficult to seamlessly recline. If the chair is too small, it may feel as if it moves too freely. We always encourage you to tighten or loosen the glide wheels at this time. If the movement of the chair is still not exactly as you want, the size chair may not be correct for your body.

Lumbar support is one of the greatest features of Stressless furniture. Do you feel adequate lumbar support as you sit, recline and lay back in this chair? If you do, you might have the correct size. If you do not feel 100% great lumbar support it is possible the chair is too big or too small. If your chair is too big, the lumber support can be too high to properly support and ease your back tension. If your chair is too small the lumbar support will be too low and will not be very noticeable.

Can you see directly in front of you? If the headrest is too large for you, you may feel as if your head is being pushed forward. If it is too small, you may notice there is not enough head support to see the TV in front of you with ease. Stressless technologies are designed to provide adequate support in specifc sizes so that your head and neck never have to strain or struggle.

Finally, feel the leather. How does the texture feel to you? The Batick leather is more textured than Paloma and has a thicker layer of protecting lacquer. We like to say each person prefers a specific leather. Also, your environment should be considered when selecting a leather. Pets, children, food, sunlight are all important factors to consider when selecting a premium leather for your Stressless Recliner. Learn more about the leather grades by following this link: [Ekornes Leather Information]
There are many patented innovations only found in Stressless furniture systems by Ekornes. Here are a few characteristics of the Stressless Sofas that you will never forget: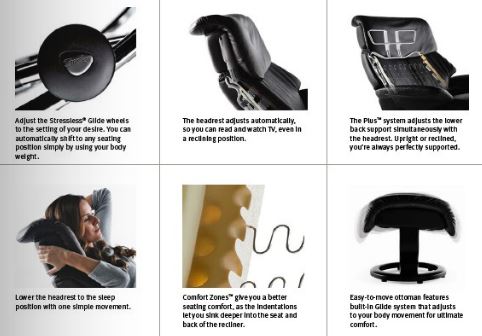 Stressless sofas relax your entire body by providing perfect balance and optimum support.

The Plus™ system allows the lumbar support, along with your headrest, to adapt and react to your body's movements. This provides you with "proper support" in all seating styles and positions. The Plus™ system provides continuous support for your head and lower back. The internal construction features a double-sided mechanism to ensure maximum stability and functionality. The durable steel frame and flexo springs provide for superior resilience and continuous support.

The Stressless® Glide wheels (located between the seats) allow you to customize the movement of your Stressless Sofa so that it is in sync with your body and your comfort.

Comfort Zones™ are specifically shaped and molded to provide each seat with its own distinctive seating style and support. The indentations, seams, and shapes in these Comfort Zones allow your body to sink deeper into the seat, enhancing an individual user's level of comfort and overall satisfaction with their seat.

10-year warranty on the internal mechanism (Did we mention that Ekornes is so confident in their products that they provide this Standard, at no additional cost?)

During manufacturing, the technologically-advanced foam is applied directly onto the Stressless Sofa Frames. This allows for additional longevity for your seat cushions and your comfort. An additional pad of soft space-age foam ensures optimum comfort. The super-soft polyester fiber then cushions your body and ensures an attractive look.

The sturdy stainless Steel Frame and the unique "Flexo Springs" allow your body to feel nearly weightless as you recline and relax.

The patented and now highly-coveted Stressless® Glide system automatically adjusts to your body weight.

You can have ottomans that match both in style and upholstery. Add one of the many Small/Large Sofa Ottomans to your sofa and you will be glad you did. Not only do these ottomans serve as hideaway storage, but they also have the capacity to tilt and adjust to your legs. This way, you get the best support for your legs- every time.

Stressless sofas are built to last a lifetime. Only the most premium leathers are used to ensure a luxurious feel from Day 1 to Day 10,000.

No one builds a sofa like Stressless. Period.
Most customers want their furniture coordinated to enhance a particular style and feel of their home. In the past, this has been difficult to accomplish without the help of a seasoned interior designer or other professional. The Stressless furniture line by Ekornes offers collections in a number of matching styles, which allow you to arrange your living area to suit your style and needs. The design and coordination has already been taken care of. Stressless by Ekornes combines the very best comfort with perfect style to match any décor.
We always have Fast Shipping options available! [Inside Residential or White Glove Delivery] We want your shopping experience with us to be truly "Stress-Free." This is why we provide stress-free delivery to the U.S. and even parts of Canada. Choose our White Glove delivery option if you would like your Stressless Sofa brought into your home, set up where you want it, and have our delivery teams take away all of the packaging. This is truly a frustration free experience.
Want to see informative Ekornes and Stressless videos? Visit our Ekornes Furniture & Stressless Video channel on YouTube.
Or Search and watch 100's of Stressless recliner videos at The Unwind Company YouTube site here.

Choose PayPal Credit for their flexible payment options and familiarity. Finance your purchase, relax with flexible payment options and pay the balance off over time. Remove the pressure of shopping and truly relax and unwind. Easy Payments with PayPal Credit lets you get the comfortable Stressless Furniture when you want it, and budget your payments as you go. You can choose the monthly payment amount and the length of time that works best for you. After all, who know you better than you? Pay with peace of mind. PayPal will notify you when each monthly payment is due, so all that's left to do is sit back, relax, and enjoy your purchase.
It is no wonder that Stressless Sofas are Endorsed by the American Chiropractic Association (the ACA) for all of their positive health benefits.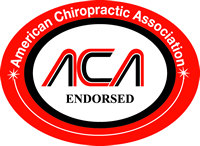 Come visit an Unwind location to experience the Stressless Buckingham Sofa in person. If you have already decided and are ready to purchase, simply click the "Add To Shopping Bag" button above after selecting the available options. We offer many full-service delivery options. The best part of our extensive delivery choices (aside from the great service) is that almost all are completely RISK FREE to our customers. A stress-free shopping experience has been our #1 goal since 1997! We will ship your chair fully-assembled (even White Glove Delivery is simple at Unwind) in the United States (or most of North America). Please review our return policy prior to ordering or call 888-486-9463 for personal assistance. You may also email stressless@unwind.com anytime- 24 hours, 7 days a week.

The Unwind Company maintains an A+ Rating with the Better Business Bureau, with millions served. May we assist you as well? We'll always do our very best to get you taken care of- We guarantee it!
Stressless Buckingham Sofa Availability: All Colors & Leathers are available for production at the Ekornes production facility in the United States. (Allow 30 days for delivery.)
This model, as with Most Stressless Sofas, is available in a high-back and low-back version. This difference in heights allows you to pick which model and size you need. Checkout the [Low-Back Buckingham Sofa].
Depending on the intended use, choose a high-back sofa and a low-back loveseat, or vice versa, the choice is yours. We see many customers choose the high-back version for the family members that will be spending the most time in the sofa or loveseat. The low-back versions work best for guests or kids that might not be tall enough to appreciate the extra head and neck support of a high-back sofa. Regardless of which you prefer, all Stressless sofas come with the benefits of individually adjusting seats and the patented Plus System and Stressless Glide System to soothe your body. Choose the perfect combination for any sized living room or meeting space.
Need assistance in piecing together the perfect Stressless sofa and loveseat combination? Drop us a line at 1-888-486-9463 to speak with an Ekornes expert. We also have multimedia experts that can help you in designing your home theater seating, utilizing Stressless sectional and theater components.
Ekornes sofas and Stressless Recliners offer four types of leather to choose from, in a multitude of colors. Want to learn more about the premium, top-grain leathers used by Ekornes? Click here: [Ekornes Leather Info]. The Stressless base is made from European beech wood, and comes in a range of different finishes. You can experience quite a few leather and wood combinations at the Unwind Video Library. A picture is worth a thousand words, and a video is even more valuable. It allows us to focus on the individual furniture pieces, "up-close and personal." While we find color charts handy, nothing replaces being able to see the actual leather and wood stains as they appear on your Stressless recliner or Ekornes Sofa.
Let's recap some of the top reasons you should own a Stressless:
- Space-age injected cold-cured memory foam is molded directly over the steel frame, to cushion your back and body. This technique insures long-term foam performance and helps keep the frame and internal components secure.
- Another layer of soft memory foam is added for additional cushioning and comfort.
- Extremely soft Dacron fiber material cushions your body and insures an attractive look.
- Durable steel frame and flexo spring mechanisms offer superior resilience and allow for years and years of continuous support. This enables one of the best warranties in the business
- The patented Plus System provides continuous support for the head and lower back. The double-sided mechanism insures maximum stability and unmatched functionality.
- Genuine top-grain leather covers the entire seat and ottoman (no shortcuts here, as is popular on many competing furniture products) for a luxurious look and feel and consistent aging (aah, like a fine wine, some things do get better with time).
- Revolutionary Stressless Glide System allows you to automatically shift to any seating position by simply using your body weight.
- Beautiful, hardened two-stem base on Stressless Recliners adds superior stability (not to mention great looks).
Craftsmanship is Job #1 in Ekornes Furniture Production
Stressless Buckingham High Back Sofa Dimensions: Width: 90.5" Height: 40.5" Depth: 32"
Warranty Information
Ekornes 10-Year Manufacturer's Warranty
Additional Details
SKU:

E01185030

Product Measurements:

Width: 90.5" Height: 40.5" Depth: 32"